Sometimes it's not possible to exercise your dog outside. Maybe they're too old, too reluctant, or need special controlled walking physiotherapy or longer walks for weight loss.
Or perhaps it's the weather – too hot, too cold, too wet. There are various reasons why your canine companion may need to forgo his daily walk.
But that doesn't mean they need to miss out on burning off that extra energy.
Dog treadmills are designed to be used on the days when outdoor walks are off the cards. They give your pup the exercise he needs in a safe environment. What's more, they're lots of fun – especially if you train together!
In this guide, we'll help you decide if a treadmill is right for your dog, and the features to look out for.
You'll also learn how to teach your pal to use his new toy – and to enjoy it (nearly) as much as walking outside. Let's get into it!
should I Buy a dog treadmill?
Treadmills for dogs are not intended as a replacement for outdoor walks.
There's nothing your pet loves more than the sights and smells of the outside world. And mental stimulation is just as important as physical exercise.
But there are times when a dog treadmill can be very useful, for example, when:
Weather conditions are extreme

Additional exercise and conditioning are needed for dog sports*

Your dog needs rehabilitation after an injury*

Your dog suffers from anxiety and is hard to calm*

You are temporarily housebound
*In these situations, be sure to check with your vet first.
4 Things to Look for in a dog treadmill 
#1: Size
Make sure the treadmill you choose is the appropriate size for your pet. While a smaller dog will generally be OK with a model designed for larger dogs, this won't work in reverse. A big dog will need a running surface large enough to accommodate his stride.
You will also need to check the weight limit. Remember, though, that this doesn't necessarily indicate the size of dog it is suitable for. Some treadmills have a very high weight limit but still don't allow for a long stride.
#2: Blinders
As a safety measure, dog treadmills often come with blinders at the sides. These prevent your pet from stepping off and injuring his paws.
#3: Extra Features
These include time-saving preset exercise routines and adjustable inclines, which will keep things interesting for your dog. Remote controls can be useful, too, as it allows you to adjust your dog's speed from across the room.
#4: Portability and Storage
If you have limited space then you will probably want to store your treadmill away after use. If so, look for a model with a relatively small footprint, preferably with wheels so that you can easily move it from one room to another.
Tips for teaching your dog to use a treadmill
Getting a dog to use a treadmill for the first time may be harder than you'd think. After all, he has probably never stepped on a moving surface before and may need a little encouragement!
First, introduce your dog to the treadmill without switching it on. Reward him for simply climbing onto it. Repeat until he climbs onto the running belt just for a treat.

Next, try turning on the power but not the moving belt. Make sure there are no noises that alarm your dog. If so, offer more treats until he is comfortable standing beside it.

Finally, turn the running belt on at its lowest speed and give more treats – lots of them. It is important that your dog has only positive associations with his new treadmill.

As soon as your dog shows any sign of wanting to stop, switch off the belt. Repeat this process a couple more times before attempting to increase the speed.
The 5 Best Dog Treadmills for 2022
– With 12 preset exercise programs and 3 countdown modes
– 150 pounds weight capacity, best for medium to large dogs
This model has a speed range of 0.5 to 7.5 MPH. This makes it ideal for any dog, whether new to treadmill walking or a seasoned pro! It operates smoothly and quietly to keep your pet calm, and there are no beeping noises to alarm them.
There are fabric panels at the sides, available in two different colors. These help keep him focused throughout the session and ensure he doesn't step off the running deck.
In addition to the wide variety of workout challenges designed to stimulate your pet, this treadmill allows you to set specific goals and calories to be burned. Once those goals are reached, the unit will stop automatically – so you won't need to worry that you're pushing your dog too hard.
There are some nice bonus features with this model. These include a remote control for convenience and a safety key that attaches to your dog's collar.
Whilst it doesn't fold down, you can disassemble it to a certain extent to reduce its footprint. At 47 pounds it is relatively lightweight and it is on wheels, so it's very easy to move.
– 1.4″ LCD screen, adjustable incline, and dual side protection
– Perfect for dogs needing a challenging walk
The three different incline positions make this treadmill ideal for increasing the intensity of your pet's workout.
It is suitable for small/medium dogs up to 200 pounds in weight, although the height from the belt to the leash bar is only 23″. Despite the generous weight capacity, you'll need a different model if your dog is taller than this.
It comes with 12 preset programs and 3 different modes. You can set it anywhere from 0.5 to 7.5 MPH using the remote control, then monitor your pup's walking metrics on the easy-to-read screen. If he gets agitated at any time, then either the safety key or the emergency stop button will protect him from harm.
The running belt is designed with your dog's comfort in mind. Composed of several layers, it absorbs shock to protect his joints, keeps noise to a minimum, and has a wear-resistant surface.
Meanwhile, the waterproof blinders at the sides prevent your pup from getting distracted. Made from oxford cloth, they are easy to remove for washing when necessary.
Although this treadmill doesn't fold, it only takes up a relatively small area of around 2ft x 4ft.
– Durable and portable, with adjustable speed
– Best choice for small dogs
The dogPACER treadmill features a running area of 38″L x 16″W and is suitable for dogs up to 55 pounds in weight. Compact, lightweight, and with wheels at the back, it is easy to move from one room to another and to store after use.
We were really impressed by its solid carbon steel construction and high-quality components. It is very heavy and stable, which is good to know if vibrations and movement from the unit tend to make your dog nervous.
The speed range goes from 0.5 to 7.5 MPH in 1 MPH increments. There are lots of preset exercise programs to pique your pet's interest, along with a non-adjustable incline. There are also two side panels to keep him focused, although the bright red color may not be to everyone's taste!
– 3 heights, remote control, and adjustable speed
– Best choice for small and medium breeds
If you really want to put your 4-legged pal through his paces, this treadmill is ideal. The three incline settings are designed to simulate either flat ground, a slope, or the conditions for a long-distance race. This variety of angles stimulates different muscle groups, ensuring your pet receives a thorough workout!
The wear-resistant belt runs smoothly and quietly, with a shock-absorbing layer to keep your pet comfortable. The weight capacity of 200 pounds is pretty high, but the length of the running belt is only suitable for dogs with a fairly short running stride.
The waterproof blinders at the sides are great for keeping your pet focused on fitness, but they are easy to remove if you prefer. Made from oxford cloth, they are durable and can be washed when needed.
The remote control makes it easy to set the program to get your pooch running. You can then clearly see everything from his speed to his calorie burn on the clear LCD display. The construction is sturdy, made from premium ABS and iron pipe.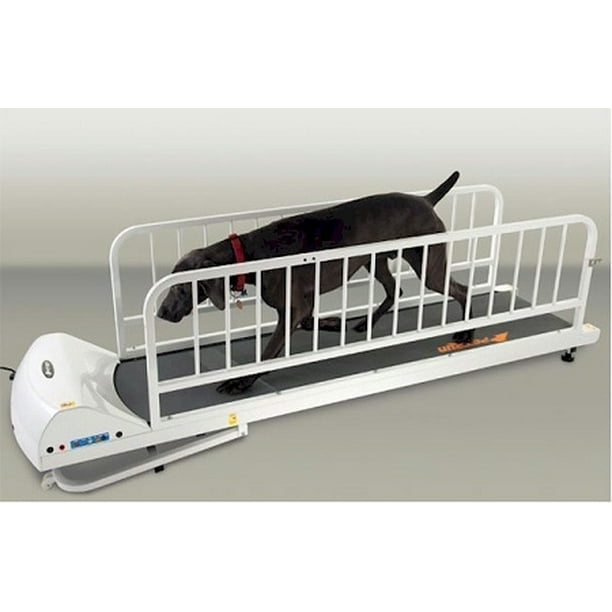 – Adjustable incline, low platform, folds for storage
– Best treadmill for dogs needing a large running surface
Big dogs like German Shepherds and Labradors need plenty of room for exercise. The spacious 71" x 16" running deck on this treadmill more than fits the bill. It is designed to be easy to climb onto, which encourages your pet to confidently jump aboard from day one.
The Air Step Incline system is simple to use, giving you the opportunity to challenge your dog and help him work off his energy.
The speed can be adjusted from 0.6 to 10 MPH so he can really get in a good run, and you can adjust this either manually or remotely. The gradual start is a useful feature as it avoids jolting your pet and keeps him calm.
Rather than the blinders you'll see on treadmills for smaller dogs, this model has a sturdy metal enclosure to keep him on track and stop him from accidentally stepping off the sides. There is also a safety lock feature to prevent injuries.
The Best Treadmills for Dogs: Key Takeaways
A dog treadmill can be a game-changer if you struggle to exercise your canine companion outside. It helps maintain his physical fitness and can provide some mental stimulation too, especially if you change up his programs and keep things varied.
We hope you've found a great treadmill for your pooch and that he enjoys this new and exciting indoor exercise.
Would you Like to Exercise with your dog?
Then be sure to check out our guide to Running With Your Dog first! We'll help you determine if running is right for your canine companion, plus how to train him either on or off a leash.