The great thing about buying gifts for marathon runners is that you have plenty of options to choose from.
Some gifts are practical – helping with performance or recovery – some are nutrition based, and some ideas are just for fun!
To help you find something special for the marathon runner in your life, we've put together a list of our top 20 gifts, with ideas for every budget.
Read on to discover a great range of products that will help support your loved one in meeting their running goals!
The Best Gifts for Marathon Runners
– Three superbright LEDs for up to 110 hours of light
– For increased visibility when running at night
Training for a marathon can often mean squeezing in sessions early in the morning or well after dark.
This affordable, lightweight, and water-resistant clip-on light can be used in strobe or steady mode, helping enhance your runner's visibility in low-light conditions and keeping them safe.
– With an anti-fog coating and photochromic lenses that adjust to the conditions
– Protection from exposure to UV light
Running for hours in sunny conditions can be hard on the eyes, but these comfortable glasses with REACTIV lenses offer the ultimate protection, keeping out UVA, B, and C radiation.
With a mono lens for a wide field of vision, they have a unique, suspended construction with vents to ensure that runners stay cool, even over longer distances.
You can see more of our favorite sunglasses for runners here
– A New York Times bestseller, with more than 100 recipes made without refined sugar and flour
– Using good nutrition to improve performance
Created by world-class marathoner and 4-time Olympian Shalane Flanagan along with chef Elyse Kopecky, this book shares flavorful recipes that are both indulgent and nourishing.
There are ideas for everything from wholesome snacks and meals to treats you won't need to feel guilty about – all served up with plenty of wisdom and some inspiring marathon-related stories!
– With a spiky outer layer to increase stimulation
– Helps ease tight foot muscles after long runs
Affordable and fun, this useful little ball is actually pretty great at providing deep tissue massage and releasing tension.
One of the best gifts for marathon runners after the race, it's just 3 inches in diameter and the perfect accessory to toss in a kit bag.
– Moisture-wicking, breathable, and highly reflective
– Provides warmth and functionality
Proviz makes some of the best reflective running gear out there, and these vests – available for both men and women – use millions of tiny glass beads to reflect back light and keep runners safe during night-time training.
There are two zipped pockets to keep essentials safe, perforations at the back to let out excess heat, and fitted shoulders that won't flap around on breezy days.
– With a seamless toe box to eliminate friction and a hollow fiber construction ideal for all seasons
– For the ultimate comfort all day long
What better way to show you care than with these super-comfortable socks that help prevent rubbing and chafing over long distances?
Available in a huge range of colorways and made from natural, soft, and durable mohair, they may be affordable gifts for marathon runners but they're worth their weight in gold!
– Lightweight and rugged, with an UltraFit nylon band, 1.4" Power Sapphire lens, and super-bright LED flashlight
– A watch that's built for extremes
When it comes to gifts for marathon runners, you really can't go wrong with a high-quality GPS watch – and the Enduro 2 has everything that's needed to last the distance.
It offers an incredible 150 hours of battery life in GPS mode -with enhanced solar charging for additional support – plus the user has the choice between a touchscreen and physical buttons.
You can see more of our favorite Garmin runners' watches here
– Lightweight, easy to stuff in a pocket, and made with Spandex for a smooth and flexible fit
– Warmth and protection for colder days
Winter running can be tough on the hands, so these cozy yet lightweight gloves make great gifts for marathon runners who train in all conditions.
They have anti-odor tech built-in, rubberized palms for a good grip, and feature touchscreen-compatible tips to make it easy to stay connected on the go.
– Made with reflective thread in the headband and ideal for urban environments
– For safety and enhanced visibility when running after dark
With a minimalist design that's easy to tuck away when no longer needed, this rechargeable headlamp is fantastic for nighttime runs and pumps out 200 lumens at full brightness.
Its super-thin strap makes it incredibly lightweight, it offers great battery life of up to 50 hours, and it has a full tilt mechanism that allows it to be worn on either the head or neck.
You can see more of our favorite headlamps for running here
– Organic, delicious, soy-free, and made with healthy superfruits
– For a boost of energy mid-run
Energy chews are an athlete's best friend when running for an extended period of time so they make great gifts for marathon runners who need that little extra fuel to keep on going.
This variety pack contains six amazing flavors to keep things interesting and each bar is packed with carbs, electrolytes, and a range of healthy B vitamins.
– Adjustable massage force, highly durable
– For a personalized deep-tissue massage
It may cost more than your typical foam roller, but this FDA Registered Medical Device is designed to help serious athletes with their recovery, boosting circulation, reducing inflammation, and breaking up muscle adhesions.
It offers a wide range of intensity, with the dial adjusting the force for a customized massage, and it's compact enough to take wherever it's needed.
– Comfortable to wear and made with quick-drying fabric
– For staying hydrated on the go
Marathon runners need more hydration than can typically be carried in a hand-held bottle, so this vest – featuring two chest pockets with soft flasks that can hold a liter of water – is a great solution.
Also compatible with a 1.5-liter bladder, it is lightweight and breathable, plus it has a key holder and back compartment to stash running essentials.
You can see some more great hydration packs here
– Made with olive oil and chia seed oil – paraben and phthalate free
– SPF 50 protection against the sun's harmful rays
Running long distances involves a lot of exposure to the sun, so a safe and effective sunscreen makes a practical and thoughtful gift.
This one is ideal for athletes as it's very hydrating, blends well, and doesn't run, even when things get sweaty!
– With a secure, zippered pouch and made from a soft, moisture-wicking fabric
– Hands-free storage for keys, phone, cards, and more
FlipBelts are among the most popular running belts on the market and make great gifts for marathon runners, providing secure and lightweight storage for running essentials.

The quick-drying fabric has no buckles so it won't chafe, sits securely so it won't bounce with movement, and features a reflective logo for increased visibility.
– Laser-engraved and dishwasher safe
– The ultimate pint glass for athletes
One of the best gifts for marathon runners after the race just has to be a cold pint served up in this uniquely fun glass from the 'Gone for a Run' company.
Etched on both the front and back, it's thick, sturdy, and comes packaged in a brightly colored box.
– Made with coconut oil, cocoa butter, beeswax, and vitamin E oil
– Helps prevent blisters and restores dry or damaged skin
Almost every marathon runner has experienced the misery of chafing so this all-natural salve – voted 'Best in Category' by UltraRunning Magazine – will be a gift that's more than welcome!
It can be applied to any area where the skin is rubbed and is useful once the race is over, too, protecting irritated skin if used before showering.
– Great battery life, water resistant, and compatible with both Apple and Android
– Comfortable and secure for running
There's no doubt about it – music makes the miles go faster!
So the marathon runner in your life will be delighted to receive these top-rated earbuds, which offer spatial audio, fantastic sound quality, and flexible wing tips to keep them firmly in place from start to finish.
You can see more earbuds for runners here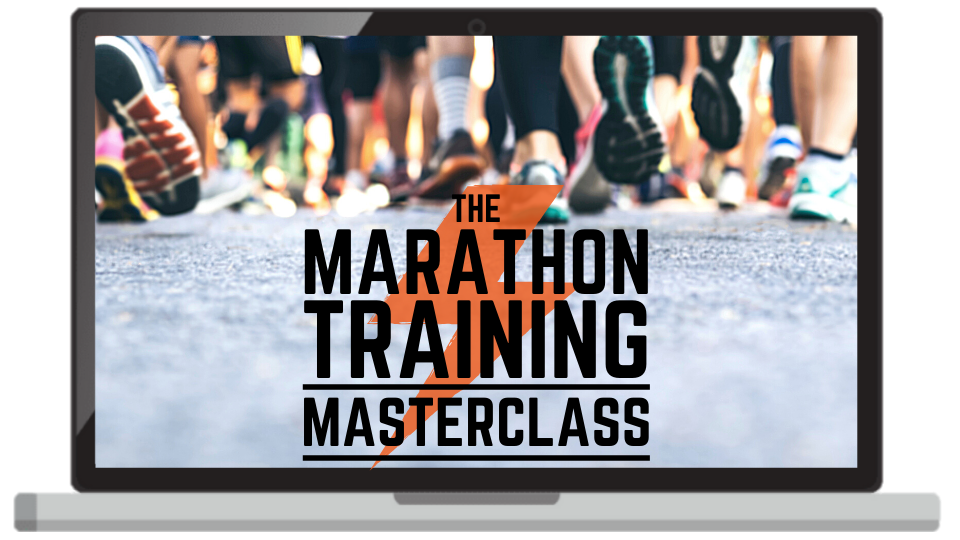 – 6+ hours of video lessons, expert guidance, and training plans
– The ultimate guide to marathon training, led by a UESCA-certified ultrarunner
Gifts for marathon runners to improve performance will always be gratefully received and this comprehensive course aims to do just that!
Through 12 modules of video training and downloadable material, it delivers all the techniques and strategies runners need to optimize their training and smash their goals on marathon day.
The Best Gifts for Marathon Runners: Key Takeaways
With ideas for all budgets and a range of practical, helpful, and useful products, this guide to gifts for marathon runners contains something for everyone.
We hope it has helped you discover a perfect present for someone special!