Running isn't always easy – it takes grit and commitment to stick with it day in and day out.
A great way to show your support to a loved one in her running journey is to get her a gift that can make her journey a little easier or more enjoyable.
Coming up with gift ideas for women runners can be difficult if you want to step outside of the box and get your favorite female runner something other than the same pair of running shoes she always wears or a generic pair of running shorts.
There are many options when it comes to gifts for women runners, ranging from apparel like running tights, sports bras, or a nice running jacket, to running gear like socks, headlamps, or even a spangly GPS running watch.
Many runners also love gifts that support their hobby in general, such as items that make healthy cooking, optimal sleep, strength training, and workout recovery easier, more exciting, or more effective.
In this guide on gifts for women who run, we've compiled our picks for some of the best gifts for female runners to give you some inspiration that can land you on the "best gift ever" list.
Show the women runners in your life how much you support them with one of the gift recommendations below!
The Best Gifts For Women Runners in 2022
The following products are as varied as they are great – be sure to check the entire list!
Let's get into the best gifts for women runners!
Muscle scraping therapy is growing in popularity as a fast and effective recovery tool among runners who are especially at the mercy of injuries such as plantar fasciitis, shin splints, hip impingements, and among others.
This non-invasive—and often soothing experience—works by breaking down stressed muscle tissues and blocked vessels that force the body to promote a fresh supply of nutrients and a rebuild of damaged or injured muscles.
The Eclipse muscle scraper, best for lower body muscle groups, has been designed and engineered by the Sidekick team for optimal balance and comfort, dual-beveled versatility, and refined treatment edges so the tool can hit all the right spots—and knots—of your muscles.
With most recovery tools focused on therapeutic and pain relief, muscle scrapers are aimed more toward treating and recovering from injuries quicker or preventing them. There really shouldn't be any hesitation that this tool needs to be in the toolkit for every runner.
We absolutely love the Janji Rainrunner Pack Jacket, and it makes a perfect gift for women runners who brave the elements, come rain, sleet, or wind.
This flattering, high-performing waterproof running jacket will keep her dry no matter how hard it's raining outside, while still offering unparalleled venting and breathability to keep her dry inside the jacket as well.
With fully taped seams, the Janji Rainrunner Pack Jacket boasts a waterproof rating of 30,000mm and features a durable, ripstop fabric that is windproof and fast drying.
She will love the streamlined fit, for a sleek, aerodynamic cut, the zippered hand pockets to stow her phone and energy gels with zero bounce, and the fitted hood with a micro visor to keep the rain off her face as she strides down the road mile after mile.
The running jacket packs up into its own pocket and has splatter guards, reflective detailing for visibility, and is made from sustainable materials that are free from harmful chemicals.
In the Janji Rainrunner Pack Jacket, she will look and feel like the champion she is.
When shopping for gifts for women runners, many are reluctant to buy running shoes, for fear that her closet is already overflowing with them, or maybe because she already has her go-to model. But recovery sandals are amazing running footwear that often gets ignored.
The Oofos Recovery Sandal is designed to be worn after your run or workout to promote recovery. They will increase circulation to her feet and provide arch support that cradles her foot like no other sandal.
The result? Accelerated recovery so that she'll be that much more ready to go for her next run. As a fun bonus, these cute recovery sandals are as bright and cheery looking as she'll feel wearing them as she basks in her post-workout endorphin high.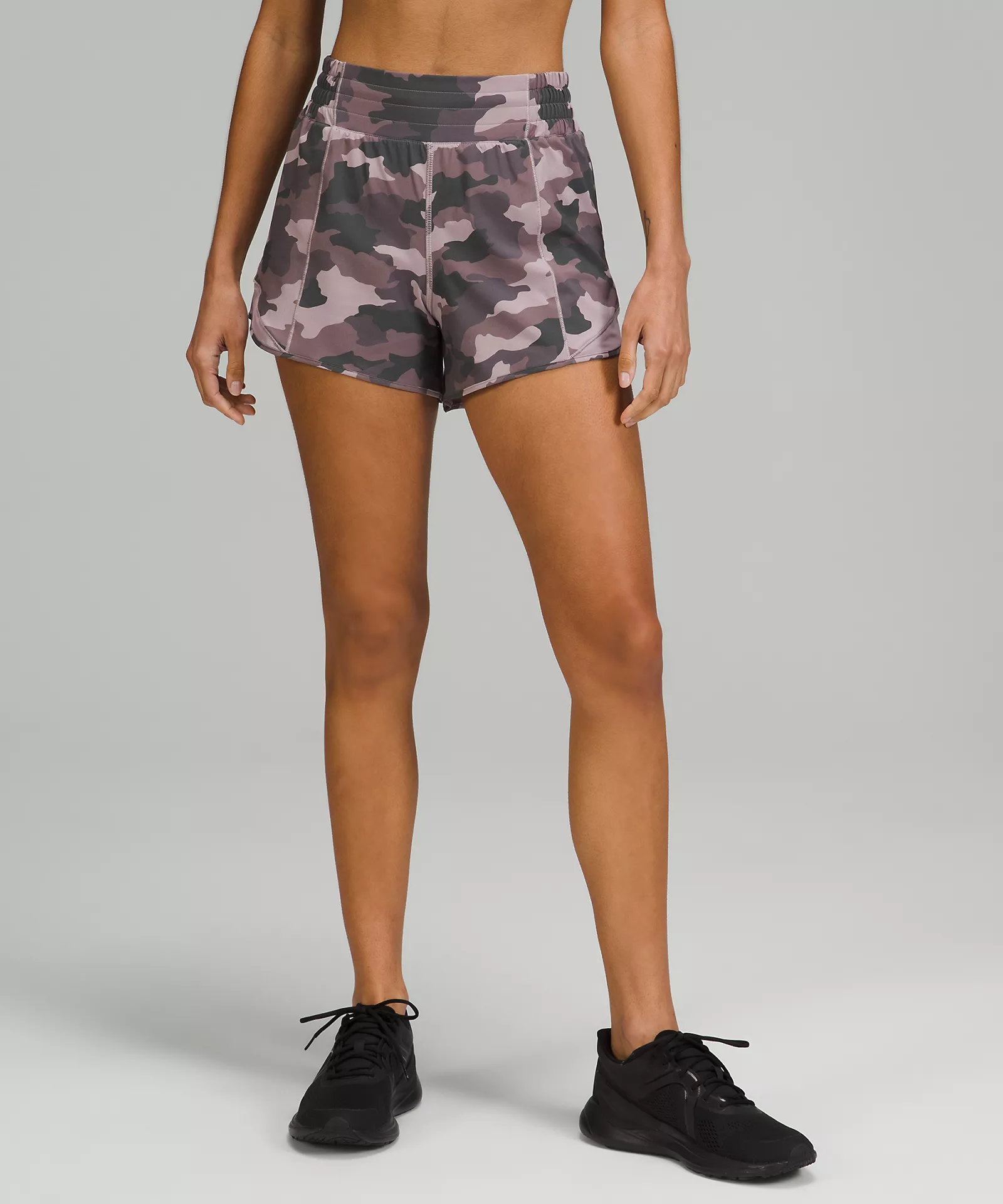 Lululemon is renowned as a quality activewear designer – and this brand recognition is well deserved. We think their running shorts are some of the best gifts for women runners out there.
Not only does the price tag mean she is unlikely to already have these amazing shorts in her collection, but they are supremely comfortable and come in the cutest colours.
With a subtle liner (goodbye chafing!) and lightweight running short layer on top, she'll feel covered up yet sporty, fast, and comfortable. There are pockets (yay!) and a wide waistband for comfort and control.
Related Article: The 7 Best Lululemon Running Shorts for Everyone in 2022
Lots of female runners struggle to eat right after a run; either because they can't stomach the thought of eating food or they're too busy to prepare and take in adequate nutrition, which can compromise post-run recovery.
A protein shake or smoothie can be a convenient, palatable, quick, and easy way to have a nutrient-packed post-workout snack or meal.
For this reason, the Blendjet is one of the best gifts for women runners who are looking to take better care of their bodies and maximize their training.
It is super light, simple to use, and completely portable, thanks to the rechargeable base. She can take it on the go and whip up a healthy, tasty shake for her drive home from running with her friends or while she gets ready to head to the office after early morning miles.
Bonus—it comes in tons of adorable and fun patterns.
Meal kits delivery services are all the rage, and busy runners can now get Freshly + ASICS pre-cooked, dietician-designed meals specifically tailored to help runners optimize their performance and recovery.
Runners can select from three meal plans (Pre-Race; Post-Race; and Run, Fuel, Repeat) based on their training status and nutritional needs, and they will receive six chef-made meals delivered fresh to their home.
In less than three minutes, the meal can be heated and made ready to serve, eliminating the time, energy, and hassle of meal planning, grocery shopping, and cooking.
Examples of pre-race meals include White Bean Turkey Chili Bowl and Indian-Spiced Chickpea Curry Bowl with Basmati Rice, Lentils & Veggies.
Post-Race, you can enjoy meals like Chicken Tikka Masala with Seven-Spice Vegetable Biryani and Wild-Caught Fish Cake with Cilantro-Lime Sauce & Roasted Veggies.
Chipotle Chicken Bowl with Carb-Smart Cauli Rice and Cuban Mojo Shrimp are favorites in the Run, Fuel, + Repeat plan.
Though New Balance is best known for their running shoes and outerwear (you can't go wrong getting your favorite female runner some of their performance activewear!), they also also make amazing underwear for runners.
The active underwear is amongst the best gifts for women runners. Even though it's one of those items that might feel a little silly to give, she'll be in love with it and shower her gratitude upon you after she wears it for her first workout!
They're super smooth (no panty lines!), light, quick-drying, and nearly invisible under clothes. New Balance uses NB DRY moisture-wicking technology in a velvety-smooth pattern along the inside edges of the underwear, ensuring they stay in place and dry no matter how fast she runs.
The result? Underwear with zero chafing, zero slipping, zero wedgies, and zero moisture buildup.
When you're looking for the best of the best gifts for women runners, you can't go wrong with the Horizon Fitness 7.0 AT Treadmill.
Help her take her training to the next level with this powerful treadmill built for hard workouts and engineered for fitness apps.
It features a highly-responsive 3.0 CHP, and Bluetooth connectivity to sync with fitness apps and trackers like Peloton and Zwift.
The 60-inch belt is perfect for even the longest strides and it has three-zone cushioning to protect her joints mile after mile after mile.
The treadmill folds up when not in use and can hit max speeds of 12 mph (5 minute mile) and 15% incline.
There's a lifetime warranty and the frame and parts, and this durable machine is built to last just as much as it is built to be her greatest training tool.

One of the most overlooked elements of a good training program is quality sleep. You can hit your mileage goals and nail all of your speed workouts, but if you're not routinely getting enough sleep every night, you will fail to recover fully and your performance will suffer.
Help the runner in your life get the restful sleep she needs with blissfully soft and comfortable Brooklinen Luxe Core Sheets.
With an impressive, super-soft, 480 thread count, these cotton sateen sheets are woven with a rich, lustrous finish for a divinely smooth and luxurious sleep.
No more tossing and turning; when she slips under the covers and into these Brooklinen sheets, she's sure to drift off within minutes.
#10: A Race Entry !

Another good idea for a gift for a female runner is an entry into a race she's had her eye on. Race registration fees can be costly, and chances are she has her eyes on a couple of races she would enter in a heartbeat if money wasn't a factor.
It's worth it to fish around and make sure she wants to do the race by asking her questions before you take the plunge and sign her up for something yourself.
Otherwise, make a cute voucher, promising her gratis entry into a race of her choice.
Another fun option is to get her an entry to a virtual race, such as The Conqueror, which offers a series of gamified virtual fitness challenges.
Participants complete distance-based challenges by running (or walking, cycling, or moving in any sort of way) and earn race rewards, virtual postcards based on the unique route they're on, and a tailor-made medal!
There are nearly 35 of the world's most iconic destinations to choose from, including Niagara Falls (70mi), Yellowstone National Park (75mi), Angkor Wat (20mi), and even a Lord of the Rings five challenge series (660mi).
Each challenge allows participants to virtually immerse themselves in the landmarks along the route, learning and exploring as they advance on the digital map, all while earning real-world environmental rewards.
Challengers can choose to plant a tree or prevent 10 plastic bottles from entering the ocean as they achieve distance milestones throughout their challenge.
It's a fun, educational, and motivational gift for any runner.
We've only just scratched the surface on gift ideas for women runners, but we feel like anything on this list is sure to make her happy.
The Ledlenser NEO1R Running Headlamp might just be the lightest running headlamp yet to hit the market. Weighing a mere 1.37 ounces, she'll completely forget she's wearing it, save for the fact that she will be clearly visible to oncoming traffic and able to clearly visualize the road or trail ahead while running in the dark.
We love how the Ledlenser NEO1R combines minimalism with power, as an ultra-compact running headlamp with a brightness of 250, enabling a beam distance of 262 feet.
With a rechargeable battery, the NEO1R can last for 15 hours on low from a single charge.
There are several lighting modes, including a red light, to meet a runner's various visibility needs. Safety meets performance in this mighty little light.
Do the women Runners in Your Life especially love trail?
Then check out the best gifts for women runners: trail edition below!