Plantar fasciitis is a painful condition that can seriously put the brakes on your training, whether you're preparing for a marathon or about to start the Couch to 5K.
A problem that affects many runners, it's caused by straining the plantar fascia tendon, the connective tissue supporting the arch of the foot.
While common 'cures' like rolling the foot over a bottle of frozen water or a tennis ball can give temporary relief, experts now feel that strengthening the tendon itself is the best approach.
But preventing the excessive strain on the tendon caused by wearing inappropriate footwear is important too.
So in this guide, I'm going to be looking at the 6 best Hoka shoes for plantar fasciitis, all of which provide the support and comfort you need.
Before we get to my recommendations, though, here are a few factors to consider when making your choice.
The 6 Best Hoka Shoes For Plantar Fasciitis in 2023
What to Look for in Shoes for Plantar Fasciitis
One of the first things to look for in the best Hoka shoes for plantar fasciitis is an elevated heel.
This is described in the specs as the 'heel-to-toe drop', which refers to the difference in height between the heel of the shoe and the forefoot.
Elevating the heel puts more pressure on the forefoot and takes it away from the plantar fascia tendon, helping relieve pain and prevent it from reoccuring in the future.
Other things to think about include:
#1: Support
Just how much support you'll need is a very personal thing.
It's important to avoid overpronation (when your foot rolls inwards as you walk) and underpronation (when your foot rolls outwards) as these can aggravate the tendon even more.
If you have flat feet you are more likely to overpronate, in which case a stability shoe may help keep your foot in a neutral position.
If you have high arches, on the other hand, a neutral shoe may be a better choice.
#2: Cushioning
Cushioning helps absorb the force of impact as you run, which not only protects your joints but is particularly important when dealing with the discomfort of plantar fasciitis.
Look for a shoe with a good level of high-quality, responsive cushioning throughout, but especially in the heel area.
Related Article: Can Plantar Fasciitis Cause Knee Pain?
#3: Rocker Design
Hoka is well-known for the rocker geometry of its shoes, which stops you from landing flat and helps boost your forward momentum.
A rocker design can also have some real benefits if you suffer from plantar fasciitis.
That's because rocker shoes are believed by experts to minimize strain on the plantar fascia tendon by reducing stress on the Achilles tendon.
The 9 Best Hoka Shoes For Plantar Fasciitis
#1. Most Cushioned Hoka Shoe for Plantar Fasciitis:
Hoka Bondi 8
Heel Drop: 4mm, Weight: 10.8 oz, Support Level: Neutral, Cushioning: Plush
| | |
| --- | --- |
| Pros | Cons |
| Cushioning feels balanced and stable | Unsuitable for tempo runs |
| Plush heel collar and tongue | Somewhat bulky |
| Deep flex grooves provide great traction | Toe box is slightly narrow |
Hoka's Bondi 8 features a high stack of ultrasoft cushioning made with a softer EVA foam than ever before.
Perfect for temporarily relieving pain and keeping you comfortable mile after mile, it also has a wider base than its predecessor.
This means it evenly absorbs impact forces and feels very stable, while the engineered mesh upper holds the foot firmly in position and guides it through each stride.
That extra stability is also useful in preventing mild pronation, while the forefoot rocker helps protect the plantar fascia tendon from further strain.
Grooves in the midsole add a little extra flexibility to help propel you forward, but this isn't a shoe built for speed, since the foam – while somewhat responsive – lacks that 'springy' feel you need for tempo runs.
But for distance training and recovery runs – or even working on your feet all day – the cushy comfort of this supportive shoe takes some beating!
#2. Most Supportive Hoka Shoe for Plantar Fasciitis:
Hoka Gaviota 5
Heel Drop: 6mm, Weight: 10.9 oz, Support Level: Stable, Cushioning: Plush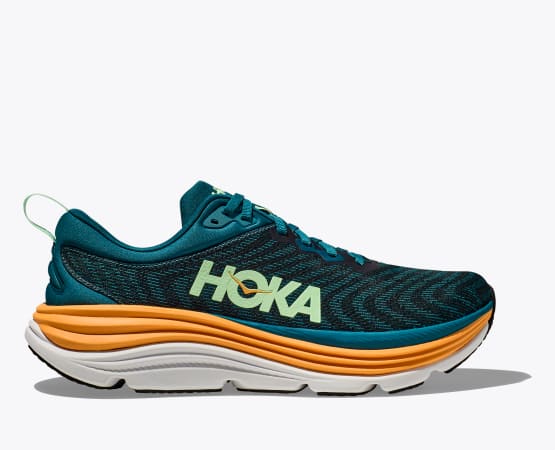 | | |
| --- | --- |
| Pros | Cons |
| Deep stack of soft cushioning to absorb impact | Unsuitable for speed work |
| Wide platform for stability | Feels quite large – consider sizing down |
| Spacious toe box | |
The Gaviota 5 has been designed to prevent overpronation, featuring H-Frame stability technology.
This is a leap forward from Hoka's signature J-Frame mechanism, which was wholly focused on stopping the foot from rolling inward.
With H-Frame, however, a firmer material runs around the top of the midsole and joins at the center, creating a H-shape (that actually looks more like a figure 8).
This interlocks with the midsole and creates a stable base on both sides, with your foot sitting almost entirely atop soft foam for an exceptionally comfortable ride.
With a gusseted tongue and plush collar to cradle your ankle – plus an early-stage MetaRocker to facilitate smooth heel-to-toe transitions – this is a shoe that effortlessly blends comfort and support, particularly for runners with high-volume or wider feet.
#3. Best Hoka Walking Shoes for Plantar Fasciitis Sufferers:
Hoka Stinson 7
Heel Drop: 5mm, Weight: 10.8 oz, Support Level: Stable, Cushioning: Plush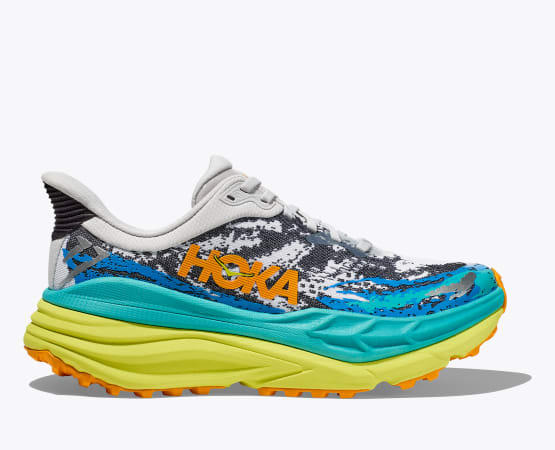 | | |
| --- | --- |
| Pros | Cons |
| High bed of soft cushioning | Only suitable for easy runs |
| Broad, stable base | No heel tab for easy on/off |
| Multi-directional lugs for excellent traction | |
Looking for a 'go anywhere' shoe that performs as well on the road as it does on the trail?
Then check out the Stinson 7 – a model with the traction to handle a variety of terrain, yet with the plush cushioning you need to minimize the discomfort from plantar fasciitis.
Like the Gaviota 5, it uses Hoka's H-Frame technology for stability, plus the brand's Deep Active Foot Frame to cradle your foot and secure your heel in place.
Enhanced with wrap-around side walls, this allows your foot to sit 'within' the cushioning rather than on top of it for great, all-around support.
There's also plenty of room in the forefoot to spread your toes, which really helps enhance the shoe's very stable feel.
Rubber toe caps add durability to the breathable but protective engineered jacquard mesh uppers, while the tongue is nicely padded and allows for irritation-free lockdown from the laces.
#4. Best Trail Walking Hoka Shoe for Plantar Fasciitis:
Hoka Challenger 7 Gore-Tex
Heel Drop: 5mm, Weight: 7 oz, Support Level: Neutral, Cushioning: Plush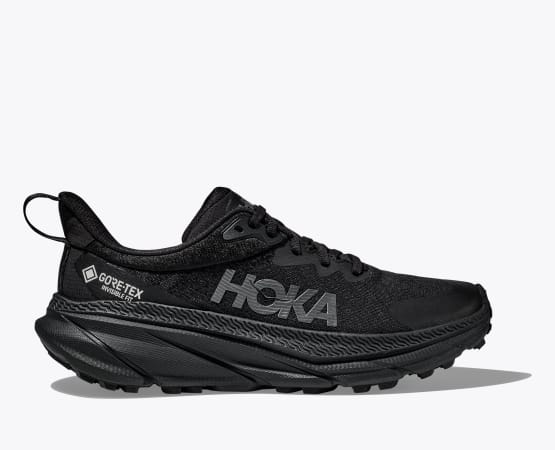 | | |
| --- | --- |
| Pros | Cons |
| Versatile enough for road and trail | May feel narrow – no wide options available |
| Durable outsole | |
| Lacing system provides a secure lockdown | |
Trail walking can involve some pretty unpredictable conditions, so you'll need a fast-drying shoe designed to keep out the wind and rain.
That's just what you get with the Challenger 7, an all-terrain model with a lug pattern that provides good traction on uneven ground.
It offers excellent weatherproofing, with a lightweight Gore-Tex Invisible Fit liner in the upper that runs around the tongue and stops water coming in above the laces.
The upper is pretty thick, too, and will keep your feet warm throughout the winter, although you may find it a little too cozy for summer walks!
With a rocker forefoot to help decrease the strain on the plantar fascia, it has an increased stack of soft cushioning to absorb impact.
But the good news is that it's not TOO soft and still offers the support you need, with a moderately responsive feel should you want to pick up the speed.
#5. The Most Versatile Hoka Shoe for Plantar Fasciitis:
Hoka Arahi 6
Heel Drop: 5mm, Weight: 9.3 oz, Support Level: Stable, Cushioning: Balanced
| | |
| --- | --- |
| Pros | Cons |
| Full-length dynamic stability | Not ideal for tempo runs |
| Extended heel tab for easy pull on | Upper is a little thick |
| Zonal rubber for durability on the outsole | |
If the price tag of the Gaviota 5 (above) puts it a little out of your reach, then consider the Arahi 6 – a more lightweight and affordable alternative designed for everything from walking to your daily run.
It uses Hoka's J-Frame technology to prevent your foot from rolling inward – a J-shaped foam hook that runs around the heel and reinforces the medial side of the shoe.
This provides stability without giving that 'rigid' feel that you may have experienced with comparable shoes, making it suitable for a much wider range of runners.
Despite its relatively lightweight, it features plenty of balanced cushioning for exceptional comfort, giving just the right amount of support while still effectively absorbing impact with every landing.
Transitions are smooth and the forefoot rocker minimizes the stretch placed on the plantar fascia tendon, helping reduce pain and protect against future problems.
#6. Best All-Around Hoka Shoe for Plantar Fasciitis:
Hoka Clifton 9
Heel Drop: 5mm, Weight: 8.7 oz, Support Level: Neutral, Cushioning: Balanced
| | |
| --- | --- |
| Pros | Cons |
| Well cushioned but lightweight | Toe box is narrow – consider a wide version of your size |
| Wide range of color options | |
| Reflective panel in the heel | |
It's not hard to see why the Clifton consistently remains Hoka's most popular model – it boasts a high stack of protective cushioning yet it's lightweight, doesn't feel overly soft, and still provides the support you need.
It's also very stable, with a wide base and midsole walls that wrap around the sides of your feet.
The foam is more responsive in this version than in previous iterations, and while it doesn't quite have the peppy feel you might want for speed, this is a very versatile trainer, well suited to walking or your daily runs.
Featuring the brand's early-stage Meta-Rocker for energy-saving transitions, it also has a new, engineered mesh upper that provides a premium feel.
Should you regularly run in inclement weather, you'll be pleased to hear there's now a Goretex version available – Hoka's first-ever weatherproof road shoe.
With a closed mesh construction for extra protection against the elements, traction pods for slick surfaces, and 360-degree reflectivity to enhance your visibility in low-light conditions, it's a shoe that makes it possible to run in comfort whatever the weather.
The 6 best Hoka Shoes For Plantar Fasciitis: Key Takeaways
The right pair of shoes can help alleviate the pain of plantar fasciitis and Hoka makes some of the most comfortable models out there, offering plush cushioning and support where it's needed.
I hope you've found this guide useful in choosing the right pair for your needs, so you can continue your training in comfort and protect your plantar fascia from injury in the future.