Having the right running gear can often be the deciding factor between an enjoyable run and a miserable one.
If you're overdressed, your body overheats and you feel unduly sluggish. If you're underdressed, you're tight, cold, and just counting down the minutes until your run is over.
Unless you live in a tropical or desert climate that's either almost always hot or a polar climate that almost always requires a parka to run outside, most runners need a good lightweight running jacket in their wardrobe.
This is because their beauty lies in their versatility.
Lightweight running jackets are perfect for spring runs, windy fall weather, or layered over thermal or woolen technical running tops during winter runs.
The best lightweight running jackets are breathable while still being windproof, able to cut the chill without causing you to overheat or get damp with sweat.
Some lightweight running jackets also have additional features like reflective stitching or paneling for safety and visibility when running in the dark, optional hoods, storage pockets, and waterproofing treatments to keep you dry even in the hardest rainstorms.
After reviewing dozens of popular jackets, we chose the 6 best lightweight running jackets to ensure your run is comfortable no matter what weather Mother Nature brings.
Let's get into it!
The 6 Best Lightweight Running Jackets
While nearly every major running brand makes some type of running jacket, some are better suited for milder climates and fit, feel, and perform better than others.
Below we'll run you through our favorite lightweight running jackets, why we love them, and which weather each is most suited for. So, without further ado . . .
#6: Most Versatile Lightweight Running Jacket: Saucony Track Anorak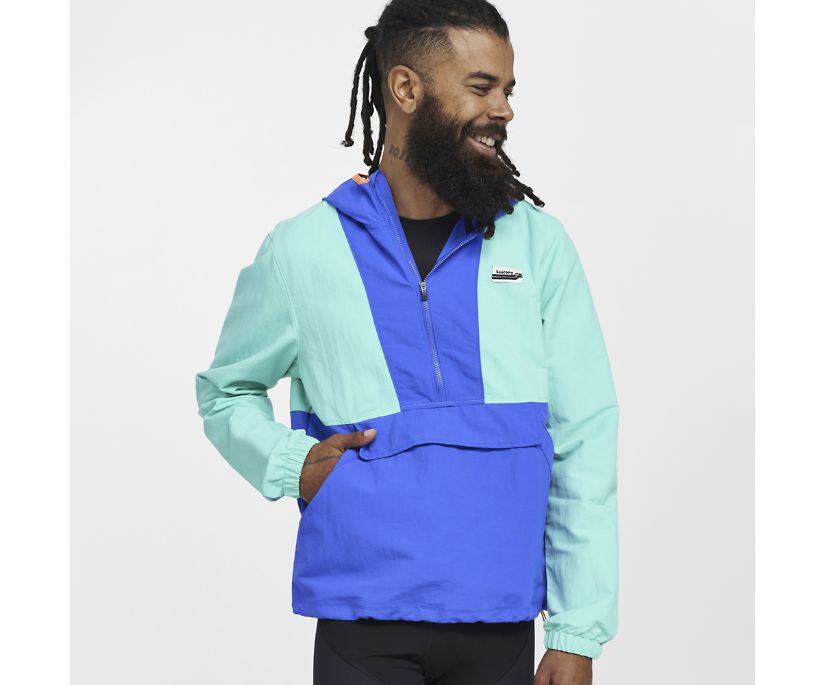 If you're the type of runner that likes to go from your workout to the town, wearing your running clothes like athleisure wear or lifestyle wear, you'll love the Saucony Track Anorak. This running jacket has a retro, chic look, so it's as stylish as it is functional.
Blending a vintage appearance with modern performance features, the Saucony Track Anorak is fun to wear whether you are running, driving to the gym to lift weights, or enjoying your post-run stroll with your dog.
The jacket is made from technical wind- and water-resistant 100% recycled nylon fabric treated with C0 Durable Water Repellent to keep you dry in light rain. It has a half-zip style, allowing you to let in as much ventilation as you need.
There is a draft flap, a three-panel hood, and a bungee at the hem to seal in or out body heat, depending on your temperature. Oh, and we love the large front kangaroo-style pocket.
Definitely the warmest jacket on this list, the Jack Wolfskin Tasman Peak Jacket is still light enough to wear running in the spring or fall, while also being a great option for colder winter weather.
Although technically designed for hiking, this jacket is perfect for trail running. It is rugged yet comfortable and stylish, and light yet protective.
The Jack Wolfskin Tasman Peak Jacket is made from entirely recycled polyester fabrics. It is super soft and stretchy, yet highly wind- and water-resistant. It has a water column rating of 20,000 – so you'll be able to stay dry in all but the heaviest downpours.
One of the downsides of many running jackets is that they are boxy or not aerodynamic relative to the body, causing excessive bouncing, swishing, or movement while you run. This jacket has a slim, anatomical fit for better aerodynamics.
In other words, it's designed for movement, and the stretchy fabric ensures you're never restricted.
Lastly, there are two hip pockets to stow your energy gels or protein bars and an attached hood if you need a little extra coverage and warmth.
Unfortunately, the Tasman Peak is only available in Women's sizing, but for the closest male equivalent, check out the Jack Wolfskin Go Hike Jacket.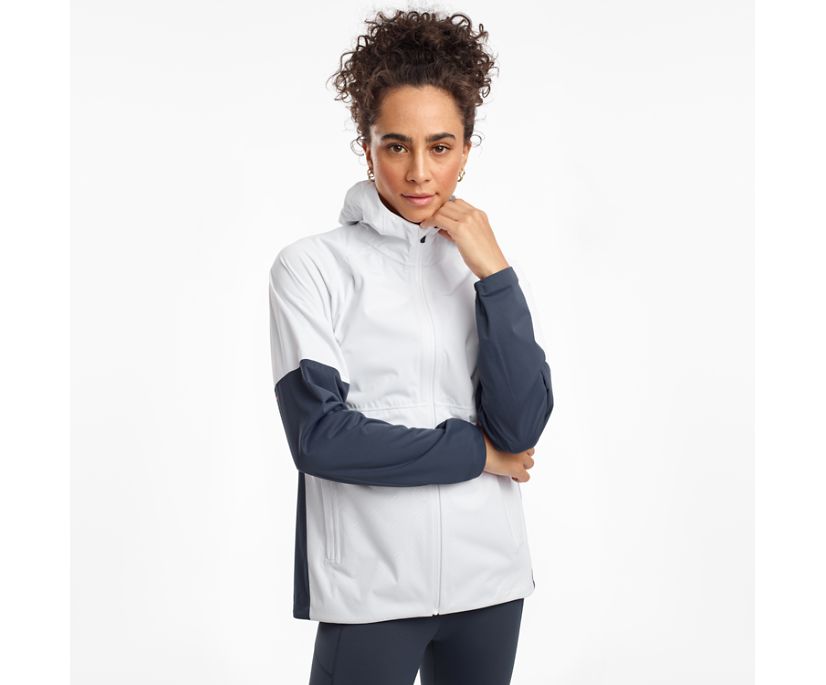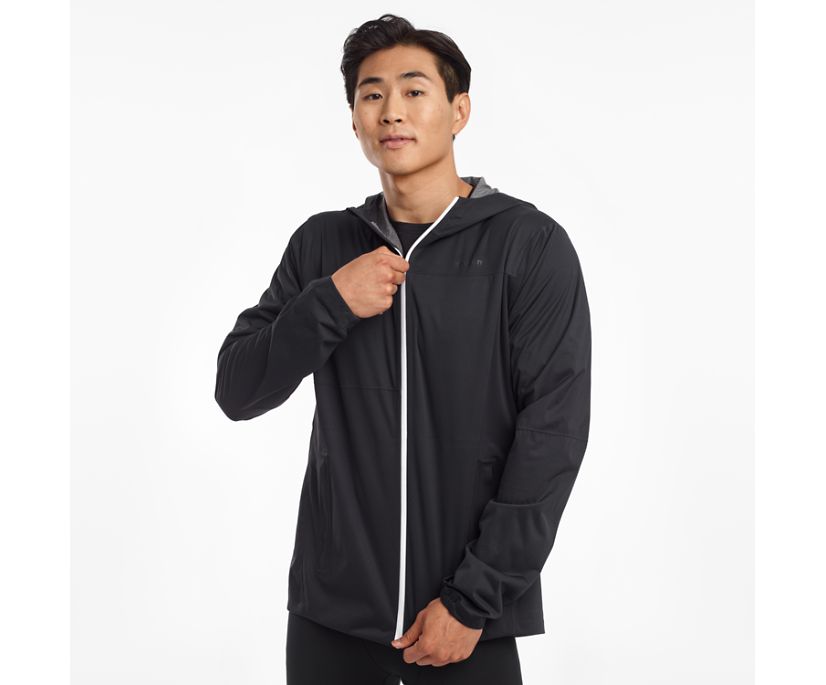 Springtime running is almost synonymous with rain, so having a good lightweight waterproof running jacket will keep you comfortable and dry when the skies open up.
The Saucony Drizzle 2.0 Jacket is an aerodynamic, lightweight running jacket constructed from a 2.5-layer waterproof shell that protects you from the wind and rain while keeping you from overheating.
The jacket is designed specifically for runners, so it is lightweight and warm without restricting movement.
It has two zippered pockets for your energy gels, phone, or other running accessories, and an innovative hood with a stiffened visor for better visibility should the sun finally come out. The hood of the jacket can also be locked down behind your neck to prevent bouncing.
#3: Best Lightweight Reflective Running Jacket: Brooks Carbonite Jacket
Let's face it: many of us have to get our miles in before the sun rises or long after it has set for the day. The best lightweight running jacket for running in the dark is the Brooks Carbonite Jacket.
You'll be clearly visible to any vehicular traffic while comfortable and dry as you run.
Even better, the jacket is wind- and water-resistant, breathable, and cut well to prevent bouncing as you run.
Looking for more tips for running in the dark? Check out our tips for safely running in the dark here.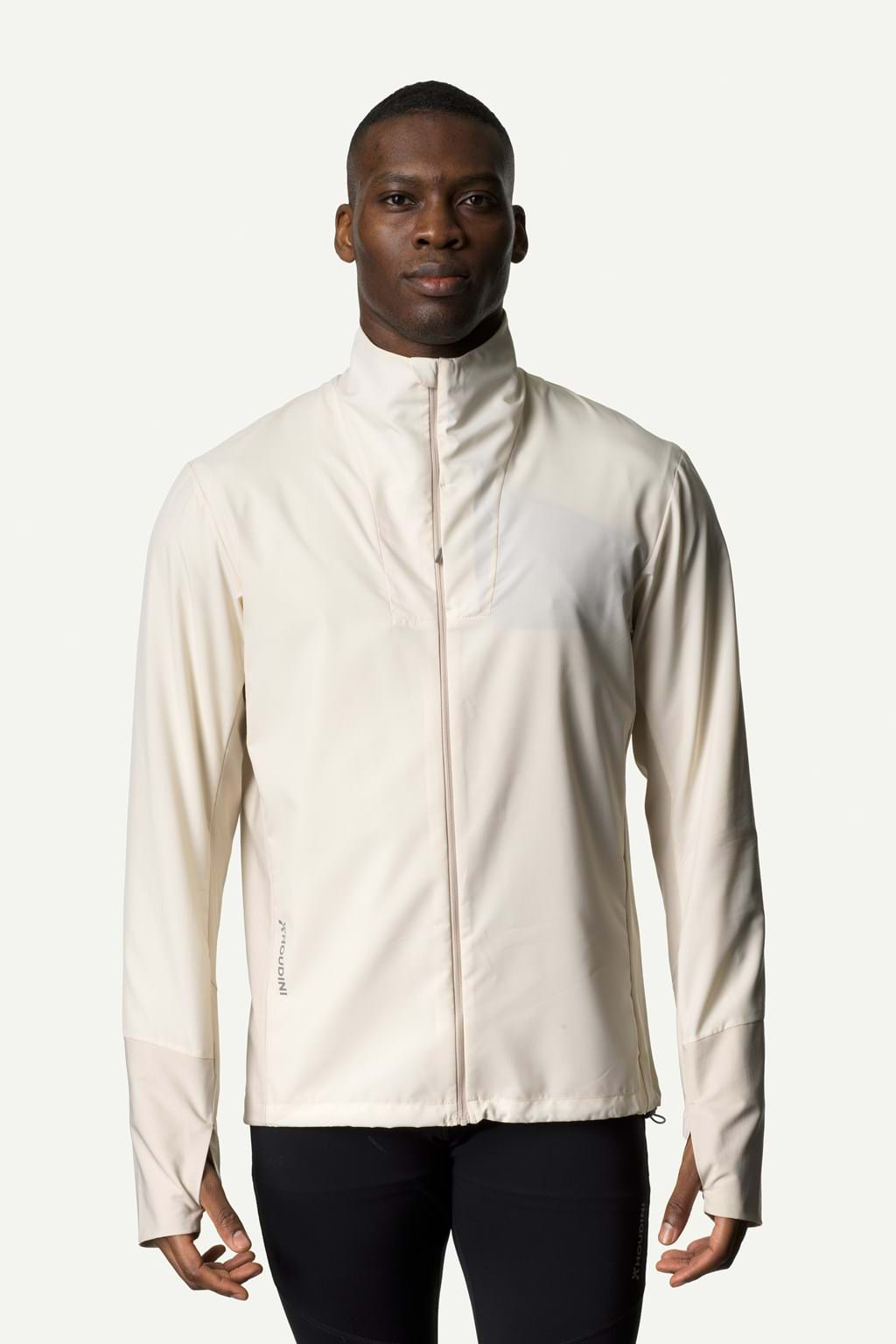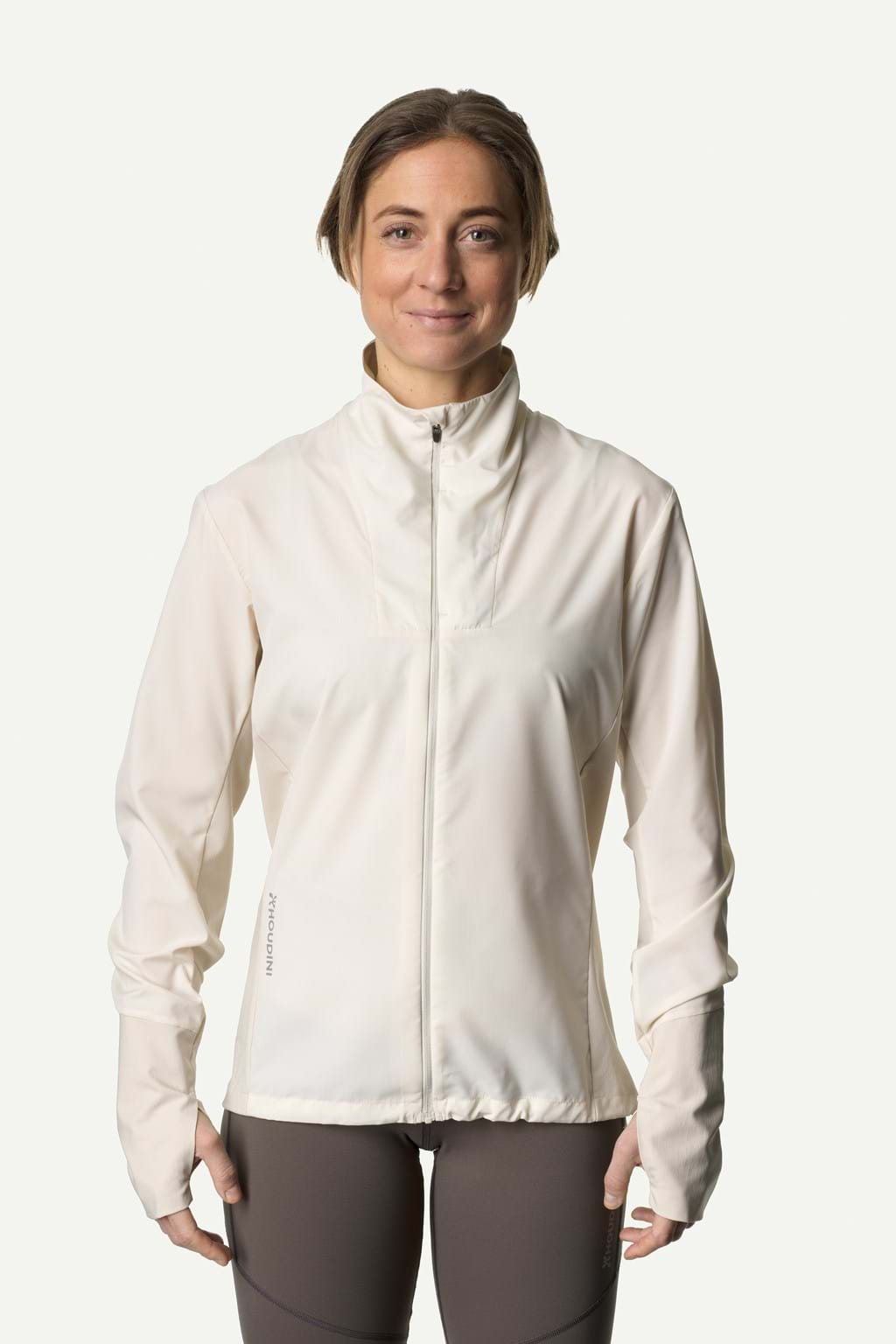 When you want an ultralight running jacket, the perfect pick is the Houdini Pace Wind Jacket. It feels like a featherlight kiss of warmth to cut the bite of a chilly day without weighing you down or overheating you.
The Houdini Pace Wind Jacket is made with wind-resistant but breathable C9 Ripstop fabric over the chest and arms and soft and smooth Wish Woven fabric under the arms and at the cuffs.
The combination of these two recycled polyester fabrics provides the perfect blend of comfort and protection.
This lightweight running jacket is also water-resistant, soft to the touch, and conforms smoothly to your body. It has convenient thumbholes to prevent the sleeves from riding up, a chest pocket, and a whisper-quiet finish.
#1: Best Lightweight Running Jacket Overall: Nathan Stealth Jacket
Are you ever annoyed by the constant swishing sound your arms make when you're running in a windbreaker? The Nathan Stealth Jacket is aptly named as it's the quietest running jacket we've ever tested.
This jacket is supremely comfortable and soft. It's lighter than air, while still providing enough wind and chill protection to keep you warm enough when running on crisp days. Due to its lightweight and silent materials, you'll completely forget you have the jacket on.
The Nathan Stealth Jacket is wind- and water-resistant, and made from 100% nylon. The back is ventilated to help regulate your body temperature and prevent overheating, and the jacket itself is moisture-wicking and breathable.
One great feature of this lightweight running jacket is that it packs down to be stored in its own pocket, making it a great packable option for when you're running a race out of town.
Though the material and feel are superior in this jacket, other design features further edged this jacket into our pick for the best lightweight running jacket overall. These include its smart thumbholes that prevent the sleeves from riding up, a bungee hood with a ponytail port, reflective detailing for visibility, and flat seams to prevent chafing.
Need more running gear recommendations?
Check out our choices for the best headlamps for runners here.