Whether you're training for a marathon, getting started with the Couch to 5K, or a recreational runner who enjoys a jog around the block, the right shoes are key to your comfort and performance.
They can also help prevent injury – providing the support and alignment you need – and improve your form for the optimal running experience.
If there's a brand that knows a thing or two about making great running shoes, it's Nike – one of the best-known names in the business.
Consistently producing high-quality running shoes since 1972, the company makes a range of models for every type of runner, meaning there are heaps of styles to choose from.
To make it easier to pick the best Nike running shoes for your particular needs, I've put together this handy guide.
Read on to discover our favorite shoes for all types of running and their main features, along with a look at the factors to consider when choosing the right pair for your next run.
The 7 Best Nike Running Shoes in 2023
What to Look for in Running Shoes
First, consider the terrain on which you'll be running and look for shoes with the specific features that make them suitable.
If you regularly run on the road, for example, you'll need shoes with great shock absorption to protect your joints.
If you're a trail runner, then you'll need a shoe with a sturdy upper, reinforcement at the toe to protect you from tree roots and rocks, and a superior grip on a range of surfaces.
Other things to think about include:
#1: Your Goals
If you're looking for footwear for your daily run, comfort will likely be your priority.
In this case, you'll want a shoe with good support and enough cushioning to absorb impact.
If your aim is to shave time off your personal best, however, then you'll want to focus on responsive, lightweight running shoes that are optimized for speed.
#2: Support or Gait Correction
Do you overpronate, underpronate, or heel strike?
Then the best Nike running shoes will feature the technology that provides the support or gait correction you need.
Also consider any injuries you may have currently, or have suffered from in the past, such as plantar fasciitis, shin splints, and IT band syndrome.
Stability or motion control running shoes can be useful in these situations, too, helping minimize symptoms and preventing these injuries from reoccurring in the future.
#3: A Good Fit
No matter how good your running shoes are, they won't feel comfortable or benefit your performance if they fit poorly.
Any padding should feel natural against your ankle bones and the heel collar should sit comfortably.
The toe box should be wide enough to easily wiggle your toes and flex the front of your foot, while the area around the instep should hold your shoe securely to the contours of your foot, with no slipping.
Related Article: How Tight Should Running Shoes Be? Running Shoe Fitting Guide
The 7 best Nike running shoes
Heel Drop: 10 mm, Weight: 10.16 oz, Support Level: Neutral, Cushioning: Medium
| | |
| --- | --- |
| Pros | Cons |
| Soft, inviting feel | Heavier than previous version |
| 2 Zoom Air units for a springy toe-off | |
| Durable outsole | |
The fact that this remarkable shoe is in its 40th iteration says a lot about its enduring popularity!
A great all-round performer and one of the biggest-selling running shoes of all time, it features a traditional waffle-inspired outsole for great traction – even on wet roads – and a heel designed to optimize the landing space for faster transitions.
The heel collar and tongue are nicely padded, and the breathable upper feels soft and stretchy, with a roomy toebox and an implemented midfoot band for a secure and comfortable lockdown.
The lightweight and highly responsive React foam cushioning, meanwhile, both softens impact and provides an energetic and bouncy toe-off.
Heel Drop: 10 mm, Weight: 11.4 oz, Support Level: High, Cushioning: High
| | |
| --- | --- |
| Pros | Cons |
| Very supportive fit | Arch feels quite prominent |
| Broad forefoot and base | Upper feels warm on hot days |
| Plush upper | |
The Structure 25 is built for stability, ideal for overpronators and those with high arches.
It features an updated foam midsole and broader midfoot support, along with a heel clip for a secure fit.
With more cushioning than its predecessor and a Zoom Air unit in the forefoot for a little extra responsiveness, it also has a wider forefoot with plenty of room to spread out your toes.
All materials on the inside of the heel, collar, and tongue have been made softer than ever, while the single-layer mesh upper is both breathable and hard-wearing.
That durability extends to the sole, which features forefoot grooves for flexibility, vertical grooves down the side for stability, and a rocker for smoother heel-to-toe transitions.
Heel Drop: 9 mm, Weight: 10.9 oz, Support Level: High, Cushioning: Super High
| | |
| --- | --- |
| Pros | Cons |
| Fantastic energy return | May not be supportive enough for some |
| Very comfortable | |
| Breathable, mildly water-repellent upper | |
A deep stack of ZoomX foam makes the Invincible 3 one of the softest shoes you'll ever wear, effectively reducing the impact of landing and protecting your joints.
The same midsole material used in the brand's racing shoes, ZoomX is also super-responsive, with a springy sensation you'll notice immediately.
Although Nike classifies this as a support shoe, the level of support in reality is somewhat minimal.
While the wider base, new midfoot geometry, and external heel clip do help with stability, the high stack and overall softness of the shoe allow for more pronation than you'd expect from a true support shoe.
For that reason, it's more suitable for neutral runners and ideal for easy recovery runs.
Want to know more? Check out our video review of the Invincible 3 here!
Heel Drop: 10.5 mm, Weight: 10.2 oz, Support Level: Neutral, Cushioning: Moderate
| | |
| --- | --- |
| Pros | Cons |
| Very durable | Lacking protection for technical terrain |
| Versatile enough for varied terrain | Not ideal for very wet or muddy ground |
| Supportive fit | |
If you're looking for a shoe suited to everything from the road to moderate trails, you won't be disappointed with this model, the trail version of the ever-popular Pegasus road-running shoe.
Featuring lightweight and springy React foam cushioning for protection without loss of stability – plus adequate ground feel through the forefoot – it uses Flywire technology integrated with a midfoot band for a supportive fit.
The corded lacing system with doubled eyelets feels very secure, while the lightly padded, fully gusseted tongue contours easily to the shape of your foot and provides protection from the laces.
There are extra skins across the toe area of the hard-wearing and very breathable upper to enhance durability.

The generative traction pattern on the outsole provides great grip on dirt, gravel, grassy, and paved trails
Heel Drop: 8.5 mm, Weight: 10.6 oz, Support Level: Neutral, Cushioning: Maximal
| | |
| --- | --- |
| Pros | Cons |
| Grippy, trail-specific outsole | High price tag |
| Great for speed on firm trails | Unsuitable for muddy ground |
| Broad forefoot for stability | |
Offering a responsive ride for longer distances – including ultramarathons – this trail racing shoe features a carbon Flyplate layered between a soft and springy ZoomX foam midsole.
For durability, the foam is wrapped in a woven fabric to protect it from the elements and resist abrasion on the trail.
The Vibram Litebase outsole – slimmer and more lightweight than a traditional outsole – has a chevron lug pattern for superior grip on uphill climbs and downhill descents, whatever the weather.
The breathable Vaporweave upper features a ripstop construction, while the lightly padded tongue, heel collar, and heel tab provide that bit of plushness you need for comfort over extended distances.
Want to know more? Check out our video review of the Ultrafly here!
Heel Drop: 6 mm, Weight: 6 oz, Support Level: Neutral, Cushioning: Moderate
| | |
| --- | --- |
| Pros | Cons |
| Great lockdown | Exposed ZoomX foam vulnerable to wear |
| Roomy toe box | Very thin laces |
| Highly breathable ultra-thin upper | |
Nike's low-profile Streakfly is its most lightweight racing shoe, with a full-length ZoomX foam midsole that gives it a lively feel.
It uses a Pebax midfoot shank instead of a carbon plate, providing a smooth, soft ride with a pretty high degree of ground feel.
The shank doesn't extend into the forefoot, leaving it pretty flexible, so while you won't get the powerful toe-off that carbon-plated shoes provide, you'll find that transitions feel much more natural.
The fully gusseted tongue is padded to relieve pressure from the laces and there are soft mesh pods and foam quilting at the heel, giving a secure feel.
Heel Drop: 8 mm, Weight: 7.4 oz, Support Level: Neutral, Cushioning: Maximal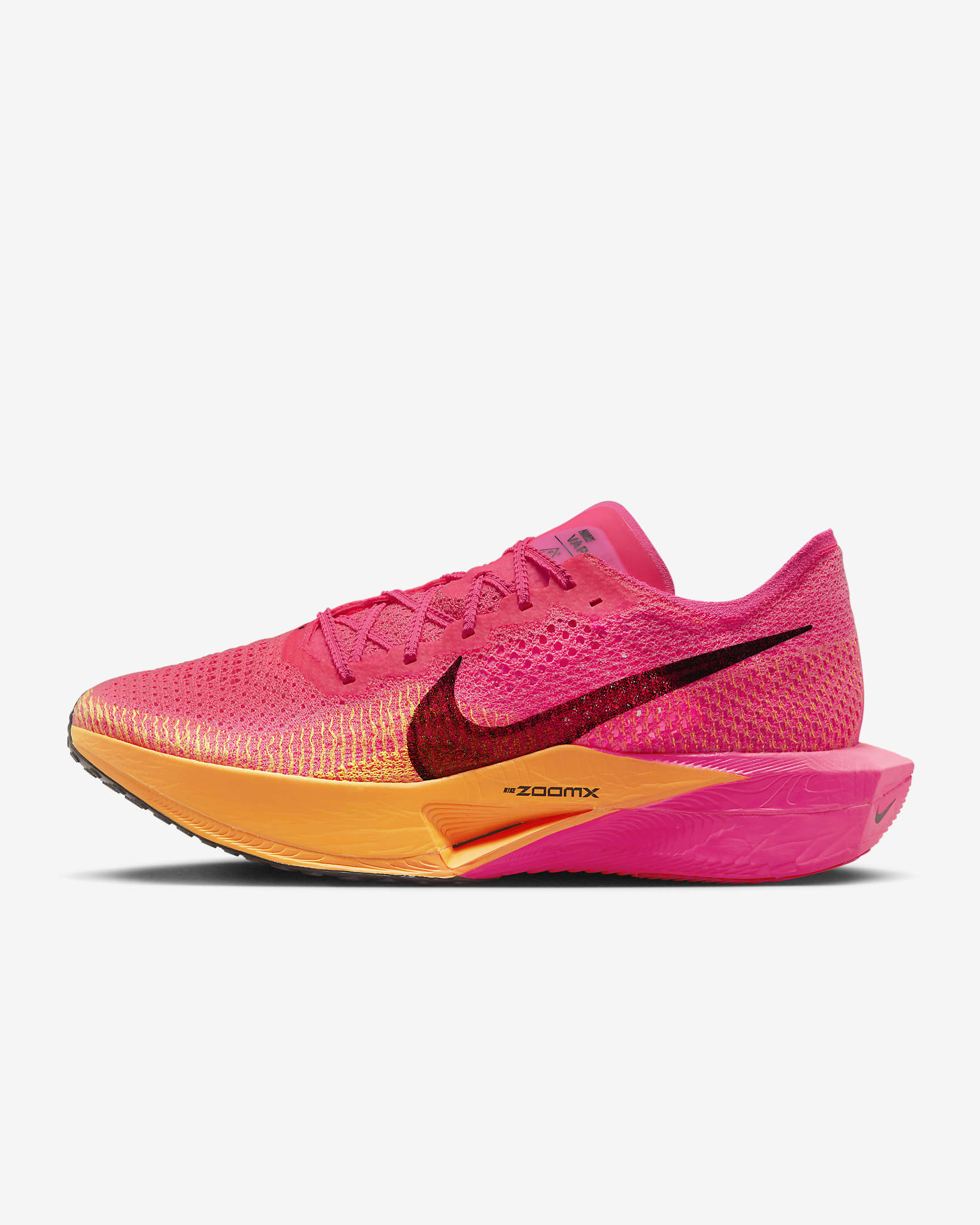 | | |
| --- | --- |
| Pros | Cons |
| Soft, resilient midsole | Pricey |
| Roomy toe box | Thin outsole vulnerable to wear (save the shoe for your speed sessions and races!) |
| Highly breathable open-knit upper | Upper bunches slightly if laced too tight |
It was tough picking between Nike's Vaporfly and the Alphafly for the top marathon shoe, but the slightly lighter weight, lower price tag (just!), and responsive feel of the Vaporfly gave it the edge!
Featuring a full-length carbon plate for propulsion – plus soft, springy ZoomX foam for comfort and plenty of energy return.

The Vaporfly is the 3rd iteration of a line long-revered by road racers everywhere.
It feels both speedy and stable – handling sharp turns with ease – and features a new Waffle outsole pattern with perforations that saves on weight and feels grippy, no matter the weather.
Check out our video review of the Vaporfly here!
And don't miss our video about the most popular marathon shoes at the Manchester Marathon (UK) in 2023.
Not only were Nike shoes worn by almost 75% of the most successful competitors, but the most popular were the Vaporfly, with the Alphafly hot on their heels (pun intended!).)
The 7 best Nike running shoes: Key Takeaways
Using premium materials and cutting-edge design, Nike consistently creates some of the best running shoes you'll find anywhere, from models durable enough for the rigors of the trail to sleek, lightweight footwear built for speed.
I hope you've found this guide helpful in choosing the perfect pair to help you meet your running goals!