Rowing is an excellent activity to include in your training program.
It works an incredible 86 percent of the muscles in your body and is also a low-impact cardio option, ideal if you're coming back from an injury.
Although few of us have access to waterways to row regularly, rowing machines for indoor use allow us to get a great workout when we're at home!
But buying a rower for the first time can be challenging – there are several types to choose from and a whole bunch of brands!
So to make things easier, I've put together this guide to the 8 best rowing machines for your home gym and the features that make them so enjoyable to use.
But before we get to my recommendations, let's take a look at the different types of indoor rowers available and the things to consider when choosing which is right for you.
What to Look for in a Rowing Machine
There are four main types of rowing machines:
Magnetic
These use a flywheel and two large magnets to provide resistance, which can usually be adjusted manually.
They tend to be quiet, compact, and low-maintenance but can be less powerful than other types of machines.
Air
These generate resistance by blowing air through a flywheel, with the resistance increasing the harder you pull.
They are popular and often great value for money, but they can be quite noisy.
Hydraulic
These generate resistance using hydraulic pistons and are often the most affordable, smallest, and easiest to store.
On the downside, they don't engage your legs very much and are really only useful for building upper body strength.
Water
These use a water-filled tank and internal paddles to provide resistance.
Unsurprisingly, this gives the closest feeling to real-world rowing and is the best choice if you're training for a competition.
Water rowers are quiet to use, but they can be harder work than other machines and are often more expensive.
Other things to think about include:
#1: Available Space
Check the space you have available and compare it to the dimensions of the machine you're interested in.
If you're struggling to find a rower compact enough to fit your space, look for a model that folds, can be propped against a wall, or comes with wheels for easy transportation.
#2: Durability and Maintenance
You'll be using your rowing machine often, so make sure it's built for frequent use.
This will probably mean a bigger outlay initially, but it's more cost-effective than needing to replace it sooner than you'd realized.
Remember, too, that some rowers require a bit more maintenance than others.
With a water rower, for example, you may need to purify the water and clean the tank.
#3: Extra Features
The best rowing machines come with all sorts of cool features, including smart connectivity, advanced metrics, immersive screens for streaming workouts, and more.
The more sophisticated the features, the more you can expect to spend – but if you struggle with motivation, streamed workouts and guidance can make your sessions a lot more fun.
The 8 Best Rowing Machines For Home
Resistance: Magnetic, 32 Levels, User Weight Limit: 300 lbs, Dimensions: 84 L x 21 W x 45 H Inches, Foldable: Yes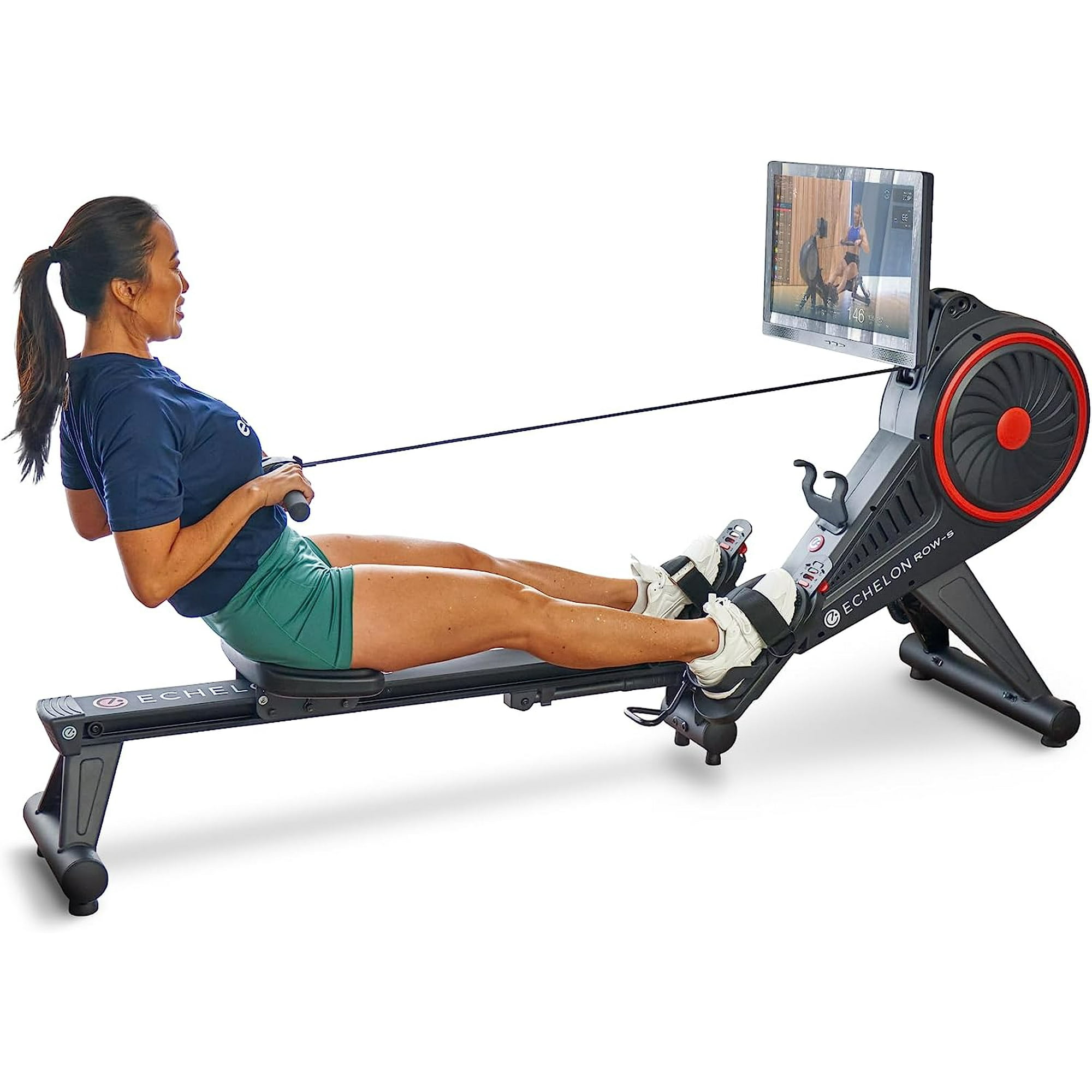 | | |
| --- | --- |
| Pros | Cons |
| Convenient handlebar controls | Echelon subscription needed for full benefits |
| Comfortable seat and wide, adjustable footrests | |
| Large, rotatable screen | |
If you're comfortable committing to a monthly Echelon membership fee and love the motivation and engagement that streamed workouts provide, then this is one of the best rowers to consider.
I found the Echelon classes excellent (with some very scenic waterways to explore) and the rotatable 22″ screen ideal for following live floor-based workouts, too.
The standard-length rail is angled just right to promote proper hip and spinal alignment, and I loved the convenience of the controls on the handlebar that are simple to adjust mid-row!
What's more, you don't need a ton of space for this model – it's super easy to fold down to just 40 L x 21 W x 60 H inches and comes with wheels to smoothly roll it into a corner.
Resistance: Water, User Weight Limit: 330 lbs, Dimensions: 82 L x 22 W x 20 H Inches, Foldable: No, but can be stored upright
| | |
| --- | --- |
| Pros | Cons |
| Handcrafted from sustainable hardwood | May be challenging for beginners |
| Very quiet | |
| Easy to store vertically | |
The first thing I noticed about this rowing machine was how cool that retro design looked – and while performance matters more than aesthetics, it's great to add such an attractive piece of kit to your home gym!
And I'm happy to tell you that this is a fantastic rower in terms of performance, too, providing the soothing, whooshing sound of water with every stroke and delivering your key metrics on the LCD display.
As with all water-resistance machines, the level of resistance depends on how hard you row so there is no manual adjustment, but this is what gives it a feeling of realism and makes it ideal for anyone training to compete.
It has a comfortably contoured, cushioned seat and transport wheels to roll it out of the way once your workout is done – plus it's available in a range of other wood finishes including oak, walnut, and cherry.
Resistance: Hydraulic, 12 Levels, User Weight Limit: 350 lbs, Dimensions: 52.2 L x 28.7 W x 11.8 H Inches, Foldable: No
| | |
| --- | --- |
| Pros | Cons |
| Wide arm movements to mimic rowing action | Limited lower body workout |
| Lightweight enough to move from room to room | Hydraulic pistons prone to wear and tear |
| Quick and easy to assemble | Can be squeaky |
Although this rower doesn't work your leg muscles much, it requires a greater range of arm motion than comparable models, giving your upper body a better workout.
I found the wide, cushioned seat comfortable to use and the handlebars grippy, while the resistance was easy to adjust with just a twist of the knob.
You can see your stroke count, time, calories, and total count on the integrated LCD digital monitor which also has a countdown feature for time, calories, and stroke if you want to challenge yourself during workouts!
My only real problem was with the foot straps – I have very narrow feet and they were so long that I just couldn't get them tight enough.
Resistance: Water, 6 Levels (depending on amount of water in tank), User Weight Limit: 300 lbs, Dimensions: 80.7 L x 22 W x 33 H Inches, Foldable: No, but can be stored vertically
| | |
| --- | --- |
| Pros | Cons |
| 6 programmable modes | Unsuitable for very tall users |
| Simple numbered adjustments on footplates | Display can be hard to read in a dim room |
| Easy to store | |
If you want the realistic sound and feel of water resistance without the high price tag of the original WaterRower (above), then check out this great machine from XTERRA – one of the best rowers I tried for under $500!
It may not be as beautiful to look at but still delivers a great workout, with padded handlebars and flex footplates that keep you comfortable as you power through the miles.
The 5.5″ LCD monitor is basic but useful, providing a range of metrics and with an adjustable height and angle for the perfect view.
Despite its relatively low cost, the entire unit feels well-made and features a durable frame made from solid steel with dual aluminum slide rails.
Resistance: Magnetic, 26 Levels, User Weight Limit: 250 lbs, Dimensions: 86.5 L x 22 W x 50.4 H Inches, Foldable: Yes
| | |
| --- | --- |
| Pros | Cons |
| Very smooth and quiet | Expensive |
| Comfortable pedals with quick-release adjustable foot straps | Limited functions without iFit membership |
| Comes with 30-Day iFIT Family Membership | No on/off switch – must be unplugged |
If you want a great quality rowing machine with unbeatable coaching from online trainers, then you'll love this model from NordicTrack – a name synonymous with innovative home fitness equipment.
The iFit instructors are excellent – engaging and informative – but what I really liked was the 'Autoadjust' feature that allowed them to adjust the resistance for me so I could simply concentrate on rowing harder!
The tilting, 22″ touchscreen is vivid and immersive, plus you can rotate it to follow other off-machine cross-training sessions.
The space-saving design is perfect for home exercise, too – the unit simply folds in half and has two front-mounted transportation wheels that make it easy to move.
Resistance: Magnetic, 16 Levels, User Weight Limit: 350 lbs, Dimensions: 74.8 L x 19.29 W x 34.06 H Inches, Foldable: Yes
| | |
| --- | --- |
| Pros | Cons |
| Smooth, quiet slide rail | Monitor is not backlit |
| Built-in stabilizers for uneven floors | Resistance may be too limited for some |
| Includes a water bottle holder | |
If you're not looking for bells and whistles- just a quiet, reliable, and sturdy model that won't break the bank – this is one of the best rowing machines to consider.
It was one of the easiest to set up out of the box – the clear instructions meaning it took no more than 20 minutes – and it feels very stable and sturdy, which isn't always the case with budget-friendly rowers.
The foot pedals are comfortably wide and have a textured rubber surface to help you get a good grip, while the adjustable LCD monitor is basic but clearly displays all your important metrics.
The quick-release pin makes it a breeze to fold for storage and – at just 4.3 ft² – its footprint when folded is pretty compact, so it's ideal if you're short on space.
Related Article: 4 Great Beginner Rowing Workouts
Resistance: Magnetic, User Weight Limit: 375 lbs, Dimensions: 86 L x 25 W x 47 H Inches, Foldable: No
| | |
| --- | --- |
| Pros | Cons |
| Sleek, stylish design | Limited functionality without subscription |
| Rotating, immersive 22″ HD touchscreen and front-facing speakers | Difficult to store (anchor kit for vertical storage must be bought separately) |
| Fuss-free – no resistance levels to adjust | |
This is a beautifully designed machine, as pleasing aesthetically as it is in terms of comfort and performance – but it requires a pretty hefty financial commitment and ongoing monthly subscription!
If you're happy with that, though, you won't be disappointed – the computer-controlled electromagnetic drag gives you a smooth, quiet, and exceptionally realistic experience.
I found the Hydrow classes very useful – especially as a beginner – and it's pretty cool to realize you're getting expert guidance from the likes of former and current Olympians, Paralympians, and members of the US National team!
The touchscreen is responsive and intuitive, you can set up an unlimited number of profiles, and – since the drag is preset to best simulate the experience of rowing on water – it's very simple to use!
Resistance: Air, 32 Levels, User Weight Limit: 500 lbs, Dimensions: 96 L x 20 W x 24 H Inches, Foldable: No, but easily splits into 2 pieces for storage
| | |
| --- | --- |
| Pros | Cons |
| Gym-quality | Large footprint |
| Device holder to follow streamed workouts | Noisier than other models |
| Bluetooth and wireless ANT+ connectivity | |
This is a heavy-duty piece of equipment designed by rowers for the toughest workouts, and while it's popular with serious enthusiasts for heavy training, it's still well worth considering if you're a rowing beginner!
Simple to assemble, it comes with either standard or tall legs for a higher seat (pictured) and is ergonomically designed to promote good rowing form, with a slight bend in the handle accommodating a very natural arm position, too.
It moves quietly and smoothly and the durable welded-steel construction includes a nickel-plated chain and double powder coat, with a pleasing glossy finish.
While it lacks a touchscreen, the backlit PM5 performance monitor delivers all the data you need, plus it can be connected to other apps, including Zwift, Regatta, and the company's own (and highly recommended) ErgData.
The Best Rowing Machines For Home: Key Takeaways
A good rowing machine is one of the best pieces of equipment you can buy for your home gym, combining low-impact cardio and strength for a total body workout.
I hope this guide has made it easier to decide which type will suit you best and that you're soon enjoying the benefits that the best rowers provide!