A good running cap is an important part of your gear when you regularly train outdoors.
It offers protection from the elements – keeping either the rain or the sun out of your eyes – and can help keep your hair off your face on windy days.
But it's not always easy to find a cap with the sweat-wicking properties, ventilation, and comfortable fit you'll need for running.
That's why we've put together this list of our favorite running caps on the market right now.
Designed to help you pick the perfect hat for your needs, it outlines the features that make them ideal for athletes and the conditions they're most suitable for.
Before we get to our recommendations, let's look at the things to consider before making your choice.
Let's jump in!
Features to Look For in a Running Cap
Before choosing a cap, think about whether you will want to pair it with sunglasses. If so, make sure you pick a hat that will accommodate them comfortably.
You'll also want to ensure the style you opt for won't limit your visibility in any way, particularly if you're a trail runner.
Other things to think about include:
Fit
Comfort is everything when you're running and your cap should fit you so well that you can almost forget you're wearing it!
Either pick a run cap in a size that will fit securely against your scalp without being too tight, or choose one that's adjustable.
An adjustable hat may use Velcro, snaps, or a buckle and slide closure, so make sure you select one that you'll find easy to adjust on the fly.
Running conditions
If you regularly run in bright sunshine, consider a cap that offers protection against the sun's rays.
A broad bill is useful for protecting your eyes from both sunlight and rain.
However, the larger surface area means it's more likely to be affected by the wind – so make sure it can be tightened if needed.
The fabric should effectively wick away perspiration and dry quickly. It should also be breathable enough to keep you cool on long runs.
Some models even provide extra ventilation features, like mesh panels and laser-cut holes.
weight and Packability
The biggest difference between a regular cap and a running cap is the weight.
A good run cap should be made with a lightweight design and fabric that will remain cool and comfortable as you clock up the miles.
If you are a trail runner or ultrarunner, look for a hat that you can easily pack away into your running backpack when the sun goes down.
The 9 Best Running Caps
Fabric: 100% polyester, Sizes: One size, adjustable, Machine washable: Yes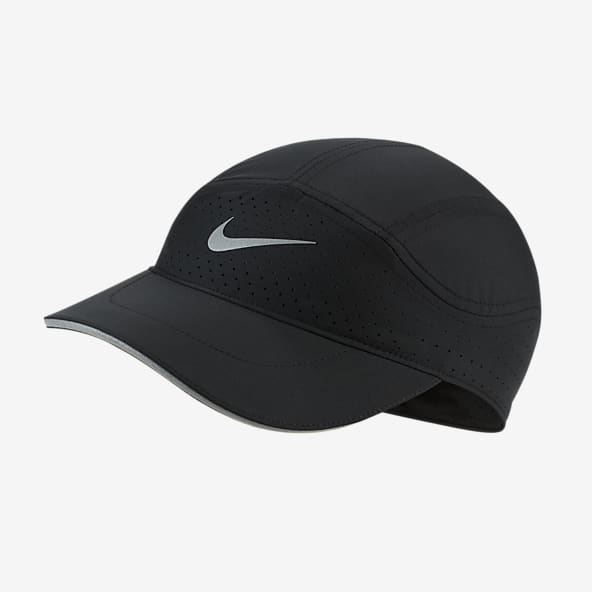 | | |
| --- | --- |
| Pros | Cons |
| Well ventilated | Might be too tight for larger heads |
| Quickly wicks away sweat | |
| Sustainably produced with recycled materials | |
With a classic style that looks great whether worn forwards or backwards, this cap excels at keeping the sweat out of your eyes, no matter how intense your run!
There are lasered perforations on the front and side panels that keep the air flowing and a reflective decal on one side to help with your visibility at night.
The closure is easy to adjust when needed for a customized, snug fit. That being said, the size is a little restrictive, especially if you have lots of hair!
Nevertheless, the lightweight construction and breathability make this one of the most comfortable hats we've tried over long distances.
Fabric: 100% organic cotton crown/bill plus recycled nylon & polyester mesh, Sizes: One size, adjustable, Machine washable: No
| | |
| --- | --- |
| Pros | Cons |
| Quick-wicking internal sweatband | Runs small |
| Easy to stow away | Limited color options |
| Highly breathable | Pricey |
Designed for off-road running and other outdoor adventures, this incredibly comfortable cap is made with so much mesh you're guaranteed to keep your cool!

It's a dream to pack away—you can simply squash it into whatever space you have, and it will pop right back into shape when you need it again.
Although it's hand-wash only it's actually pretty easy to clean, and it features an elastic buckle at the back that helps you achieve a perfect fit.
The bill is large enough to effectively keep out the sun (or the rain!) and we like the dark underbill, designed to cut out glare and reduce eye strain.
Fabric: 100% polyester, Sizes: One size, adjustable, Machine washable: No
| | |
| --- | --- |
| Pros | Cons |
| Durable, tear-proof woven fabric | Can be tricky to adjust |
| Quick drying | |
| Featherlight | |
Unlike many other running hats, this cool-looking cap from Swiss brand On has space at the back to accommodate a ponytail.
And that's not all we love about it, as it provides great protection from the sun on summer runs yet dries quickly after a downpour to keep you comfortable.
The form-fitting design gives you a barely-there feel, whilst the laser-cut holes at the side provide all the ventilation you'll need.
We appreciate the lined seams to prevent chafing and the little sleeve to take up the slack from the strap, but the fiddly closure can be a pain if you need to adjust it in a hurry.
Fabric: Recycled polyester and elastene, Sizes: One size, adjustable, Machine washable: No
| | |
| --- | --- |
| Pros | Cons |
| Lightweight | Not the most durable option |
| Wicks sweat quickly | Excess Velcro can catch in hair |
| Breathable | |
Available in both men's and women's styles, Lululemon's Fast and Free running cap has a large enough gap at the back for a high ponytail or even a bun.
It fits very comfortably, but though it's easy to adjust, we found we needed to remove it to avoid catching our hair in the closure.
The interior mesh fabric sweatband wicks away moisture very effectively, so you won't have to contend with sweat in your eyes.
We also love the flattering shape and reflective details, which help with your visibility when running in low-light conditions.
Fabric: COOLwick mesh and Repreve recycled performance fibers, Sizes: One size, adjustable, Machine washable: Yes
| | |
| --- | --- |
| Pros | Cons |
| Good range of styles/colors | None! |
| Dries quickly | |
| Easy to pack | |
Featuring Ciele's classic 5-panel design, this cap has a distinctly cool look that makes it fun to wear.
But this is definitely not a case of style over substance and the GOCap gives you UPF +40 UV protection on the front panels and brim, whilst quickly wicking away moisture.
The pre-curved brim is pliable, so you can stash the hat in your pack on a longer run, and it has a soft feel that eliminates pressure points.
The vivid reflective detailing is great – better than you see on most run caps – and we love that you can tuck away any excess strap after adjusting it for a cleaner look.
Fabric: Eventure knit shell and terry sweatband, Sizes: One size, adjustable, Machine washable: Yes
| | |
| --- | --- |
| Pros | Cons |
| Large visor | No reflective detailing |
| Easy to adjust | Could be more breathable |
| Durable – washes well | |
The Headsweats company was founded by cyclist Alan Romick who wanted to create headwear that would eliminate sweat blindness and sunburn.
That's something the brand has achieved with its Performance Race Hat, which features a built-in sweatband to keep perspiration (and sunscreen!) out of your eyes.
Available in a wide range of vibrant colors, it will fit almost all head sizes comfortably and has a soft, flexible feel.
Of all the hats we tried, it was one of the easiest to adjust mid-run, but we did feel it could use a little more ventilation for very warm conditions.
Fabric: Polyester and elastene, Sizes: One size, adjustable, Machine washable: No
| | |
| --- | --- |
| Pros | Cons |
| Packable | A unique look that won't suit everyone |
| Ultra lightweight | |
| Name label inside | |
If you're looking for a minimalist running cap that will keep you well-protected and comfortable on the longest runs, you've found it in this excellent hat from Buff.
It can easily be folded to stash in a pocket, although one of our favorite features is the flexible brim that stays in place when you flip it up.
This is ideal for trail runners, as it gives you a greater view of the horizon when running uphill.
There are plenty more features to love, too, including the UPF protective and moisture-wicking fabric, a low-profile sweatband, and an easily-adjustable elastic band closure.
Fabric: 97% polyester, 3% spandex, Sizes: One size, adjustable, Machine washable: No
| | |
| --- | --- |
| Pros | Cons |
| Great budget option | None! |
| High-vis and reflective styles | |
| Quick-drying fabric | |
We really can't fault this running cap from Trailheads!
It's lightweight, breathable, has a sweat-wicking headband, and fits so comfortably you forget you're wearing it… all at a great low price!
You get plenty of colors to choose from, some designed for high visibility when running at night and some with reflective accents.
But this cap really excels when it comes to sun protection, and we like the dark underbelly on the 2 3/4″ brim as it does a great job of reducing glare.
The fabric, meanwhile, provides a protection factor of 50+ UPF – the highest available.
And because this quality is inherent to the fabric rather than a coating, it won't diminish over time!
Fabric: 100% polyester, Sizes: One size, adjustable, Machine washable: Yes
| | |
| --- | --- |
| Pros | Cons |
| Cool-to-the-touch sweatband | Not ideal for smaller heads |
| Good ventilation | |
| Conforms well to your head shape | |
Under Armour's proprietary Iso-Chill technology in the sweatband puts this cap ahead of the game when it comes to staying cool as you train.
It uses flat yarn to disperse body heat and titanium oxide to absorb UV energy, resulting in a unique fabric that actually feels cooler to the touch.
The unstructured front and pre-curved visor provide a comfortable fit, whilst the strategically placed laser perforations effectively allow heat to escape.
Easily adjustable with a hook and loop closure, the Launch Run Hat is available in a wide range of vibrant colors and features reflective detailing for safety at night.
The Best Running Caps: Key Takeaways
A good running hat can help enhance your performance by keeping you dry, cool, and comfortable, no matter what the weather has in store!
We hope this guide has been useful in finding a cap that suits your style and provides all the protection you need for your next run!