A good running jacket isn't just a winter need. Even when summer is approaching and the weather's getting warmer, you never know when it's going to start pouring with rain or getting a little chilly again.
Being a running fanatic has its pitfalls, and if you're out exercising all the time, you're likely to come across some pretty gnarly weather conditions from time to time.
That's why it's crucial that you've got the right gear. We're talking gloves, headlamps, gaiters – and of course, a trusty running jacket.
In this article, we'll take you through some of the best running jackets out there, exploring these key points:
Why Are Running Jackets Important?
Key Features To Look Out For
The Best Men's Running Jackets
The Best Women's Running Jackets
We're confident that by the end of this article, you'll know how to spot a great running jacket!
Why Are Running Jackets Important?
Consistency is key when it comes to building an exercise routine and reaping the benefits of running.
And one thing you can do to give yourself the best possible chance of building consistency is to get hold of a good quality running jacket.
Think about it. I'm sure there have been numerous times when you've set aside time in your day to head out for a run, and then looked outside the window to see grey clouds and relentless rain, and ended up making yourself a cup of tea and cozying up with some Netflix.
That's totally fine — after all, we all need breaks and recovery periods.
But if you want to make sure you follow through with your exercise plan even when the weather is terrible, grabbing a good jogging jacket is crucial.
Running jackets have a few major uses. Their primary functions are to block wind, repel rain, and help you stay warm. They can also provide light and reflectivity during dusk and evening runs.
Most running apparel will be made from some kind of lightweight polyester blend, although lots of premium brands use more specialized fabric technology.
Choosing the right kind of jacket depends primarily on your own personal needs, so it's crucial that you work out what you're looking for in a running or jogging jacket.
Is it cold where you live, or are you used to a warmer climate? Do you get cold pretty easily, or are you a naturally warm-bodied person? What time of day do you usually run? These are all questions you'll want to ask yourself before making a purchase.
Alongside these questions, there are some key features that are worth keeping an eye out for. In the next section of this article, we'll be exploring some of the most important ones.
Let's get into it.
Key Features To Look Out For
It can be difficult to find the perfect jacket, particularly if you're new to running and don't have the best knowledge when it comes to gear and equipment.
That's why we've compiled a list of all the key features worth bearing in mind when you're looking for the right garment for you.
#1: Waterproof Vs Non-Waterproof
It's important to think about the kind of conditions you tend to run in. If you usually only go for a short run and jump straight into the shower afterward, waterproof protection probably isn't necessary.
This is particularly true during warmer months when waterproof coats can make you clammy and hot.
If you're running for longer stints and tending to venture further away from home, investing in a good waterproof could be helpful.
And if you're taking part in marathons and organized trail runs, it's definitely good to be prepared for all sorts of conditions.
Our article on running in the snow and ice offers some extra guidance on exercising during more extreme forms of weather.
#2: Windproof Or Not?
Windbreakers have become increasingly popular in reason years. While most waterproof jackets also provide good protection from the wind, it's important to make sure that you'll be well sheltered during windy conditions.
Windproof jackets tend to be lighter, although the downside is that they don't always offer great protection against precipitation.
Finding the right balance between wind protection and waterproofing is key to getting your jacket choice right.
#3: Pockets
Pockets can come in handy, but you want to find the right balance between added practicality and having too much weight. Having too many pockets, for example, can make the jacket overly heavy and less streamlined.
That being said, having a chest pocket can be handy, particularly if it's located on the inside of the jacket. This makes it a safer, drier place to store your phone.
#4: To Hood Or Not To Hood?
One dilemma you may face is whether or not you want to have a hood on your jacket.
This can be useful when it's cold, rainy, or windy (although try and avoid elastic rims, which aren't great in windy conditions). It's also worth checking for a toggle so that you can adjust the fit.
Keeping these points in mind will help you in your hunt for the perfect running jacket. But don't worry, we're not going to leave it totally up to you.
Below are some of the best running jackets for both men and women. It's worth remembering that plenty of these are available in unisex models, too.
The Best Running Jackets for Men
Ranging from the best value bargains to the super high-end stuff, here are some of the best men's running jackets out there right now. All prices are accurate at time of review!
With a super lightweight feel, breathable technology, and great weatherproofing features, this Columbia jacket is great for brisk days where you need some added protection.
And it doesn't have to be super cold for you to use — it's good in mild conditions too. You can grab it for using the buttons below.
If your budget is a little lower, don't worry. There are some great jackets on the market a few rungs down on the price range. This Montane Smock is super lightweight and easily packable, meaning that it's ideal for short-medium distance runs.
Its features are pretty basic, which is hardly surprising considering its lightweight credentials and highly affordable price. But at just it's a bargain.
It's time to get the big guns out. This GORE WEAR insulated jacket is 100% polyamide and built for extreme conditions. In the pouring rain and the roaring wind, this jacket will keep you warm and dry.
The price tag might put you off, and understandably so. But if you're willing to splash some cash on your running jacket, you can't go wrong with this one.
The Best Running Jackets For Women
Let's take a look at some of the best women's jackets on the market right now.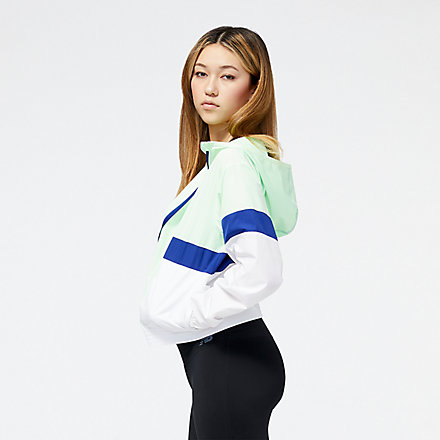 New Balance are offering some funky retro garments right now, and the Fast Flight is one of the best.
Best suited for moderate rain or wind, this women's running jacket is designed with New Balance's very own WindDefy and WaterDefy technologies for protection in everyday unpredictable weather.
With the Fast Flight, you can zip around your local area with a lightweight, colorful jacket on to shield you from the weather.
The New Balance Fast Flight is a great buy if you're not going for any super long-distance runs.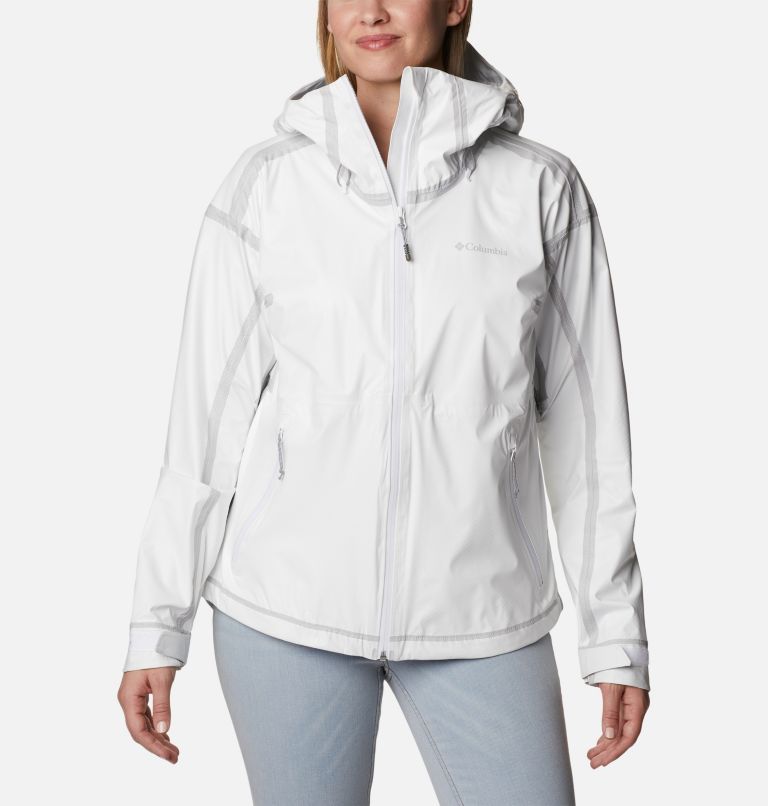 Columbia are a respected brand when it comes to outdoor activities, and this jacket is no exception.
With a lightweight fit and some really solid windproofing, it's a great piece of kit for those in-between months where you're not entirely sure what the weather will be like.
Made of breathable, waterproof nylon material, the Outdry aims to keep you at a manageable temperature throughout your run. You can grab it on Amazon.
Under Armour are a trusted provider of warmth for fitness fanatics of all sorts. Their Tech Full Zip is lightweight, warm, and super reflective.
While it isn't the most weatherproof jacket in the world, if your No.1 priority is simply to have an extra layer on cooler runs, then this is a good affordable option. It's available on Amazon.
Now you've Got the Jacket, You can Stick With Your Running Schedule
Purchasing a good quality jogging jacket is a great way to ensure that you keep to your schedule and get out for your usual runs even when the weather isn't on your side.
Now that you know some of the best garments out there, you've got everything you need to equip yourself for all conditions!
Whether you're training for a marathon, setting off on a super-intense cross-country trek, or just taking a jog around your local neighborhood, there are great running jackets to suit all purposes.
Check out Our Other Guides
We've got tons more useful guidance on what kind of gear you need to help you perform to the best of your ability and reap the rewards of running.
Why not check out our piece on the most helpful gear for running at night? Or if you're after something a little more general, read our piece on what to wear when you first start running.