Many of us like to take our phones along when we run, whether it's to listen to our favorite playlists, track our metrics, call for help in case of an injury, or navigate a new route.
But finding the best way to run with your phone isn't always easy.
Holding it in your hand isn't recommended, as it can cause subtle imbalances in your body that may eventually lead to injury.
Fortunately, there are other options, including armbands, phone holders, or running vests.
Alternatively, you can choose a good pair of running shorts with phone pockets.
In this guide, we've put together a list of our top ten shorts for men and women, designed to keep your phone securely in place so you can run without distraction.
Before we get to them, though, let's take a look at the features to consider when choosing the perfect running shorts for your needs!
The 10 Best Running Shorts With Phone Pockets in 2023 – Women
The 10 Best Running Shorts With Phone Pockets in 2023 – Men
Features to Look For in Running Shorts With Pockets
There's nothing more annoying than feeling your phone bouncing around with every step, or the weight of your phone dragging your shorts down!
These are common problems with many budget running shorts with phone pockets.
A well-made pair should fit snugly and be designed to hold the phone in close proximity to your body.
Other things to think about include:
Fabric
The best running shorts with phone pockets should be made from a moisture-wicking, lightweight fabric like polyester.
This will usually be blended with spandex or elastane – textiles that stretch to allow you complete freedom of movement.
Breathability is important too, as it will ensure you stay cool when the going gets tough.
You may also want to look for a fabric with quick-drying and odor-resistance technologies to keep you feeling fresh.
Inseam and Style
The inseam measurement refers to the length of the shorts – so the shorter the inseam, the less fabric you'll have covering your legs.
Your ideal inseam is a matter of personal preference – some people opt for a shorter inseam, for example, as they feel it gives them greater freedom of movement.
The style of shorts you choose is a matter of taste, too.
Some runners prefer a loose fit, whereas others like their shorts to be snug.
When it comes to running shorts with pockets, a snug fit (or at least a snug liner) is preferable, as it will hold your phone more firmly in place.
Storage
When choosing running shorts with phone pockets, think about what other items you might like to bring along with you.
Some styles will offer extra pockets to stash items like keys, cards, and gel packs in addition to your phone.
The Best Women's Running Shorts with Phone Pockets
Fabric: Liner: 83% Polyester, 17% Elastane Sizes: 0 to 20, Pockets: 1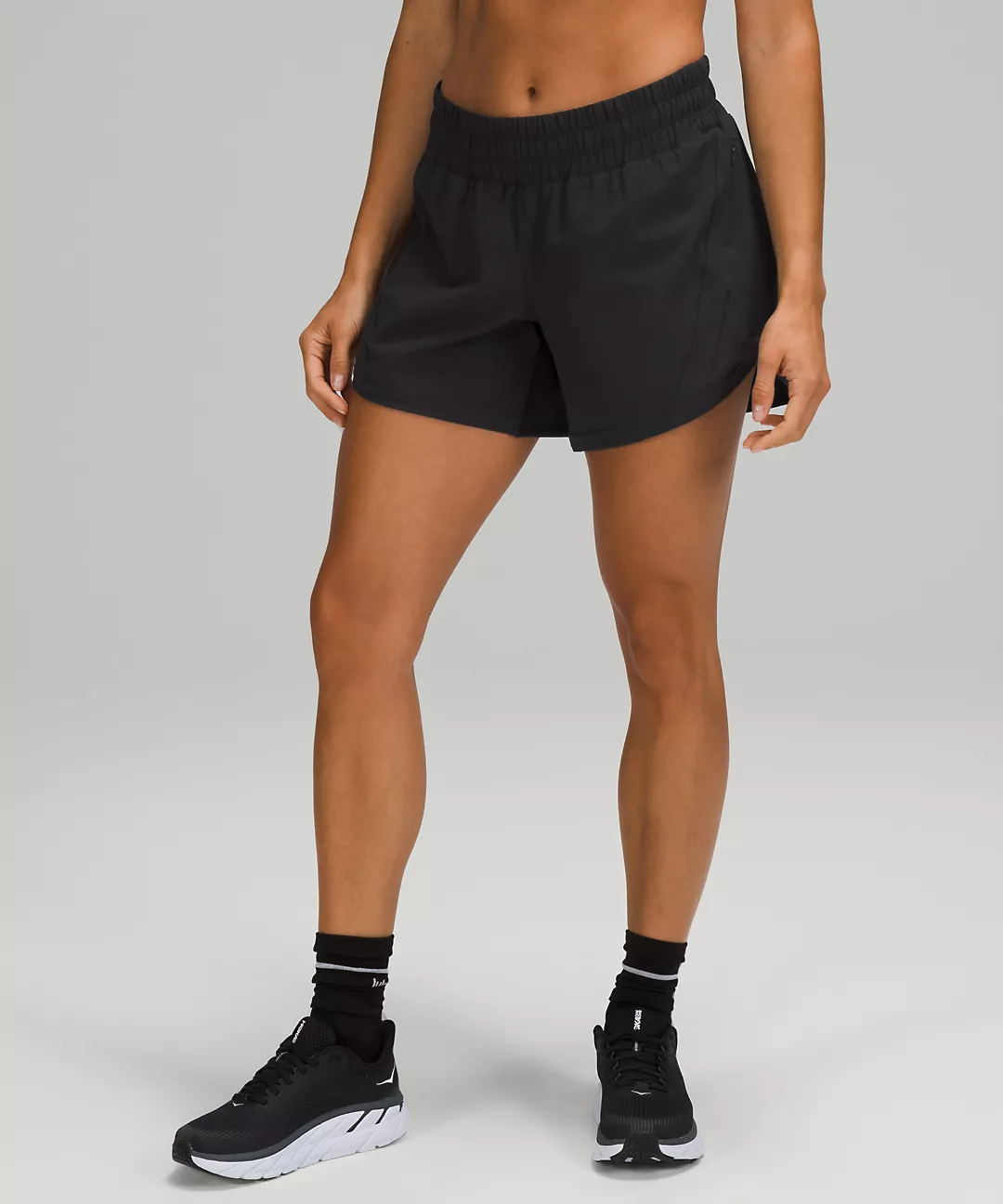 | | |
| --- | --- |
| Pros | Cons |
| Quick-drying liner | Only suitable for small phones |
| Water repellent | |
| Highly breathable | |
With a flattering mid-rise waist and a roomy leg opening for freedom of movement without chafing, these shorts are made from a Glyde fabric with a seersucker texture.
The pocket for your phone is zippered for security, so you can run with confidence, although – sadly – we found it wouldn't accommodate larger phones.
The waistband is great, sitting high enough to make you feel well-covered and lying comfortably flat against your skin without digging in.
We also found the moisture-wicking fabric very effective, keeping us cool and dry even during demanding runs.
Fabric: 90% Polyester, 10% Spandex Sizes: X-Small to XX-Large, Pockets: 1
| | |
| --- | --- |
| Pros | Cons |
| Built-in liner | Pocket is too small for larger phones |
| Flattering waistband | White option is see-through |
| Machine washable | |
This is a great pair of shorts for the price, with a super-comfortable wide waistband and internal drawstring to ensure a great fit.
We found they stayed in place even over long distances, without riding up or chafing, and the stretchy fabric makes it easy to move freely.
The pocket is in the back of the waistband and is zippered for security, so you won't need to worry about losing your phone mid-run.
The position of the pocket also means that your phone stays perfectly in place, but we were disappointed to find it was really only suited to smaller phones.
Fabric: Liner: 89% Polyester, 11% Lycra® elastane Sizes: 0 to 14, Pockets: 3
| | |
| --- | --- |
| Pros | Cons |
| Quick-drying liner | Not suitable for larger phones |
| Four way stretch | Pricey |
| Wide range of colors | |
With the quality you expect from Lululemon, these running shorts with pockets are made from the company's signature soft and strong Swift fabric.
The liner fits snugly yet comfortably and wicks away moisture in an instant, plus it features added Lycra for unrestricted freedom of movement.
There are two connected gel pockets on the waistband and a secure pocket at the back that will fit many small to average-sized phones.
The drawcord is handy for achieving a comfortable fit and we like the fact that it's continuous, which means it won't disappear inside the shorts when you wash them!
Fabric: Liner: 80.8% polyester,19.2% spandex, Sizes: X-Small to XX-Large, Pockets: 2
| | |
| --- | --- |
| Pros | Cons |
| Built-in stretchy liner | Limited color options |
| Lightweight woven fabric | No zippers on pockets |
| Good coverage | |
We love the shaped hem and comfortably fitting waistband of these affordable shorts from Baleaf.
The crossover style doesn't just look flattering – it's also functional, as it allows you full freedom of movement.
The pockets are located on either side of the liner and are super stretchy to accommodate most phones.
Whilst they don't have zippers, the liner fits snugly so your phone will stay firmly in place when you run, without bouncing.
Fabric: 88% Polyester,12% Elastane Sizes: X-Small to X-Large, Pockets: 2
| | |
| --- | --- |
| Pros | Cons |
| Water-resistant phone pocket | Run small |
| Durable fabric | Limited color options |
| Highly breathable | |
Designed to accommodate even plus-sized phones, these cool shorts from Under Armour are made with flatlock seams for a comfortable, chafe-free fit.
The pocket for your phone is conveniently located in the front of the waistband, so it stays securely in place and is easy to access mid-run.
Another bonus is that the pocket is water-resistant – a nice touch that ensures your phone is protected from moisture on sweaty runs!
The stretch-woven fabric dries very quickly to keep you comfortable and the mesh insets are great for keeping you cool on hot days.
The Best Men's Running Shorts with Phone Pockets
Fabric: Polyester and Spandex blend, Sizes: Small to XX-Large, Pockets: 3
| | |
| --- | --- |
| Pros | Cons |
| Chafe-free fit | A little pricey |
| Side splits for mobility | |
| Supportive internal mesh brief | |
Made from a DriLayer fabric to wick away sweat, these running shorts with pockets have a semi-fitted style and a flat waistband that sits high on the waist for a secure and comfortable fit.
They are perfect for longer runs, the soft and supportive liner staying in place throughout, without bunching or riding up.
What's more, you get lots of storage options!
These include a built-in loop for your key, oversized hip pockets for your gels or other essentials, and a generous zippered pocket at the side for your phone.
Fabric: 86% Polyester, 14% Elastane, Sizes: Small to XX-Large, Pockets: 2
| | |
| --- | --- |
| Pros | Cons |
| Ultra-soft inner waistband | None! |
| Zippered storage | |
| Lightweight fabric | |

These linerless shorts from Lululemon feature zippered, low-bounce pockets to keep your phone safe and secure as you run.
They have a very comfortable classic fit, providing some extra breathing space where you need it but not loose enough to bunch up or chafe.
The fabric dries very quickly and wicks away sweat effectively, whilst stretching easily in four directions to allow you to move without distraction.
We also love the versatility of these shorts, which are designed to be as comfortable for strength training as they are for running.
Fabric: 78% polyester, 22% spandex, Sizes: X-Small to X-Large, Pockets: 2
| | |
| --- | --- |
| Pros | Cons |
| Protect against chafing | Limited color choices |
| Very stretchy | Pockets are slightly narrow |
| Minimal seams for comfort | |
If you prefer the support of a more compressive fit, look no further than the Source Short Tights from Brooks.
The form-fitting design gives you a streamlined silhouette and includes a drop-in pocket on either side, so you can keep your phone in place without it digging in.
We also like the flat waistband which gives a secure, comfortable fit and includes a drawstring for adjustability.
Easy to care for, these short tights are both machine and tumble dryer safe.
Fabric: 100% Polyester, Sizes: Small to 3X-Large, Pockets: 2
| | |
| --- | --- |
| Pros | Cons |
| Ultralight fabric | Liner may be too snug for some |
| Anti-odor technology | |
| 4-way stretch construction | |
As their name might suggest, the 'Launch' shorts from Under Armour are designed to help you optimize your performance!
Featuring an internal mesh liner for breathability and mesh side panels for ventilation, they'll help keep you cool on hot days, whilst the quick-drying fabric wicks sweat away from your skin in an instant.
The deep hand pockets at the sides are ideal for all your running essentials, whilst the internal powermesh pocket on the right-hand side holds your phone snugly and securely.
And we love the comfortable waistband, which maintains its elasticity through multiple washes!
Fabric: 95% polyester, 5% spandex, Sizes: Small to XXX-Large, Pockets: 4
| | |
| --- | --- |
| Pros | Cons |
| Excellent value for money | Feel warm in hot weather |
| Drawcord for a snug fit | Not ideal for shorter runners |
| Supportive | |
Available in a wide range of cool colors, these shorts feature a lightweight, breathable mesh outer with stretchy, built-in tights.
Not only does this lining feel supportive, but it also helps guard against chafing so you can run comfortably for longer.
These shorts have been perfectly designed for phone users, with a roomy but snug fitting pocket in the liner, along with a hole for wired earphones so you can enjoy music while you train.
You also get deep pockets on each side of the outer shorts and a hidden zip pocket to stash valuable items like your cards and key.
The Best Running Shorts with Phone Pockets: Key Takeaways
Finding the right pair of running shorts with phone pockets can make your runs so much more enjoyable.
It's good to know that your phone is there when you need it, but it's also nice to be able to forget that you're carrying it!
We hope this guide has helped you identify the best shorts for keeping you comfortable – and your phone secure – throughout your next run.