A good treadmill is an essential part of any runner's home gym.
It makes it easier to maintain your training schedule when the weather is bad, or to run at times of day that you wouldn't want to train outdoors.
Choosing a treadmill, however, can be a minefield, since there is such a wide variety of styles on the market offering a range of different features.
To help you choose the perfect model for your needs I've designed this guide to the best treadmills for runners, with my top pick from each category.
I've outlined their pros, cons, and main features, and also described just what to look for in a home treadmill.
So let's get started!
Related Page: Best Treadmills for Seniors
The 7 Best Treadmills for Runners in 2023
Things to Consider When Choosing a Treadmill
Your first consideration when choosing a treadmill is the size of the belt.
While a belt around 50 inches long and between 18 and 20 inches wide will be fine for walking, you'll really need a length of at least 55 inches and a width of around 20 to 22 inches for serious running.
Other things to think about include:
#1. Recommended Weight Limit
Since manufacturers sometimes overstate their weight limits, it's a good idea to pick a model with a limit at least 50 lb higher than your actual weight.
Exceeding the limit can lead to increased wear and tear on the belt and motor, shortening the lifespan of your machine.
#2. Incline Feature
For runs as challenging as those outdoors, look for a treadmill with an incline feature.
Ideally, this should be automatic, allowing you to change the incline without breaking your stride.
Some models offer a decline feature, too, which simulates downhill running to challenge your body in a different way.
#3. Programs
Many of the best treadmills include onboard exercise programs. These keep your workouts challenging and interesting, helping you work on improving your performance.
Some models even offer compatibility with fitness apps like iFit, providing an immersive experience that can boost your motivation during workouts.
#4. Portability and Storage
Check how easy your chosen treadmill will be to move and store if you don't have a dedicated space for it.
Many models have folding decks and wheels for mobility. Very few fold completely flat, however, so you'll need to factor this in when considering your storage space.
#5. Manual Vs Electric
Although electric treadmills are generally considered 'better', non-motorized models have several benefits that make them worth considering.
Besides the obvious advantage of not requiring power, manual treadmills tend to be safer, require little maintenance, and provide a greater physical challenge than motorized models.
Related Page: Manual Vs Electric – a Complete Comparison
The 7 Best Treadmills for Runners
Weight Capacity: 400 lb, Belt Size: 60″ x 22″, Max Speed: 12 MPH, Incline: Yes, Treadmill Weight: 336 lb
| | |
| --- | --- |
| Pros | Cons |
| Versatile – ideal for walking, jogging, and serious training | High price tag |
| Folds for storage (although still bulky) | Requires a JRNY subscription to use any apps |
| Intuitive interface and easy-to-use controls | Tricky to assemble |
Choosing a treadmill with a TV screen allows you to follow online training sessions or catch up with your favorite shows to increase motivation and bring a little fun to your workouts.
This is one of my favorite treadmills in this category as it's such a great all-rounder!
Its weight capacity is one of the highest out there and the tread surface is very generous, making it suitable for a wide range of runners.
The decline/incline range of -5% to 20% and max speed of 12 MPH enable you to add challenge and variety to your workouts, while the Comfort Tech deck cushioning protects your joints from the shock of impact.
The large touchscreen – which you can tilt for the optimum viewing angle – connects via WiFi to the JRNY app, where you can access a good selection of guided and studio workouts.
A 2-month JRNY All-Access Membership is included with your purchase.
You also get the option to use 3rd party training apps like Zwift and entertainment apps including Netflix and Hulu (although you'll need separate subscriptions for those).
See more of the best treadmills with TV screens here
Weight Capacity: 300 lb, Belt Size: 55″ x 20″, Max Speed: 10 MPH, Incline: Yes, Treadmill Weight: 203 lb
| | |
| --- | --- |
| Pros | Cons |
| iFit compatible with automatic speed and incline adjustment | No touchscreen |
| Built-in sound system | Not ideal if you have a longer stride |
| FlexSelect feature allows you to turn the cushioning on or off | |
Buying a treadmill can be a pretty significant investment, but there are some excellent budget-friendly treadmills on the market too.
They may not come with all the bells and whistles of pricier machines but can help you get in a solid workout at home.
A case in point is the T Series 6.5S, with a SMART-Response motor that makes it ideal for interval training, a reasonably spacious belt, and a very robust construction.
Offering an incline range of up to 10%, it comes with a free 30-day subscription to iFit, although it won't display on the basic LCD screen and you'll need to stream it to your own device.
The console is easy to use and there are 20 pre-programmed workout options if you don't want to pay for iFit once your free trial expires.
This is a great treadmill if you're short on space as the EasyLift Assist with built-in hydraulics makes it so easy to fold, plus it has wheels under the stabilizers so you can roll it into the corner for storage.
See more of our favorite budget-friendly treadmills here
Weight Capacity: 325 lbs, Belt Size: 60″ x 20″, Max Speed: 12 MPH, Incline: Yes, Treadmill Weight: 224 lb
| | |
| --- | --- |
| Pros | Cons |
| Great cushioning system | Basic tech |
| Folds for storage | Fan is poorly positioned and weak |
| Good value for money | |
If you're looking for a treadmill for low-impact exercise following an injury or for recovery after long runs, you'll need one with superior cushioning for joint protection.
Consistently voted the best in its price range, the Sole F63 – newly upgraded for 2023 – is a robust, no-frills machine ideal for low-impact exercise but versatile enough for training runs too.
The console features 7 pre-programmed and 2 user-defined workouts, while the recent upgrade means it now has a tablet holder so you can watch streamed fitness content on your device.
There's also Bluetooth connectivity and speakers, so you can listen to your favorite cardio playlist for motivation as you train.
Walking or running on the patented Cushion Flex Whisper Deck is comfortable and the incline range of up to 15% allows you to make your sessions more demanding.
This is a durable machine, too, and feels steady even when used at max speed.
See more of the best low-impact treadmills here
Weight Capacity: 350 lbs, Belt Length: 43.3″, Max Speed: 20 MPH, Incline: Fixed, Treadmill Weight: 280 lb
| | |
| --- | --- |
| Pros | Cons |
| Challenging to use for a higher calorie burn | Expensive |
| Very durable | Takes a bit of getting used to |
| Bluetooth connectivity | Not easy to move around |
Curved manual treadmills are intended for high-performance running and have been shown to put a greater demand on the cardiovascular system than electric models.
Although the AssaultRunner Pro comes with a pretty high price tag, it's actually one of the more reasonably priced models in its class and features a high-quality construction that makes it worth the investment.
Its thick, grippy rubber belt is driven by the power of your stride, with every step pushing it smoothly behind you.
The faster you run, the quicker it moves, remaining incredibly stable throughout.
The curve of the platform means you're always running at a slight incline – increasing the challenge – although the angle is non-adjustable.
The simple LCD display allows you to monitor your metrics and there are no controls to worry about, just the 'start' button to get you going.
See more of the best non-motorized treadmills here
Weight Capacity: 350 lbs, Belt Size: 60″ x 22″, Max Speed: 12 MPH, Incline: Yes, Treadmill Weight: 274 lb
| | |
| --- | --- |
| Pros | Cons |
| Built-in entertainment options | Poor fan |
| Solid, stable construction | Screen is quite small |
| Folds up and locks into place for storage | |
While most people consider the length and width of a treadmill before buying, overhead clearance is a factor that's sometimes overlooked.
Considering that some models have decks as high as 15″, that can be a real problem if your ceilings are low!
Instead, you'll need a low-profile treadmill, and the Sole F80 – with a step-up height of just 8″ – is one of the best out there!
Featuring a challenging 15% max incline and shock-absorbing Cushion Flex Whisper Deck, it's great if you like to stay entertained as you train and has a 10.1" Android-powered Touch Screen panel with 12 built-in entertainment apps.
Although you'll need separate subscriptions to the apps you choose, you don't need to subscribe to the Sole app to access them.
It also offers screen mirroring, so you can mirror immersive streamed workouts, plus provides 10 pre-programmed and 12 user-defined workout modes.
See more low-profile treadmills here
Weight Capacity: 300 lbs, Belt Size: 55″ x 20″, Max Speed: 12 MPH, Incline: Yes, Treadmill Weight: 156 lb
| | |
| --- | --- |
| Pros | Cons |
| Folds automatically to just 10 inches | Very basic display |
| Lightweight and easy to move | |
| 12 incline levels | |
If you live in a small home, finding somewhere to set up a treadmill can be a challenge.
Buying a model that folds is a great solution and means you can simply push it to the side of the room once your workout is over.
There are plenty of great options on the market to choose from but many are still pretty bulky, even with the deck folded up.
That's not the case with the Echelon Auto-Fold Connected Treadmill, which is why it's my number one pick in this category.
Instead of the typical design where the deck folds up, this treadmill's handlebars fold down. That means it lies almost completely flat so you can slide it under your bed for storage.
It's not short on features, either, with Bluetooth connectivity, 8 pre-programmed workouts, and a built-in device holder for watching streamed content.
See more folding treadmills with incline here
Weight Capacity: 400 lbs, Belt Size: 60″ x 22″, Max Speed: 12 MPH, Incline: Yes, Treadmill Weight: 296 lb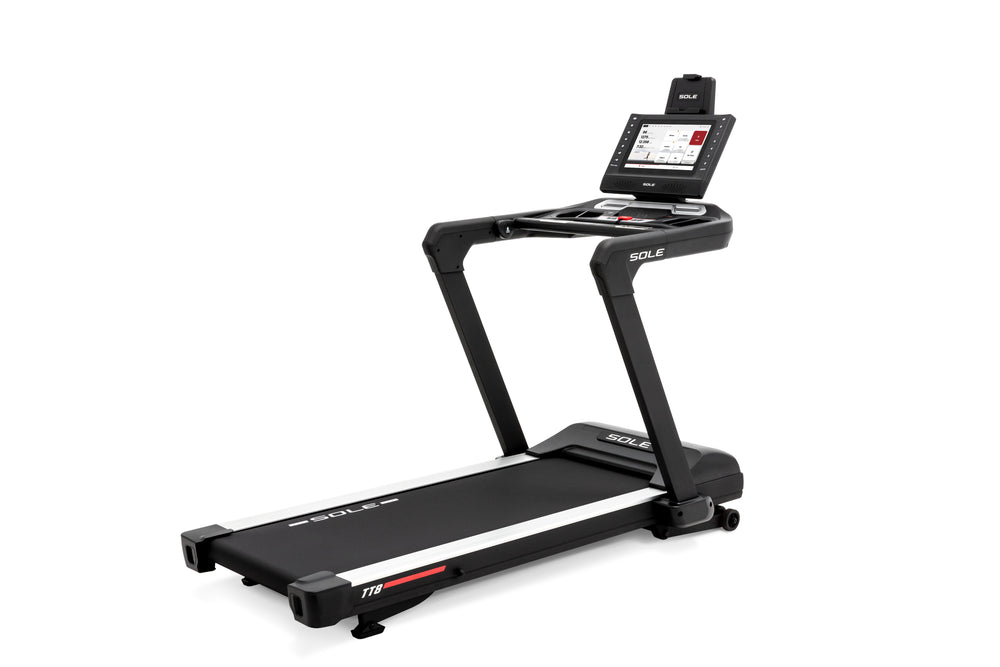 | | |
| --- | --- |
| Pros | Cons |
| Powerful motor and commercial grade 10 lb flywheel | Doesn't fold |
| 15.6″ touchscreen display | Non-adjustable screen |
| 10 pre-set and 12 user-defined programs | |
If you're of a heavier build then you've probably noticed that the more robust treadmills with higher weight capacities tend to be pricier than other models.
Although it can be tempting to plump for a more affordable model, placing too much weight on a treadmill unable to support it will wear out the motor and belt, so you'll soon need to replace it.
Sole's TT8 Commercial Treadmill may have a high price tag, but you're getting a powerful machine for your money, with a reinforced framework for strength and a wide running surface for comfort.
It's also very durable, with a perma-waxed reversible deck, hard-wearing 2-ply belt, and 3″ crowned rollers designed to give you years of use.
There are 15 incline levels and 6 decline levels to add variety and keep your workouts challenging, plus a USB port for charging and Bluetooth speakers for streaming your playlist.
See more treadmills for heavier runners here
The 7 Best Treadmills for Runners: Key Takeaways
Investing in a high-quality treadmill means you can train regularly in the comfort of your own home, with no worries about the weather or the safety aspects of running at night.
Whether you need a compact model for an apartment – or a high-tech machine to simulate running in beautiful locations all over the world – I hope you've found this guide useful in picking the best treadmill for your home gym.