Choosing the right running shoes is always crucial to your performance – but never more so than when you're running ultra distances.
The best ultra running shoes need to offer a bit of everything – a great fit, cushioning, support, and the ability to cope with all types of terrain.
Above all, they need to be comfortable – because whilst you might be able to put up with niggling discomforts during short runs, they can become unbearable over ultra marathon distances.
Picking the right shoes for your next ultra can be challenging. But – as always – we're here to help.
In this guide, we've listed our favorite ultra running shoes on the market right now and outlined the features that make them suitable.
But before diving in, let's look at the factors to consider when choosing the right shoes for ultra marathon distances.
The 6 Best Ultra Running Shoes in 2023
Features to Look For in Ultra Running Shoes
Trail running shoes are your best bet when it comes to running ultra distances. They are far better equipped than regular road running shoes for the long haul, offering greater durability, stability, and comfort over off-road terrain.
Choose a pair that locks down securely and fits you well, preferably with enough room in the forefoot to comfortably spread your toes.
Other features to consider include:
Traction
The best ultramarathon running shoes will grip a wide variety of surfaces, from sandy or grassy trails to steep, hard dirt.
Deeper lugs perform better on most types of surfaces, including muddy or snowy terrain.
Patterns that place the lugs close together are particularly ideal for rocks and other hard surfaces, whereas a wider spacing will shed dirt more quickly and is better suited to muddy terrain.
All six of the ultra running shoes in this guide offer great grip and feature durable rubber outsoles that will last the distance.
Protection
Running ultra distances can often include traversing uneven, rocky terrain. Not only should your shoes be built to last in challenging conditions, but they should also provide enough underfoot protection to absorb impact and stop you from feeling every protrusion.
This might come in the form of a rock plate, made of a hard, rigid material, or of generous foam cushioning.
Look out for a rubber toe bumper, too, as this can provide protection if you accidentally kick a branch or rock during your run.
Stability
A stable shoe is essential for preventing injury when you're running on uneven ground.
Ideally, the midsole should be firm enough to prevent too much flexion in one direction or another, while the platform should be relatively broad.
A firm upper is also important and should hold your foot in the optimal position for a stable landing.
Ground Feel
Although the best ultra marathon running shoes should be cushioned enough to protect the soles of your feet, they should still allow you to feel the ground to a certain extent.
This is necessary for proprioception – the messaging from your feet to your brain that enables you to sense your positioning and run efficiently.
For increased sensitivity and better ground feel, look for shoes with a low heel-to-toe drop and a wide toe box that allows you to spread your feet.
The 6 Best Ultra Marathon Running Shoes
– Multi-directional TrailClaw lug pattern, sticky Vibram MegaGrip outsole, and a zero heel-to-toe drop
– Best ultra running shoes for natural movement
This shoe features Altra's signature Original FootShape Fit. This is the roomiest of the brand's options and is designed to give your feet more space to sit naturally.
It also packs a ton of cushioning, with a generous layer of lightweight, bouncy Altra EGO MAX foam that is perfectly balanced from heel to forefoot.
It might look clunky, but the grid-like grooves in the midsole provide flexibility and promote natural movement. The result is a comfortable ride over a range of surfaces.
The plush cushioning also ensures plenty of underfoot protection on rough ground and absorbs impact forces, reducing the stress on your joints.
The grip is excellent on both wet and dry surfaces, thanks to the canted lugs beneath the metatarsals and the high-performance rubber outsole.
Other features we love include a cushioned heel collar designed to comfortably accommodate medial and lateral ankle movements, and a medial heel counter to limit overpronation.
Meanwhile, the TPU overlay reinforcements below the padding in the heel help keep the foot properly aligned.
– All Terrain Contagrip® outsole, easy-to-use speed lacing system, and a Profeel Film rock plate
– Good ultra running shoes for narrow feet
We love this offering from Salomon, which is built for the ultimate comfort over long distances.
The thick upper is well padded yet breathable, while the midsole has a soft yet responsive feel, with plenty of flexibility in the forefoot.
It also has an exceptionally plush tongue and a comfortably padded heel collar that cradles your ankle whilst still permitting natural movement.
The sole is slightly rockered, which gives you a little extra propulsion on flat surfaces whilst still coping well over more technical terrain.
The grip is good, too, and the outsole is made with durable rubber featuring evenly spaced 3.5 mm lugs.
These provide great traction on almost all surfaces, allowing you to move seamlessly from road to trail.
Just bear in mind that these are not ideal for a wider foot – even for a narrow foot the toe box is only just wide enough to splay your toes comfortably.
– Graphene-enhanced foam cushioning, graphene-enhanced rubber outsole, and a gusseted tongue for a secure lockdown
– The best ultra marathon running shoes for road and trail
Inov-8 promises a 25% increase in energy return with this shoe, thanks to the graphene-enhanced foam -known as G-FLY – used in the midsole.
This is designed to maintain rebound levels and comfort over even the longest distances, helping you feel fresher for longer.
Graphene is used again in the outsole, where – as one of the world's strongest materials – it significantly improves both durability and traction.
The grip is further enhanced by the 4 mm lugs, perfect for everything from road surfaces to hard and rocky terrain.
The toe box is comfortably wide and the sole features a unique ADAPTER-FLEX groove under the midfoot.
This 10 mm cut makes a huge difference to the maneuverability of the shoe and allows it to adapt easily to almost any type of terrain.
These features – along with a robust toe bumper, welded overlays, and stable feel – create a superior ultra running shoe that delivers a smooth ride on both road and trail.
– PWRTRAC rubber outsole, protective rock plate, and a breathable locked down upper
– Excellent value for money
The Peregrine is a very popular trail running shoe from Saucony and this edition is designed to be lighter and faster than ever.
It features a more minimal upper, although the pliable overlays still provide protection for your feet in rough terrain.
The insole has been updated, too, and is made with PWRRUN+ cushioning that absorbs shock whilst putting a spring in your step.
The new, flexible rock plate provides an effective shield on irregular ground, readily shedding moisture and drying rapidly, even after stream crossings.
The shoe offers superb traction, too, even on slick surfaces.
The outsole is made from grippy PWRTRAC rubber and the redesigned pattern of the 5 mm lugs sheds debris with ease.
Our only complaint is that the toe box is a touch on the narrow side, so we wouldn't recommend this shoe if you have a wider foot.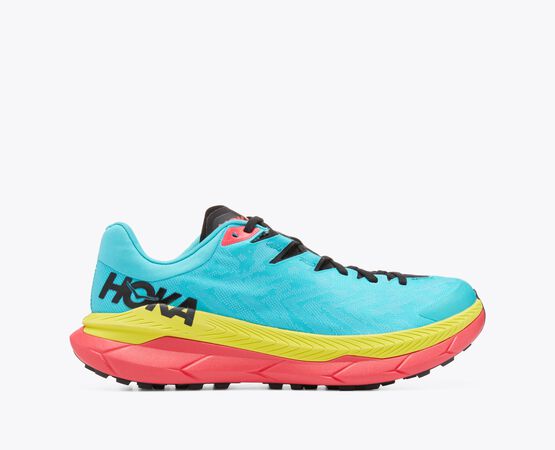 – Vegan-friendly, with a protective toe cap, generous toe box, and rockered sole
– Best for tarmac and hard trails
Hoka's ultra running shoes feature dual propulsive carbon fiber plates, inspired by the tectonic plates in the earth that also gave them their name!
These – combined with the snappy ProFlyX midsole – deliver a comfortable ride with cushioned landings and excellent energy return.
The jacquard engineered mesh upper provides a secure midfoot lockdown but is breathable enough to keep you comfortable over long distances.
We like the Ghillie lacing system, too, which makes it easier to achieve a tighter lockdown no matter what your foot shape.
The Vibram megagrip outsole with Litebase is designed to maximize contact with the ground and enhance both traction and stability.
That being said, the 4mm lug depth isn't cut out for very wet, muddy conditions and these shoes perform best on the road or hard-packed earth.
– Durable ContaGrip MA outsole, water-repellent upper, and a long-lasting PU foam midsole
– Best all-round ultra running shoes for all surfaces
It's not really surprising that we consider these the cream of the crop when it comes to the best ultra marathon running shoes.
That's because they were designed in conjunction with ultra-runner Francois D'haene, someone who knows a thing or two about what fellow athletes demand from their footwear.
Lightweight and breathable, they tick every box for distance running, using a high-rebound EnergyCell+ compound in the midsole.
This provides superior energy return whilst cushioning your feet comfortably over the miles.
Meanwhile, the EVA sockliner enhances your comfort by contouring to the natural shape of your foot and the Profeel Film in the midsole delivers a smooth, stable ride.
The All Terrain Contagrip outsole is grippy on all surfaces, whether wet, dry, hard, or loose.
We also appreciate the integrated gaiter and anti-debris mesh that work together to keep out dirt and grit.
The Best Ultra Marathon Running Shoes: Key Takeaways
Choosing the best ultra running shoes can be a challenge. There are heaps of variables to take into account, from the shape of your feet to the types of terrain over which you'll be running.
We hope you've found this guide helpful in determining just what you should look for in footwear for long distances and that you find a pair to see you comfortably through your next ultra run.
Is Gatorade a Healthy Choice?
Gatorade is one of the most popular sports drinks out there, developed back in 1965 to improve the athletic performance of a university football team.
But does the fact that it's marketed as a sports nutrition product mean that it's actually good for you?
Find out in our article about the Pros and Cons of Gatorade.