When it comes to diet, being vegan is pretty simple – no dairy, eggs, or meat. But what about when it comes to picking vegan running shoes?
It might come as a surprise to many, but countless running shoes on the market aren't suitable for vegans as they're made from animal-derived material.
From synthetic fabrics blended with various leathers such as cows', or dogs' skin, to varnishes extracted from beetle shells, glues derived from animal bones, and dyes made from animal matter – there's a whole host of things to look out for as a vegan runner.
So without further ado, here are my top 10 vegan running shoes for everything from trail to urban runs, marathons to recovery, stability to neutral support. Whatever kind of plant based running shoes you're looking for – you'll find it here.
Let's get into it!
The Best Vegan Running Shoes 2022:
The last few years have seen an explosion of vegan and sustainable running shoes put on the market.
And, as a vegan runner myself, I can tell you that over the last 12 months, vegan running shoes have only been getting better and better. After testing a whole host of them, here are my top 10 picks: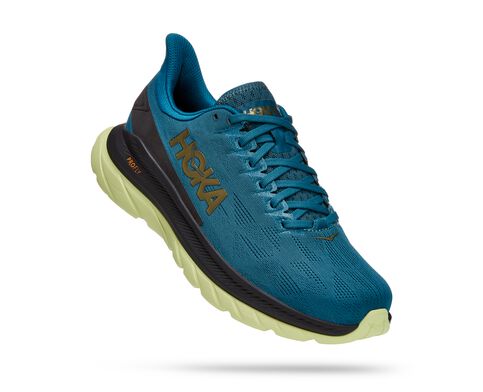 – Lightweight, super comfortable, and superb lockdown
– Best for daily road runs, easy miles and moderate speed runs
The Hoka Mach 4 is the perfect trainer to kick off our list of best vegan running shoes. This nifty little shoe is a great daily trainer perfect for lots of occasions. Super lightweight and nicely cushioned, the Mach 4 is responsive enough to be used for easy to moderate speed runs, but also plush enough to be used for marathons and beyond.
Despite being a neutral trainer, the Mach 4 also works well for those with slight overpronation. Breathable and flexible, it features Hoka's traditional rockered sole made from dual-density foam. Overall, the Mach 4 feels super secure and stable under the foot – like running on a cloud!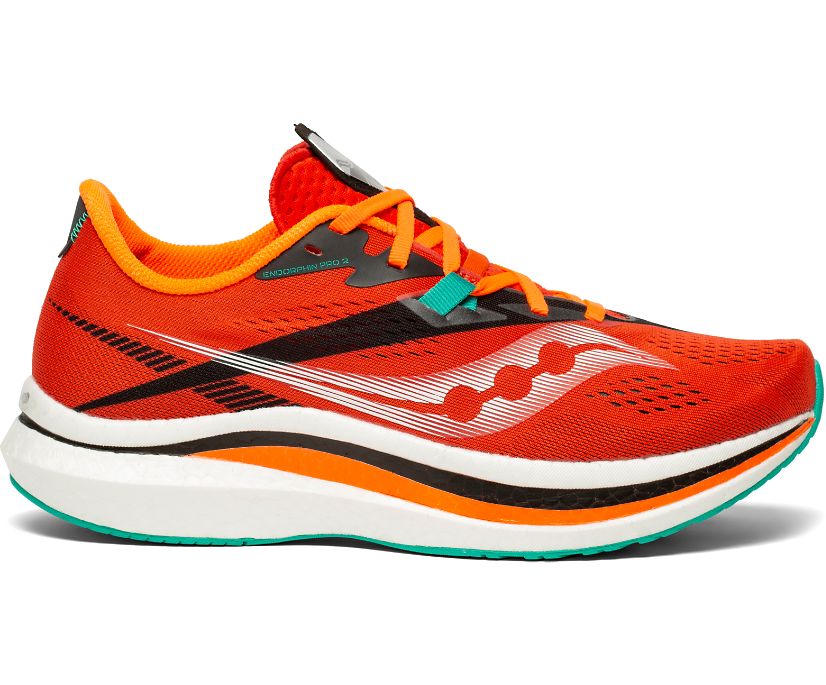 – Breathable, super responsive, and comfortable supportive fit
– Suitable for distance and speed runs on the road
The Saucony Endorphin Pro is amongst the best vegan running shoes, performing well for both speed and distance runs. As soon as you put them on, you'll notice the SPEEDROLL technology under your foot propelling you forward. It's this rocker design in combination with the lightweight materials that allow this shoe to pick up the pace. Despite being light and breathable, the materials have proved to also be incredibly durable.
The Endorphin Pro is a neutral trainer that can also work for those with mild underpronation. It's a little stiffer under the foot, but the PWRRUN PB foam keeps it comfortable and super responsive.
Read our full review of the Saucony Endorphin Pro here.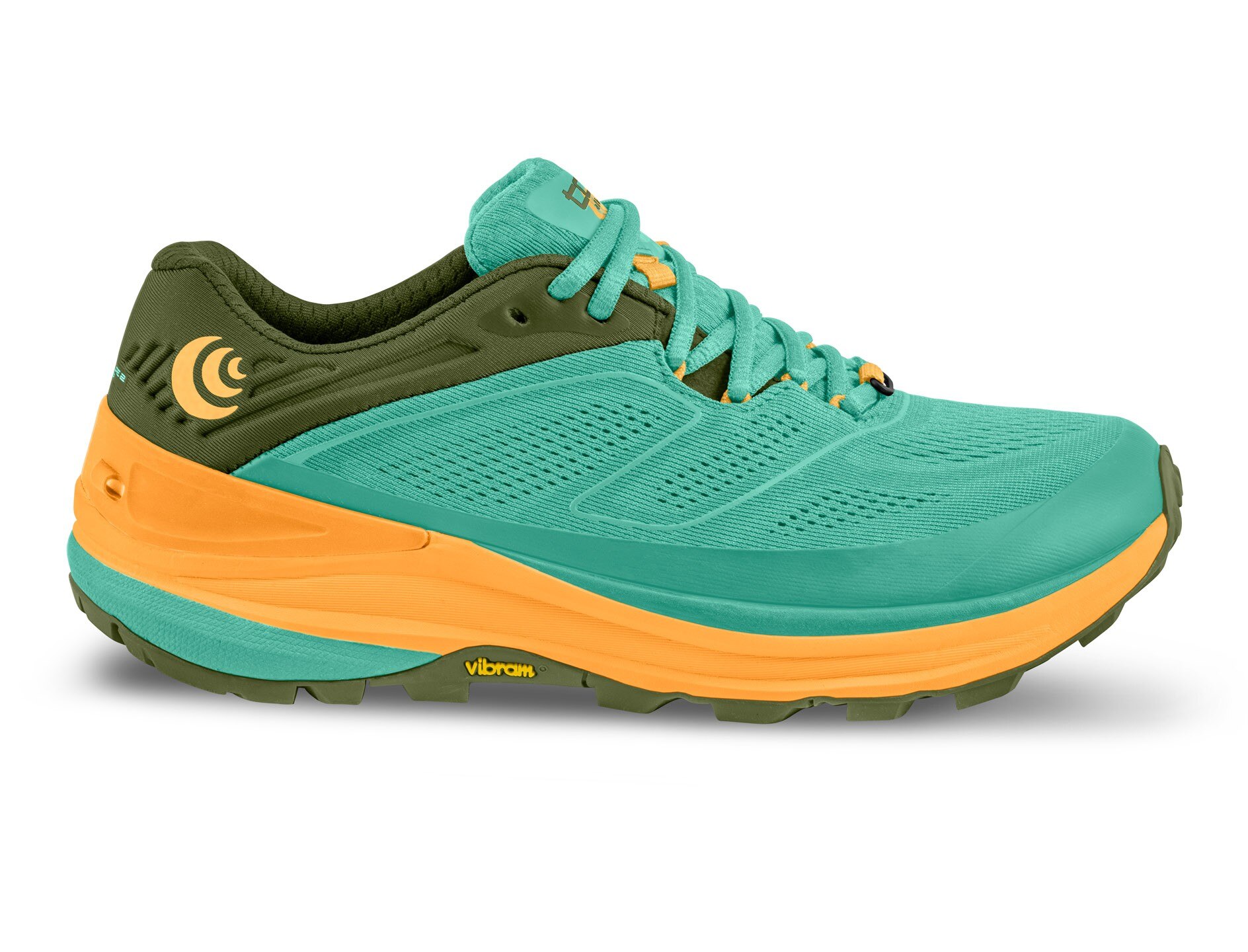 – Incredibly durable, superb traction and protective landing
– Perfect for trail runs and hiking in all weather
The Topo Athletic Ultraventure Pro is heralded by trail runners for the great protection it offers your feet on all types of tricky and unpredictable terrain. Whether you're running on rocky, slippy, downhill terrain, or otherwise – the Ultraventure Pro has got you covered.
The sole offers superb traction and the toe box is super wide allowing the toes to splay adding to the stability of this shoe. Even better, these shoes will last for miles. With a solid rubber overlay laying on top of a tight-weaved mesh, this neutral trainer fairs well against all the elements.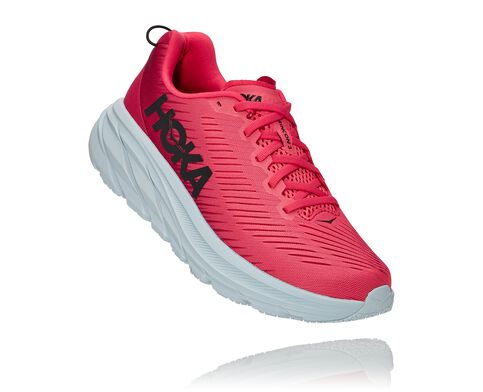 – Lightweight, soft landing, and responsive ride
– Great for speed training and urban runs
While the Hoka Rincon 2 looks a little bulky, it's actually super light, weighing in at only 7.7 oz (218 g) for men's and 6.5 oz (184 g) for women's – pretty impressive considering the generous cushioning in this shoe. This makes for a super soft landing while also maintaining a great responsivity under the foot.
These elements make it great for a variety of runs – from speed, long-distance, easy miles, and even recovery running. It's a neutral trainer with high arch support, but reviews suggest that it also works well for underpronators and mild supination.
– Very durable, soft-landing, and stable
– Great for easy and speed road runs, moderate overpronators, and heel strikers
Mizuno are a bit of an underdog in the vegan running shoes game – and the Wave Inspire 17 is a perfect example of this. Despite being a little heavy for a pace shoe, the Wave Inspire 17 is surprisingly capable when you push it to speed, and the integrated memory foam provides a nice, balanced cushioning for a comfy yet responsive feel.
The Wave Inspire is a stability trainer that does wonders to correct running patterns of overpronators, heel strikers, and those tended towards mild supination. This in combination with its superb lockdown offers a stable, secure, and reassuring ride for various runs.
– Durable, comfortable, great impact absorption and traction
– Best for road, easy miles, moderate speed runs
As someone with tricky knees, I was immediately impressed with how I felt after running in the On Cloudswift. Despite not having heaps of cushioning, the impact absorption on these bad boys is simply amazing and really takes the pressure off of your joints – which is especially great for longer runs.
This is another neutral vegan running shoe which shines in moderately paced shorter runs and when covering slower, long distances. Despite being a road shoe, I found that the flexibility and traction of this shoe fared well in some easy trail runs, too.
– Unbelievably comfortable, superb lockdown, and smooth ride
– Great for recovery, easy miles and distance runs
The Clifton 8 is super comfortable, soft landing, and lightweight making it perfect for various types of training. The plush EVA foam cushioning makes for a smooth ride while the rockered sole literally rolls you from one step to the next – making the Clifton 8 suited for both distance and recovery runs.
This is a neutral running shoe that offers a wider base than previous models in the Clifton series. This in combination with its secure, snug fit really adds to the stability of the design.
Here's our full review of the Hoka Clifton 8.
– Flexible, grippy, durable, and super supportive fit
– Perfect for speedy trail runs, hiking, and distance running
The La Sportiva Kaptiva is the endurance monster of vegan running shoes. Made for distance runs on all sorts of tricky terrain, these shoes are super supportive and grippy – leaving you feeling stable and confident to go for miles at some pace.
This neutral trail running shoe speed ability is partly down to it being much lighter than comparative models on the market. The outsole is also super durable while maintaining fantastic breathability and flexibility in the upper – it's a great addition to every trail lover's shoe collection.
– Super soft, stable, and smooth ride
– Great for distance runs, easy miles, and road running
The Glycerin 19 belongs to the Brooks Cushion Series alongside the Ghost 14, Adrenaline GTS, and Anthem – models known to be soft and protective around the foot. Brooks are also known for their durability, and this model is no exception – with a tough upper and outsole that is built for miles.
This neutral, high cushion running shoe uses Brooks DNA LOFT foam, feeling much plusher when compared to previous models. This, in combination with its large breathable toe-box, makes it a great option for recovery runs, long-distance, and for conditions such as plantar fasciitis.
Read our full Brooks Glycerin 19 review here.
– Durable, very comfortable, and super secure
– Great for road runs, everyday easy miles, and moderate distance running
Last but not least on our list of vegan running shoes is the Brooks Adrenaline GTS 21. This shoe is has been flying off the shelves since its release, and for good reason. This model feels super secure and smooth while maintaining nice flexibility across the foot.
This is a stability shoe perfect for overpronators and heel strikers. It's cushioning choice is stiffer than other Brooks, making the landing is a little more rigid. While this doesn't make it great for speed or recovery runs, the Adrenaline 21 performs really nicely for your easy runs and is durable enough to go for miles.
From Vegan running Shoes to Vegan Marathons – Check this out!