Walking is a great way to maintain your overall health, helping improve your cardiovascular fitness, increase your endurance, enhance your mobility, and manage conditions like high blood pressure.
But whether you walk regularly as part of your fitness routine – or are on your feet all day as part of your job – you'll know how much the right shoes matter!
The wrong choice of footwear can lead to foot pain, fatigue, and even injury.
But a good pair of walking shoes can make hours on your feet much more comfortable, providing support and cushioning in all the right places!
In this guide, I'll list some of the best walking shoes on the market right now, designed for everything from a stroll around the neighborhood to standing all day at work.
I'll explain why I recommend each pair and the features that make them ideal if you're on your feet for a significant amount of time.
First, though, let's look at what to consider when choosing the most comfortable walking shoes for your needs.
What to Look for in the Best Walking Shoes
In general, the best shoes for walking all day will be lightweight, supportive, and fit you perfectly.
You'll find a mixture of running and walking shoes in my recommendations below, as many are constructed similarly and offer these benefits.
Other things to think about include:
#1: Cushioning
A well-cushioned shoe will absorb shock and help relieve pressure on your feet.
The amount of cushioning can vary quite a bit from one shoe to another, with typical walking shoes using EVA foam in the midsoles to give a plush feel underfoot.
Running shoes, however, tend to be made with light, responsive cushioning materials that give them a bouncier feel.
It's really a matter of preference which you choose – personally, I like the pep in my step that running shoes provide!
#2: Stability
The best walking shoes should feel stable with every stride.
A broad sole and relatively spacious toebox can help with this, giving your toes room to splay comfortably.
Arch support is important too, keeping your foot well-aligned with every step and preventing problems like over/under pronation and plantar fasciitis.
Related article: Check out the 7 Best Walking Shoes for Flat Feet
#3: Construction
Standing all day can lead to hot, sweaty feet, so the most comfortable walking shoes are those made from breathable materials that allow air to circulate.
Mesh uppers are perfect for this, as they also offer the durability you need for hours on your feet.
Consider, too, the type of conditions you regularly walk in.
If you tend to walk in bad weather – or want the best walking shoes for off-road exploring – look for a water-resistant or waterproof upper (Gore-Tex is ideal).
Just be aware that waterproofing may make your shoes warmer to wear.
If conditions are wet but warm, a better alternative may be to look for a lightweight mesh that will dry quickly.
Make sure your shoes have tough soles that offer plenty of grip, especially if you'll be using them for trail-walking too.
The 9 best Walking shoes
Heel Drop: 8mm, Weight: 10.3 oz
| | |
| --- | --- |
| Pros | Cons |
| Stretchy, supportive Hypoknit upper | Runs large (as per manufacturer) |
| Well-placed underfoot cushioning | Sole wears easily |
| Large range of colorways | |
If – like me – you have wide feet or foot problems such as bunions or calluses – then you'll know how hard it can be to find footwear that feels totally comfortable in the forefoot.
For a wide foot, I find New Balance's Fresh Foam X 1080 the best shoes for walking all day – in fact, sizes range from narrow all the way to extra-wide, so there really is a perfect shoe for everyone!
I love the design of the midsole, which features extra Fresh Foam X padding at the widest points to increase flexibility at the narrower points – just what you need for optimal comfort with every step!
The Hypoknit upper is lightweight and breathable, designed with a 'second-skin' fit for support and a streamlined look.
Heel Drop: 11mm, Weight: 8.2 oz
| | |
| --- | --- |
| Pros | Cons |
| Roomy toebox | Not the most durable |
| Responsive cushioning | Arch support may not be enough for some |
| Great value for money | |
Available in a wide range of colors, the Devotion Plus 3 is specifically designed for a woman's foot shape and is versatile enough for both fitness walking or standing all day at work.
I found that the molded EVA insole gave moderate arch and heel support, while the full-length RE-ZORB foam in the midsole felt soft, light, and springy.
The spacious toe box is great, with plenty of wiggle room to prevent blisters and allow me to splay my toes for stability, while the segmented sole felt grippy on a variety of surfaces.
My biggest gripe is with the lack of grommets for the laces – the holes are simply slits in the uppers, which I feel will be very vulnerable to wear and tear and also make the laces hard to adjust.
Heel Drop: 22mm, Weight: 9.1 oz
| | |
| --- | --- |
| Pros | Cons |
| Soft, well-balanced cushioning | Short, flat laces are hard to tie |
| Sizes from narrow to extra wide | |
| Extra support helps with hip and knee comfort | |
The Adrenaline 22 uses Brooks' GuideRails technology to reduce excess shin and heel rotation and hold your foot in the optimal position – a technology the brand compares to adding stabilizers to a bike!
The result is enhanced comfort and safety for overpronators, effectively preventing the foot from rolling inwards with each step.
The stiff but well-padded heel counter keeps your heel securely in place and the durable upper is made from a very supportive and breathable mesh knit.
The 100% DNA LOFT midsole provides just the right level of cushioning – it's soft without being squishy, meaning that it absorbs impact effectively to protect your joints from stress but still feels nicely responsive.
Heel Drop: 8mm, Weight: 12 oz
| | |
| --- | --- |
| Pros | Cons |
| Very stable | Pricey |
| Balanced cushioning | Unsuitable for wider feet |
| Waterproof | |
If your walking regularly takes you off-road, then these durable but lightweight shoes from US brand Danner are just what you need to keep you comfortable over the miles.
They use the brand's proprietary 'EXO Heel System' with an external heel counter to provide support and keep your heel in place, plus an EVA midsole and removable OrthoLite insole for comfortable underfoot cushioning.
You won't need to worry about getting caught in a shower or walking through wet terrain with these shoes, either – they have a GORE-TEX lining to stop water from getting in while allowing sweat to escape.
The Vibram outsole with its multi-directional lugs feels super grippy – even in slippery conditions – and the upper is made from a combination of durable suede and a lightweight textile.
Heel Drop: 10mm, Weight: 13 oz
| | |
| --- | --- |
| Pros | Cons |
| Curved geometry and high-rebound midsole for forward momentum | Curved sole takes some getting used to |
| Natural odor control | Toebox is a touch narrow |
| Durable mesh uppers with TPU overlays | |
From family-owned US brand Keen, these shoes have a curved sole designed to propel you forwards, so they really help you pick up speed on your long-distance fitness walks.
They are super comfy, too, thanks to the contoured fit that follows the shape of your foot for a secure feel and the EVA foam midsole that helps absorb shock.
I found them very stable – especially with the full-length nylon plates – and the lugged rubber outsole felt very grippy and durable.
Other cool features include offset lacing to relieve pressure on the tops of your feet and 2 finger loops on the heels that make it very easy to pull them on and off.
Heel Drop: Not Stated, Weight: Not Stated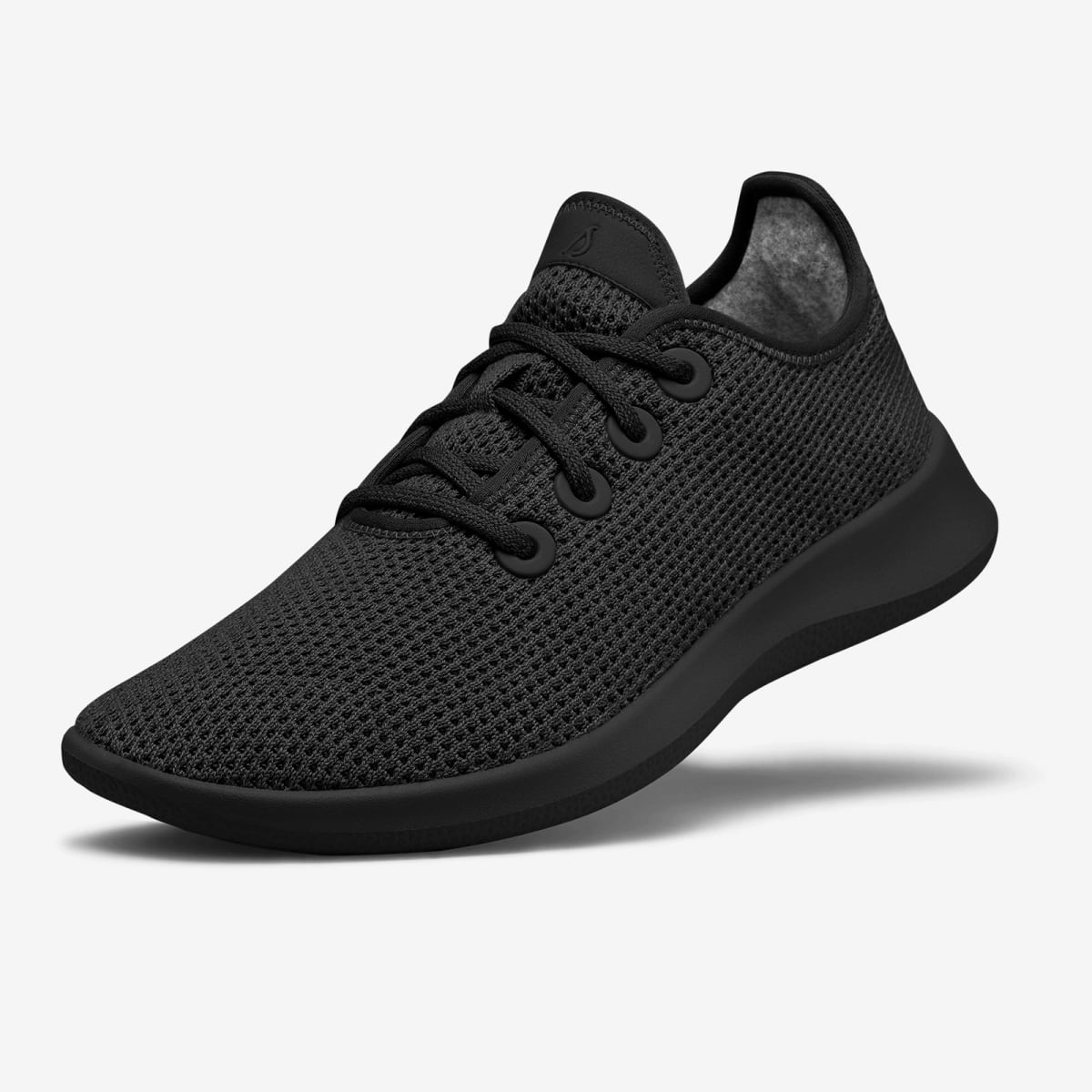 | | |
| --- | --- |
| Pros | Cons |
| Versatile design for everyday wear | Not ideal for cold weather |
| Very lightweight and flexible | Poor traction |
| Machine washable | |
Not only are these some of the best shoes for walking all day, but they are also the most environmentally friendly.
Made from responsibly sourced and breathable eucalyptus tree fiber and with a SweetFoam midsole made with sugarcane-based green EVA, they also feature merino wool heel linings to help minimize odors.
They contain quite a bit less cushioning than other shoes in this guide, so they may not be the best choice if you're looking for some serious padding and support underfoot.
But for everyday wear – including a full day at work in warm conditions – I found them incredibly comfortable and loved the lightweight, minimal, and flexible feel.
Heel Drop: 12mm, Weight: 9.9 oz
| | |
| --- | --- |
| Pros | Cons |
| Form-fitting interior for a snug feel | Short, shiny laces come untied easily |
| Removable foam insole for comfort and support | |
| Plush, cushioned tongue and collar | |
Brooks Ghost 14 is one of the brand's most popular lines and a great choice if you want a comfortable walking shoe that you could easily use for running too!
With a soft, 100% DNA LOFT midsole for cushioning and a segmented crash pad to reduce stress on the back of the foot, it keeps your feet feeling fresh all day and offers smooth, easy transitions during long runs.
The soft-blown rubber outsole grips well and features flex grooves that allow for very natural movement in the forefoot, no matter your pace.
The air mesh upper is stretchy and breathable, with 20 different style options to make it easy to find a look that's right for you.
Heel Drop: Not stated, Weight: Under 5 oz
| | |
| --- | --- |
| Pros | Cons |
| Very comfortable cushioning | Less support/stability than other styles |
| Soft upper with a sock-like fit | Unsuitable for cold or wet weather |
| Machine washable | |
This walking shoe manages to be both very lightweight and very well cushioned – a perfect combination if you regularly spend all day on your feet!
Available in a range of colors, it features a breathable knit upper that conforms perfectly to the shape of your foot, so it moves easily when you do and won't cause blisters.
The EVA sole is responsive and flexible, with a ridged pattern to help with traction, although I wouldn't recommend these for very slick or wet surfaces.
The simple look, meanwhile, makes these suitable for work, sport, or everyday wear.
Heel Drop: 4mm, Weight: 10.8 oz
| | |
| --- | --- |
| Pros | Cons |
| Ultra-soft cushioning | Quite bulky |
| Grippy outsole | Expensive |
| Wide and stable | Rocker-style sole won't suit everoyne |
Hoka shoes are well-known for their plush cushioning and the Bondi 8 is one of the most well-padded out there, featuring a soft EVA foam to absorb impact and keep your feet feeling fresh!
There are other comfortable touches, too, that I really appreciate after hours of walking, including a pillowed tongue and cozy, contoured memory foam collar.
Awarded the Seal of Acceptance and recognized to be beneficial to foot health by the American Podiatric Medical Association (APMA), the Bondi 8 has an internal heel counter – a non-visible feature that provides stability for comfort and safety.
It also features Hoka's classic meta-rocker platform – a sole designed to propel you forward and put a noticeable spring in your step.
You can see more of the best walking shoes from Hoka here
The 9 best Walking shoes: Key Takeaways
A good pair of walking shoes should be so comfortable that you can forget you're wearing them, providing support and stability while keeping your feet feeling fresh throughout the day.
I hope you've enjoyed reading this guide to some of the best walking shoes available right now and it's helped you find the perfect pair for your needs.