ProForm has been a major player in the realm of home exercise equipment since 1977. Its state-of-the-art treadmills have a reputation for quality and reliability, with a range of easy-to-operate models to suit various budgets.
The City L6 is the least expensive unit in their lineup – a foldable but high-quality model designed for anyone living in a small space that out-performs many competitor models.
However, the ProForm City L6 treadmill won't be for everyone.
It is lacking a couple of features that some may consider essential and its compact size limits its versatility. But for light runs or walking, it's a serious contender, whilst its iFit compatibility broadens its scope of use and adds a real element of fun to your training.
In this review, we'll take a look at the specifications for the Proform City L6 Treadmill and just what it has to offer in terms of functionality and performance. We'll also discuss the ways in which it can be used either with or without an iFit subscription.
| | |
| --- | --- |
| Pros | Cons |
| Foldable, easy to store | Very basic console display |
| Proshox cushioning system for shock absorption | No incline feature |
| Smooth, quiet operation | No built-in workouts |
| Easy to move with front-mounted wheels | Limited max speed of only 8 MPH |
| iFit compatible for access to 1000s of workouts | |
| Includes a media rack for a tablet or smartphone | |
The ProForm City L6 Treadmill: Features and First Impressions
Do you dread the assembly that often goes with setting up a new piece of equipment? Then you'll be pleased to hear this treadmill is pretty much ready to go straight out of the box! All you'll need to do is unfold the upright bars and attach the tablet holder.
Let's take a look at its features.
#1: Size and Portability
The Dimensions
At just 29" wide, 70.25" deep, and 44.5" tall, this is a treadmill with a very small footprint. The belt size – the actual surface on which you'll be running – is 45" x 17.5". This is almost as narrow as treadmills get and can be problematic if you have a larger build.
Considering that the average weight of a home treadmill is around 250 pounds, the City L6 is relatively lightweight at just 125 pounds. This does result in a slight increase in impact noise when you run, but it also means the unit is pretty easy to move around.
It has a maximum weight capacity of 250 pounds – definitely on the lower end of the spectrum but still suitable for your average user.
A Folding Frame
This is one of the main selling points of the City L6, which is designed to fold down to the slimmest size possible. The console itself folds down flush against the upright bars, then the bars fold down against the deck.
This makes it possible to stow the entire unit under a bed with enough clearance. If you don't have a permanent spot for a treadmill in your home – or you are lacking in storage space – this is a great feature.
The Front-Mounted Wheels
Smoothly rolling wheels at the front of the unit make it easy to move from one room to another.
#2: Technology
Console
The simple and intuitive backlit console features bright digital numbers that clearly display your running metrics.
These include your speed, pace, calories burned, time, and distance covered. If you are using the iFit app, then you can sync your tablet with the console in order to view these metrics on your device.
The quick start buttons allow you to easily change your speed without breaking your concentration. This is useful if the iFit workout you're following has adjusted the treadmill to a faster speed than you're comfortable with.
The built-in media rack behind the console allows you to securely position your Smart device, whether using the iFit app or streaming other content as you train. Under the console, a slim handle runs across the unit for balance.
iFit compatibility
The City L6 is iFit enabled – and a free, 30-day family membership is included with your purchase. This subscription then auto-renews unless you cancel (at the time of writing the fee is $39 per month, plus tax).
To stream fitness classes from iFit, you'll need to use your own device (either smartphone or tablet) on the media rack. You'll then have access to thousands of workouts and live, dynamic training from expert personal trainers.
The app automatically adjusts the speed for you at the direction of the trainers, allowing you to enjoy a hands-free experience.
#3: Speed
With a max speed of 8 miles per hour, the City L6 is suitable for walking, jogging or light running rather than high-speed sprinting.
#4: Motor and Rollers
This treadmill features a 1.6 CHP2 Mach Z™ motor. Energy efficient, it's designed to operate quietly. In keeping with many other features of this compact model, it is ideally geared towards walkers and joggers, as it doesn't quite offer the power required for high-speed running.
The 1.6" precision-balanced non-flex rollers are designed to decrease tension. Not only does this reduce the wear and tear on the unit, but it also provides a better grip and cuts down on noise when in use.
#5: Cushioning
Comfort is important when you train and ProForm's trademarked ProShox cushioning effectively reduces impact.
Reducing stress on your joints, the shock absorbers throughout the deck area help you train for longer and recover from your sessions more quickly.
#6: Price
The ProForm City L6 is $599, making it one of the least expensive high-quality treadmills available.
#7: Warranty
ProForm offers a robust warranty on this treadmill, with a 10-year frame warranty and a 1-year warranty for parts and labor.
The ProForm City L6 Treadmill: The Road Test
Not having the dedicated space at home to devote to a treadmill, I was excited to try out the ProForm City L6. I had 5 main conclusions during our road test:
#1: It's Easy to Fold and Store
The Proform City L6 treadmill couldn't be easier to fold down – and that's an important factor.
This is a piece of equipment you'll be using on a frequent – perhaps daily – basis, so you want things to be as simple as possible! All you need to do is press a lever and the upright bars and console fold down against the deck.
It folds much more compactly than many other models, which often remain in a 'V' shape and can be tricky to store.
But, of course, it doesn't fold completely flat. So bear in mind that you'll need around 13 inches of clearance to get it under your bed (although you can reduce this by a couple of inches if you remove the rack).
#2: It's Great for Speed Walking or a Light Run
Something I discovered very quickly was that this treadmill is perfect for walking and jogging. Unless you are very petite, it's not ideal for high-speed sprinting – and there are a few reasons for this.
At 45" x 17.5", the dimensions of the belt are pretty small. I have a fairly small build myself, so I didn't have too much of a problem with the width and didn't feel the need to keep looking down at my feet. Anyone with a wider build might find the width quite restrictive.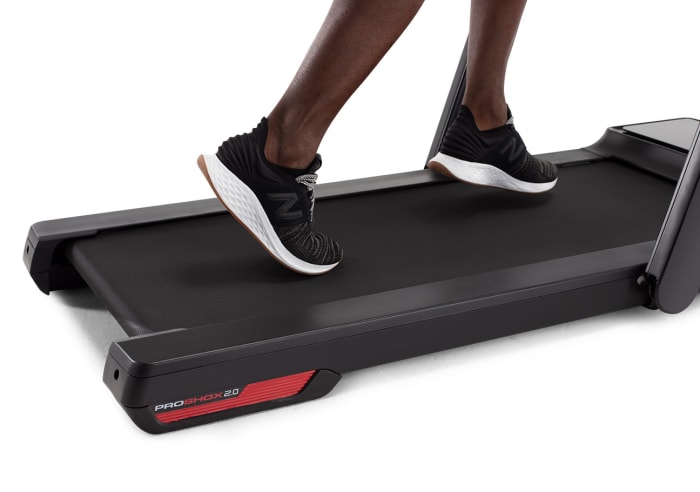 But its length is significantly shorter than that of a gym treadmill (where you'll typically see belts at least 60 inches long). This limits the length of your stride – and unless you're particularly short, you will struggle to run on this.
Of course, the top speed of 8 mph limits this too, as does the 1.6 CHP motor. Treadmills designed for running will need a 2.5 CHP motor at the minimum. This gives them both durability and the capability of reaching high speeds.
The 1.6 CHP motor of the Proform City L6 provides just the right level of power that you'll need for walking, jogging, or – if you're very petite – a light run.
And here it shines! The treadmill is comfortable to use, with pretty decent cushioning given its compact size. It moves smoothly – responding quickly to changes in speed – and I found the motor fairly quiet.
Related Article: The 7 Best Treadmills Under $1000 In 2022
The frame feels surprisingly sturdy and stable, although heavier users might experience a slight wobble. But this unit is designed to be portable, so this is something you have to expect given its reduced weight. I also found the upright bars a little wobbly, probably because the console is so minimal in design and there is no storage tray to stabilize them.
#4: There's No Incline Feature
This can be a deal-breaker for some, so it's important to realize this treadmill has no incline whatsoever. Of course, you can get in a great workout without this feature – but if an incline is a 'must have' then you may prefer a model like the Echelon Stride.
#5: iFit Compatibility Elevates Your Experience
If you struggle with motivation when training at home, the iFit app is an absolute game-changer. Once I started using it with the City L6 I was amazed by how quickly – and enjoyably – my training periods passed!
Whatever your preferred method of training, you'll find something to suit you within the app. There is a combination of pre-recorded and live workouts, where the speed of the treadmill automatically adjusts when directed by the trainer.
This is a cool feature and allows you to get on and enjoy the session without having to change settings. Sometimes the automatic adjustment set the speed a little higher than I liked, in which case I could easily reset it using the quick start buttons.
I particularly loved the locations used in many of the videos, including runs through Thailand and the mountains in Iceland! As the trainer moves through the terrain, he or she continues to motivate you and share tips. It's very easy to completely lose yourself in the experience and lose track of time.
If you prefer studio workouts, then there are plenty of those too, including combination routines that incorporate strength training to keep things interesting.
Of course, the iFit app comes with a price tag and you'll need a monthly subscription if you want to take advantage of it after your free month is up.
Is it worth it?
If you're serious about getting out of the gym and training at home, the iFit app is definitely worth the investment. There is so much variety, you could find a new video on a daily basis. It's also fun to redo old workouts and improve your stats!
What's more, the app records your sessions and uses the information to suggest great workouts to try. It also makes it easy to monitor your progress, which is motivating in itself.
And you're not just limited to working out on your treadmill – there are lots of other types of classes available on the app that you can do anywhere. This means it's great for when you're traveling, too.
The ProForm City L6 Treadmill: Key Takeaways
If you're looking for a treadmill that's easy to use and store out of sight in between sessions, then the ProForm City L6 is well worth considering.
Whilst it's not really cut out for running unless you have a very small frame and short stride, it's a well-constructed piece of equipment for walking and jogging at home.
It doesn't come with any workouts built-in, but its compatibility with the iFit app gives you a huge range of options. And if that monthly subscription isn't something you want to commit to, the handy media rack and Bluetooth connectivity make it easy to use your tablet and stream your content of choice as you train.
I found I looked forward to my sessions on the City L6. If you want to focus more on training at home, I think you'll find using it an enjoyable and effective way to improve your fitness.
Which is better – running on a treadmill or outside?
The answer to this will depend on your overall goals and needs. Take a look at our Treadmill Vs Outside Pros and Cons to learn more.