Finding comfortable leggings for running is important for newbies and seasoned athletes alike. The right leggings will not only feel good – supporting you in the right places free from bunching or sagging – but they will help improve your performance too!
Choosing the right leggings (sometimes known as running tights) isn't always easy. The best ones for you will depend on all sorts of things, from your body shape and size to the type of conditions you run in.
In this guide, we'll run you through our picks of the best running leggings for women designed for comfort, style, and optimal performance.
But first, let's cover the main features to look for when choosing leggings for running.
What to Look for in Running Leggings
When it comes to the best leggings for running, your number one priority is a good fit. Leggings that work their way down as you move, chafe in the wrong places, or bunch up around your ankles can be uncomfortable and distracting, ruining your run.
Look for features that help improve fit. Depending on your body shape, these may include a high waistband to position the leggings more comfortably on your hips and provide support around your middle, or a drawstring to hold them tightly against your body.
Related Article: The 10 Best Gifts For Women Runners
Other important features to look out for in the best leggings for running include:
Leg length – if you're a petite runner, look for legging designed for a smaller frame. Alternatively, opt for 3/4 or 7/8 length leggings, or capris.
Style – if you love the design and feel confident in your leggings, you're more likely to want to wear them and workout in them – it might sound silly, but it goes a long way toward enhancing your overall enjoyment.
Visibility – if you train at night, look for gear with reflective detailing that will make you easily visible to motorists and cyclists.
Fabric thickness – if you'll be running in cold weather, consider fleece-lined or thermal leggings. For comfort during the summer months, look for lightweight, breathable materials designed to wick moisture away from your skin.
Pockets – whilst you won't want to be carrying too much on your run, a convenient place to store your keys, phone, or credit card is useful.
The Best Running Leggings For Women for 2022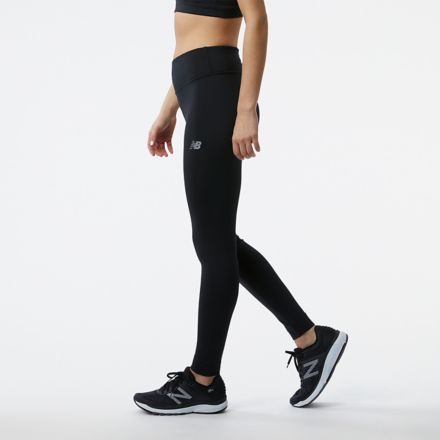 – With a drawcord waistband for the perfect fit
– Suitable for running in most weather conditions
These are the best running leggings for women with a smaller waist, featuring a handy draw-cord that you can cinch in to keep them comfortably in place. A blend of cotton and polyester, they feel so light that they're virtually unnoticeable.
They are also very versatile. Able to keep you warm even at temperatures as low as 40 degrees Fahrenheit, they're also made with NB DRY fabric that quickly wicks moisture away from your skin on hotter days.
A great feature of these leggings are the zippers near the ankle, giving you a comfortable fit whatever your calf size. The length is perfect for most runners, but you may find them just a little on the short side if you're taller than average.
A small inner storage pocket provides somewhere to keep your key or credit card and the reflective logo helps with your visibility for night-time running.
– Provide compression without bulk
– Designed to reduce muscle strain and soreness
Supporting the major muscles in your legs and core, these running tights use compression technology to give you that extra edge during your run.
By cutting down on muscle vibration as you move, they'll not only improve your running efficiency but will also provide extra support for weaker areas like your knee joint. Your recovery time will be considerably shorter, too!
The fabric is lightweight and flexible, so you will still benefit from complete freedom of movement, whilst the mix of nylon and elastane fibers is strong and durable. The mid-rise flat waistband fits comfortably and there is a secure zip pocket at the rear to safely keep a key or bank card.
Not just practical, these leggings look great too, with eye-catching reflective logos for great visibility.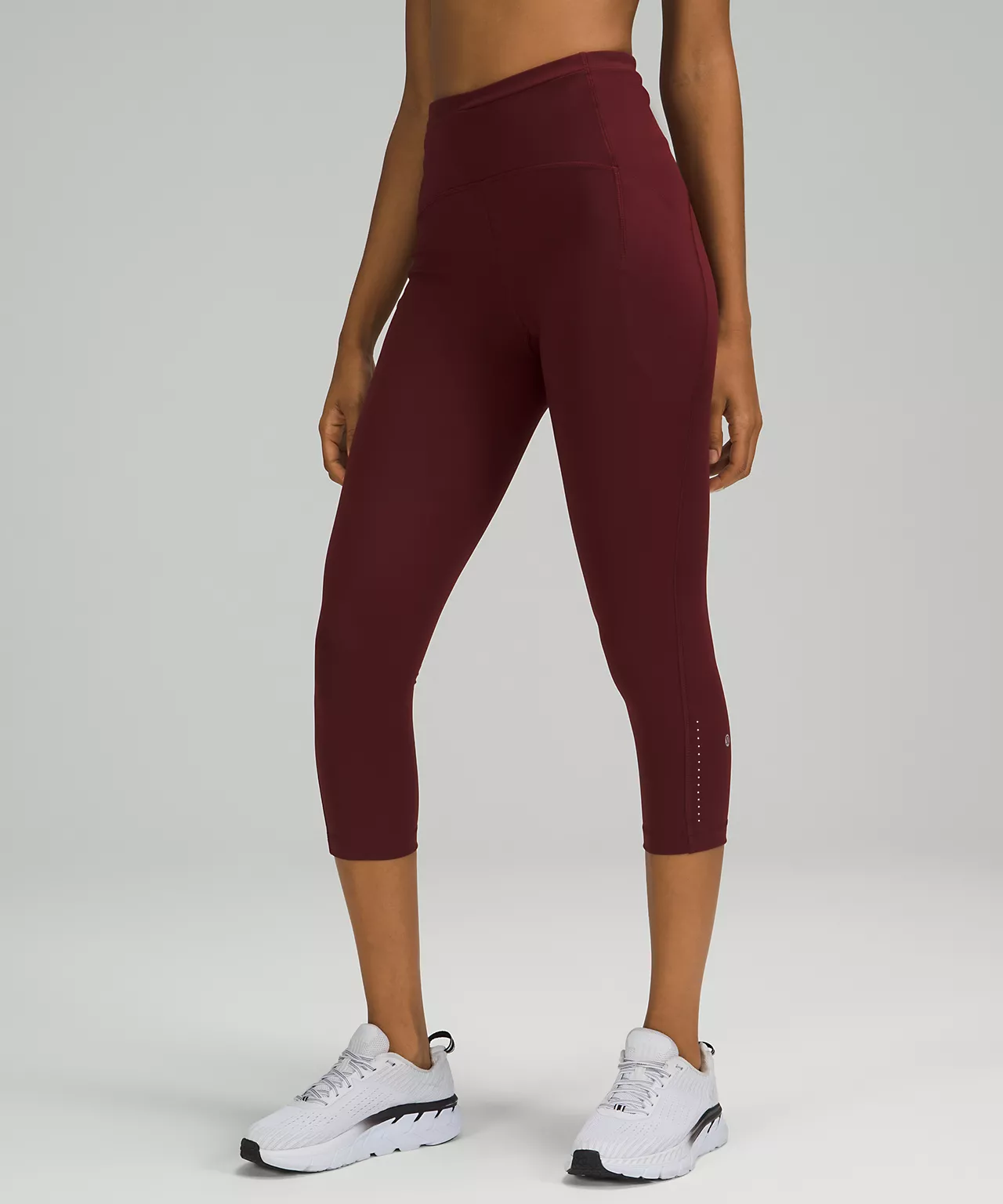 – High-waist design
– Great for visibility during nighttime runs
These are some of the best running leggings for women in terms of visibility, with subtle reflective details on both sides. They are available in a wide range of colors so it's easy to find a pair to suit your style.
Made from a mixture of polyester and spandex, they have a soft and comfortable feel and stay looking good for ages, with no pilling. The breathable fabric is lightweight and wicks moisture away from your skin quickly.
Best of all, the fit is snug without being tight, so you won't be endlessly hitching these up throughout your run.
Practical considerations aside, these running leggings will make you look great! Fans rave about the way they flatter just about any body type, accentuating the booty and with an attractive high-waist waist with an overlapping band for a slimming effect.
Related Articles: The 7 Best Lululemon Running Shorts for Everyone in 2022 and The Best Lululemon Running Gear for Women in 2022
– Super light HeatGear fabric, dries quickly
– For sweat-free summer running
The best running leggings for women who regularly train in hot weather, this pair has all the features you need to stay cool!
The fabric is super-light, allowing your skin to breathe and regulating your body temperature, whilst the HeatGear technology wicks away moisture quickly. Yet it still offers just enough compression to provide some support to your muscles and give a smooth look.
The placement of the ergonomically designed flatlock seams makes these leggings very comfortable – you won't need to worry about chafing – and the wide, firm waistband stops them from slipping down.
These leggings come in several different colors (check out the cool metallic finish) and they are durable enough to hold their shape well despite repeated washing!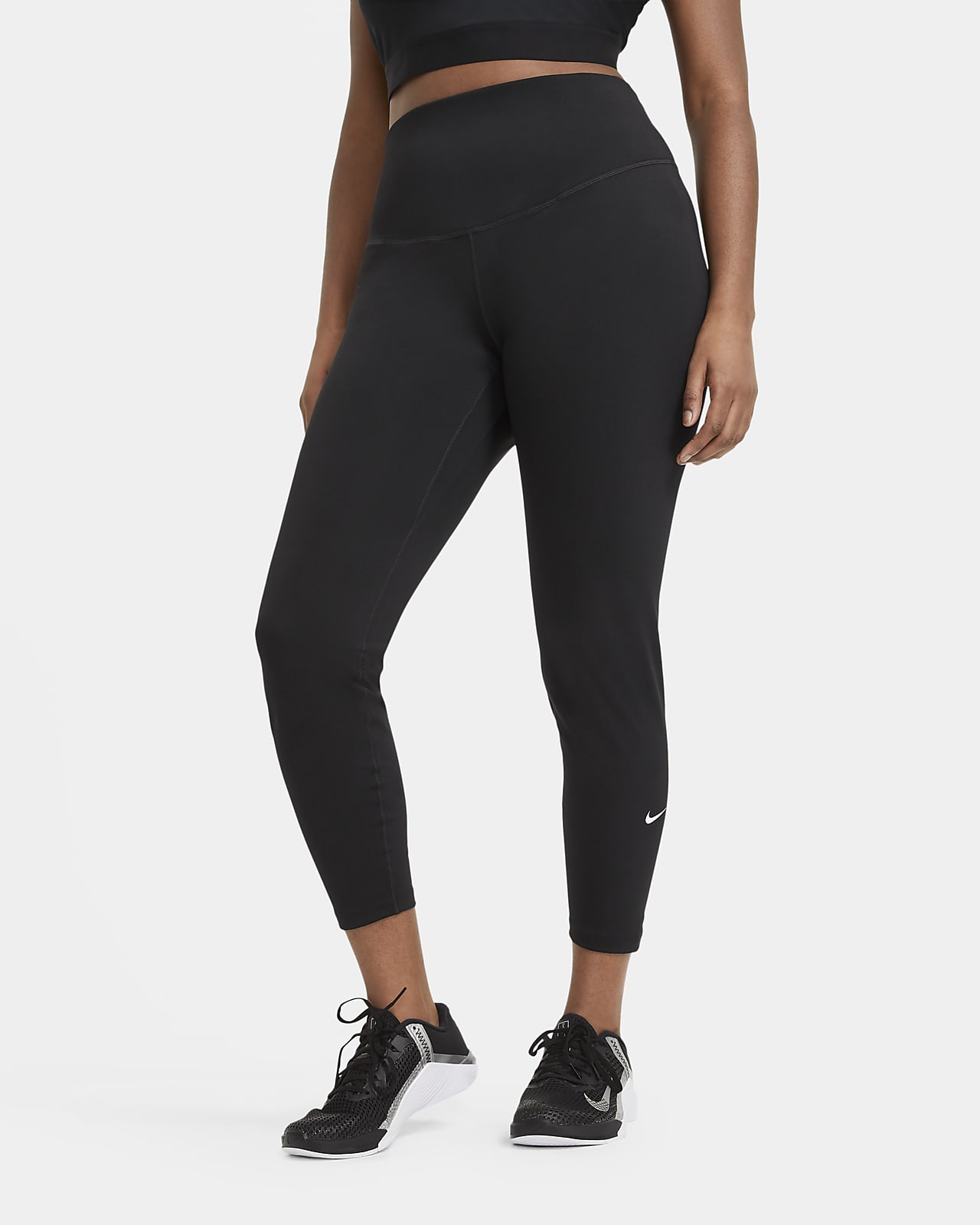 – Four-way stretch fabric for flexibility
– Great all-rounders for any runner
Last but by no means least on our list of the best running leggings for women is this pair from Nike – and if you're looking for leggings that you can literally put on and forget, then you've found them!
The fit is great, contouring to your body shape and providing the support you need, whilst the elastic waistband holds them gently but firmly in position.
The moisture-wicking fabric has a durable, high-quality feel and is breathable enough to keep you cool. No matter how long you run in these leggings, you can be confident you'll still feel great at the end!
– High-waisted and warm, with a brushed fleece interior
– Ideal for running in cold weather
Guaranteed to keep you toasty even on the chilliest days, these winter running leggings are super-soft on the inside yet still breathable and lightweight. The high, wide waistband provides great support for your tummy and ensures a comfortable fit, whilst the 4-way stretch gives you complete freedom of movement.
You'll find plenty of space to take essential items along on your run, with a hidden pocket at the waist for small items like a key or credit card, and two very deep pockets at the sides.
Highly durable, these leggings stand up well to frequent washing, with no sagging or fading. Best of all, they're incredibly flattering to wear, with the gentle compression from the opaque fabric giving you a sculpted, streamlined look.
– Flexible, moisture-wicking fabric
– Perfect for the petite runner
The best running leggings for women are those that allow you to move and stretch freely – and these capri-style leggings check both those boxes.
Made from a durable mixture of nylon and spandex, they are comfortable to wear and effectively wick moisture away from your skin. This, combined with the breathability of the fabric, will help you stay cool in even the most demanding conditions.
The elastic waistband is thick enough to provide plenty of support and give a flattering fit. It also keeps them securely in place, so you won't find yourself needing to hitch them up during your run.
There are three pockets to stow small items, two of which are large enough to accommodate a phone and a hidden pocket for a key in the waistband. You have eight different colors to choose from which remain vibrant after washing.
The Best Running Leggings For Women: Key Takeaways
Ideally, your running leggings should feel almost like a second skin – so comfortable that you barely know they're there.
All of these products meet that goal, whilst offering additional features to make them ideal for your next run. Whether that's a fleece lining to keep you cozy or extra support to shorten your recovery time, I hope you've found your ideal leggings here in this guide.
Need to Know How to Pick the Right Running Shoes?
Find out here in our comprehensive guide, with tips on how to identify the type of shoe you need and where to go for the best advice.