Can you feel it? That long-awaited return of the hot summer sun . . .
Runners across the world are used to performing in all sorts of conditions. In winter, it's all about putting on your running gloves to brace the icy cold and finding the right jacket to keep you dry in the pouring rain.
In summer, staying comfortable and safe when you run is all about finding the best sport sunscreen that will protect you come sweat or shine.
Wherever you are, it's important to be prepared. Running exposes you to the elements, and when the sun starts beating down, you're going to want to be properly prepared.
That's why this article will be rounding up the best sunscreen for runners. We're going to focus on these key areas:
Why Is Sport Sunscreen Important?
The Top 7 Sport Sunscreens For Runners
Top Tips For Using Sports Sunscreen When Running
Read on, and you'll have everything you need to equip yourself for running in the heat this summer!
What Does Sunscreen Do?
Most people have used sunscreen throughout their lives, but usually, we won't even stop to think about what it's doing.
So how does sunscreen actually work?
Sunscreen protects our skin from ultraviolet radiation from the sun, which can damage our skin.
Various ingredients are used to help protect us from these UV rays. However, we can split these ingredients into two main categories:
Physical blockers – these are minerals ground into fine particles that sit on the skin's surface and reflect UV rays away from your skin, almost like a shield
Chemical absorbers – chemical ingredients can form a thin protective film that absorbs UV radiation before it gets the chance to enter the skin
Many types of sunblock will lean towards either physical blockers or chemical absorbers. Physical sunscreens have the advantage of reducing the risk of irritation, stinging or allergic reactions, although they can be greasy and white, while chemical products will be clear.
However, you'll also find that lots of manufacturers use a combination of the two types in order to maximize the benefits and reduce the downsides.
In fact, in order to protect against both UVA and UVB rays (the two types of rays that cause skin damage), a combination of ingredients is often necessary.
Let's explore the benefits you can access by diligently using sunscreen — as well as the risks you can avoid.
Why Is Sport Sunscreen Important?
Sunscreen isn't just for those long summer days on the beach, you know.
Even when it's not boiling hot, it's important to give yourself protection against UV. This is especially true for runners, who spend a lot of time outdoors, exposed to the elements.
Exposure to the sun's ultraviolet (UV) rays can cause various different forms of skin damage, including sunburn, skin cancer, and premature aging.
And according to various studies, sunscreen can help prevent skin damage.
Data collected by the American Cancer Society stated that one in three cancers diagnosed worldwide is skin cancer. According to the American Cancer Society, up to 95% of malignant melanomas are caused by excessive sun damage.
Clearly then, protecting our skin adequately is vital.
Applying sun lotion at least 20 minutes before you start your run will give your skin time to absorb it properly, giving you the protection against UV rays you need.
When you're out on a run, you don't want to be worrying about anything except the physical demands of your exercise. Grab one of the following products, and you won't have to.
The Best Sunscreen For Runners
Okay, it's time for our list of the best sun lotions for runners. It doesn't matter whether you're a marathon enthusiast or a park jogger, we've got you covered.
– SPF 50
– Moisturizing
Amongst the best sports sunscreens, this versatile product is great for all sorts of outdoor running situations. It's thin and easy to spread, but protection isn't compromised with this factor 50 lotion.
Now that octinoxate has been taken out of the formula, the Supergoop! sunscreen is also reef-friendly, which is a factor many companies are taking into consideration nowadays.
Grab it on Amazon.
– Fast-drying
– Includes Vitamin E
Skinnies sport sunscreen dries in just 2 minutes, forming a thin, protective base layer without you having to wait around for ages.
It's highly concentrated, so unlike more water-based lotions, you don't need to apply much of this. Another perk is that it won't sweat off, and only leaves a slightly waxy feeling on your fingers after usage.
This sunscreen is available on Amazon.
– Thick, visible protective layer
– Packed with vitamins
If you want something that provides more protection, this Thinksport sunscreen is for you. Some call it a tropic sport sunscreen, packed with hyaluronic acid, and vitamins C and E, it doesn't contain all the environmentally-unfriendly chemicals that some other lotions do.
You have to rub this lotion in hard in order to get the benefits of its zinc oxide protective barrier, and once you do, it will be thick and visible. But if you don't mind that, then it's a great bet for extra guarding against the sun.
Even better, you don't have to break the bank with this one. Check it out here.
– Water and sweat-resistant
– Dermatologist recommended
This Blue Lizard sport sunscreen contains some super clever technology to help you work out when you need some extra protection.
In the presence of harmful UV rays, its UV photo-sensitive bottle transforms from white to blue to let you know that you should start applying.
Its dermatologist-recommended, broad-spectrum zinc oxide formula is high-quality, chemical-free, and non-irritating.
– Great for the face
– SPF 60
If you're particularly concerned about looking after your face, the La Roche-Posay light fluid sunscreen is what you're looking for. In our opinion, it's the best face sunscreen for runners.
This SPF60 lotion offers superior protection and is especially good for delicate or sensitive skin. If you're after a non-comedogenic and allergy-tested product, this ultra-lightweight, non-greasy sport sunscreen could be ideal.
– Fine mist pump
– Broad-spectrum protection
Runners need protection and practicality, and this sunscreen offers both in spades – making it one of the best sunscreens for running.
Kinesys have designed a spray that creates a thin, fast-drying, and unnoticeable layer against your skin. For a highly practical, fragrance-free formula, look no further.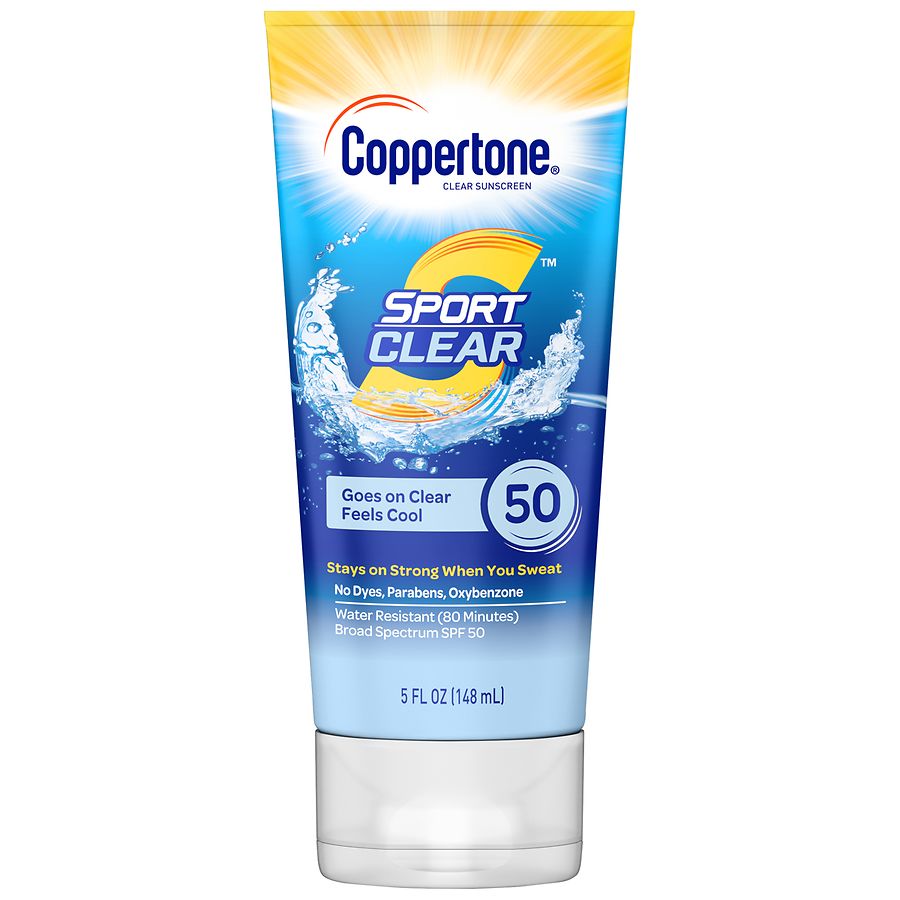 – Excellent value
– Sweat and water-resistant for up to 80 minutes
Coppertone's SPORT lotion is one of the best-value sunscreens on the market.
For runners that are outdoors training for marathons and other long-distance races a lot, it can be useful to have a more affordable lotion to apply on a regular basis.
This slightly cheaper sunscreen isn't chemical-free, although it doesn't have any PABA, dyes, and synthetic preservatives, and it's also sweat and water-resistant for up to 80 minutes.
It's available on Amazon.
Top Tips For Using Sunscreen When Running
There are a few useful tips you should bear in mind when it comes to applying sunscreen before running.
Before we wrap up, it's worth listing a few key points.
#1. Run Early Or Late
Exercising during the heat of the day creates added risk. If you've got the option to set off on your run either early in the morning or later in the evening, it's less likely that you'll get burned by the sun. Try to avoid running between 10 am and 4 pm.
#2. Choose The Right Sunscreen
Now that we've been through some of the most effective brands of sunscreen you can get, this one shouldn't be a problem.
Picking a waterproof and sweatproof product with broad-spectrum protection and an SPF of at least 15 will make you much safer when you're out in the elements.
#3. Reapply After 2 Hours
If you're someone who tends to go for long-distance runs, it's important to top up your sunscreen after a while.
This is because the longer it's on you, the more its level of protection wears off. Reapplying after 2 hours will reduce the risk of skin damage.
#4. Get The Right Gear
You can supplement your efforts to beat the sun's rays by getting extra protective gear.
For example, wearing a hat or visor will help absorb sweat and keep the sun out of your face. It's also possible to buy running clothes with a special UV-protective coating.
For some more guidance on how quality gear can improve your running experience, check out our articles on the best lightweight running jackets and the most effective gear for running at night.
Running In The Elements
To recap, when you're shopping for the best sunscreen for runners, make sure you tick these boxes:
Broad-spectrum protection
Water and sweat-resistant
These are the 3 key things you want to look out for, although depending on your running routine, there are other requirements you may have too.
Whatever sunscreen you opt for, it's crucial you make sure you've got some protection when you go running outdoors.
Your prep for running in the summer shouldn't end there. Our piece on how to choose running sunglasses focuses on other areas of sun protection, or if you want something more general, check our comprehensive guide to summer running.
What Other Running gear are you missing?
Check out our ultimate guides to running gear here!