A couple of months ago I wrote an article on Skyrunning (check that article out here).
In my research for it, I ended up getting totally sidetracked and scrolling through upcoming Skyraces.
In the process, I stumbled across the Snowdon Skyrace, a Welsh race not too far from my home in the UK.
I called my only other ultrarunning friend, asked him if he was game, and not five minutes after finding it, we had both signed up!
What is to follow is an account of my first Skyrunning race, but definitely not my last!
What is a Skyrace?
A Skyrace is a Skyrunning race.
Skyrunning is essentially very high alpine mountain running, but with a focus on elevation gain and technicality.
And it's actually got quite a specific definition.
The International Skyrunning Federation defines the discipline as "running in the mountains above 2,000m altitude where the climbing difficulty does not exceed II° grade and the incline is over 30%".
The Snowdon Skyrace is part of the Skyrunner World Series.
In 2021, this was a series of 15 races. Runners collect points across all 15 races in the series and the winners are crowned Skyrunner World Champions.
Snowdon Skyrace – The Stats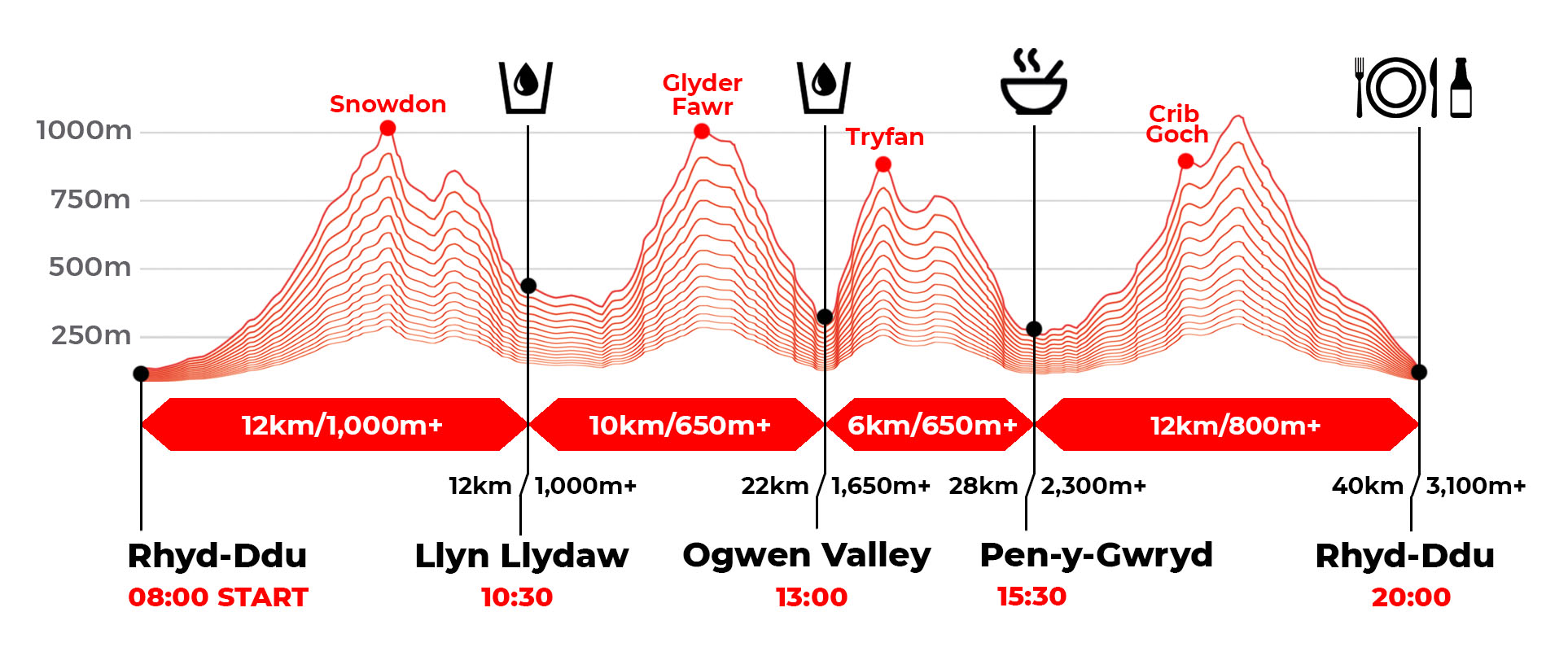 Distance: 40 Kilometers / 25 Miles
Elevation Gain: 3,150m+ / 10,350ft+
Time Limit: 12 Hours
Aid Stations: 3
Scrambling Difficulty Level: Grade 1
(Grade 1 scrambles are the easiest level out there- but not for the faint-hearted! Ropes and protection aren't necessary, but you will have to use all four limbs. And they are pretty impossible to run.)
Mountains Climbed: 4
Number of Runners: 151
Remote Locations
The nature of Skyraces- remote mountain races- means that they are typically not that easily accessible.
For us, getting to the Snowdon Skyrace was a task that meant leaving an entire day for travel.
We arrived at the race site two days early to a field with a marquee and were told by the friendly race organisers that we could pitch up our tents wherever, but that we should expect terrible weather.
We had the whole place to ourselves! I guess the other runners weren't too keen on 2 nights of rainy Welsh camping.
We set up our tents and it began raining immediately. So, with nothing better to do in the field, we went to sleep at 8 pm.
It rained relentlessly all night.
I awoke to the realisation that my summer tent (the cheapest Decathlon had to offer) was not waterproof. Both myself, and my sleeping bag, were sodden.
But worse news was to come!
Overcoming Disappointment
Two days before the Snowdon Skyrace, we were told that it was highly likely that we would have to run the bad weather route.
The day before, it was confirmed. We would be running the bad weather route.
So instead of 40 Kilometers / 25 Miles, we would be taking on a route of 23.85 Kilometers / 14.82 Miles.
And instead of tackling 3,150 Meters / 10,350 Feet of elevation gain, we would be climbing 1727 Meters / 5666 Feet.
Big difference, big mindset shift.
I would be lying if I said I wasn't a bit miffed. I would have much rather done the big one.
I've never actually done a mountain run, so I wanted to take on something I may realistically not achieve and achieve it anyway.
But hey, when you do big things in nature, part of the deal is that it's not on your terms. You've got to shift to accommodate for the elements.
As I ate Trangia-warmed pasta in the now marshy field the night before the run, I was just happy to be out and about doing silly things with friends.
To Race or Not To Race
…that is the question.
Not to race.
I booked this race for fun.
Initially, I was going to be running the Snowdon Skyrace as a long run and as part of my training for my big run this year– my first 100 miler!
When I was younger, I ran cross country for a club and got up to a decent level for my age when I started competing on a national level for my county.
But I ended up quitting when I was 14. I hated racing.
It used to make me so anxious that I would always vomit before a race, and a few times, I had to drop out of races due to panic attacks.
When I did eventually get back into running, I gravitated towards the longer distances– no chance of winning a marathon in a sea of thousands!
To race?
But as I lay in my wet sleeping bag the night before the Snowdon Skyrace, I let myself get swept up in thoughts of running hard.
And on that start line, positioned in the middle of the pack, I silently decided not to just finish this one, but to push a little.
I won't lie, every time a woman overtook me, I did feel a pang of sickness.
But I worked harder than I would have on a long run, and I enjoyed the feeling of pelting my way down the mountain towards the finish line.
(…maybe I'll push a little harder in my next race.)
When you're running in the mountains, you are thrown into the belly of the beast. Whatever the weather is like at sea level, magnify that by 50.
So, with typically bracing Welsh October weather at the base of the mountain, the conditions up top were predictably grim.
We had 70 mile (113 Kilometer) an hour winds and -2 degrees Celcius (35.6 Fahrenheit) up at the top of the peaks.
However, the wind did make me grateful that we were doing the bad weather route and not running across mountain ridges.
I'm quite small, so I don't have that strong of a relationship with gravity. And there were moments on the top of the mountain where I had to crouch down to avoid being blown away.
Aside from the wind, we had intervals of sideways needle-like rain.
And surprisingly, a couple of minutes where we could see the sun's rays!
My only qualm with the weather was the fog. It seems a waste to climb to the top of the mountain only to get a misty white view.
The Route
The Snowdon Skyrace bad weather route did not disappoint.
Even though the winds were too strong to be tiptoeing ridges, we still ran through highly varied, but always rugged terrain.
We ran on road, easy rocky trail, not easy, not runnable trail, marsh, chest-high grass, and sections where the rocks formed relentless waist-high steps, as if they were made for giants.
There were sections where you had to climb, and where the route markers were positioned halfway up what looked like a cliff.
I never found it too technically hard, but what I found most difficult was gripping on to freezing and wet rocks. My fingers were so cold they were numb.
But that's my bad for not bringing gloves.
Overall, 10/10 route Snowdon Skyrace, thank you!
Running Alongside Athletes
One of the coolest things about the Snowdon Skyrace was that, because it is part of the Skyrunner World Series, you race alongside amazing athletes.
Contrary to what you may have thought, you don't have to be an elite sponsored athlete to take part in skyrunning competitions.
In fact, anyone can sign up to take part in the Skyrunner World Series races through individual race websites.
I guess you also race against pros in large city marathons, but when there are so few participants, you really feel like you are part of something elite.
The winners of the race absolutely bossed it up and down the mountains.
Check out this incredible video on the Snowdon Skyrace 2021:
Women In Skyrunning
In the Snowdon Skyrace, 11 per cent of the runners in the field were women.
That's 17 women and 134 men.
There are no solid numbers out there for the overall percentage of women in Skyrunning, but I think that we can safely assume that it could do with being higher.
Obviously many different factors play into this chasm of a gender imbalance, and there's a lot of work to be done.
I remember as a kid my dad signed me up for Saturday league football. It was me and 50 boys. I hated it.
No disrespect to the boys, but if you're the only girl, it can be discouraging.
Supportive Spectators
But what I will say is that there sure are perks to being a woman in a skyrunning race!
Firstly, the support from other women!
Running around the mountains of Snowdonia you pass a fair amount of hikers. And the ladies I passed were so incredibly supportive.
As I ran past one woman, she shouted out "Another Goddess!!!!"
I'll remember that one.
I will admit, I leant into the fact that I was a young woman in a sea of middle-aged men kitted head to toe in Salomon. I donned my leopard print yoga leggings and whacked on some hoop earrings.
The leggings got a lot of love.
Slim Competition
Another perk of being a woman in Skyrunning is the fact that you're up against 10% of the competition compared to the men.
Having said that, the leading women were insane athletes and absolute weapons around the course.
But I'm 23. And it turns out that Skyrunning isn't too common among the women's under 25 category.
I finished the race happy with my effort and confident that I had placed middle of the pack.
I didn't stick around for the prize-giving.
I got myself a cup of tea, ate some nachos from the food truck (YUM!), packed down my tent, and left.
However, the next day, once the Snowdon Skyrace race results went live, I was surprised to discover that I had won my age category.
Not to play down my efforts, but I was one of just two under 25 women, and the other girl was a friend that I had roped along.
Anyway, it turns out that I'm due a 3D-printed dragon trophy. I've emailed the race organisers and I can't wait to stick it on the hood of my van.
My take away from all this: under-25-year-old-ladies, you've got a legitimate chance of winning a world championship race here.
Get involved!
Get a plan
The first step to getting involved is, of course, getting a plan!
We have lots of free training plans for your next race adventure, so check them out!